Predictors and Outcomes of Heart Failure after Hip Fracture Repair: A Population‐Based Study
1Mayo Clinic, Rochester, MN
2Mayo Clinic, Rochester, MN
3Mayo Clinic, Rochester, MN
4Mayo Clinic, Rochester, MN
Meeting: Hospital Medicine 2010, April 8-11, Washington, D.C.
Abstract number: 41
Background:
Hospitalists frequently participate in the perioperative care of hip fracture patients. Hip fracture repairs in the elderly carry high rales of postoperative morbidity, including heart failure and other adverse cardiac events. Heart failure also contributes to longer hospitalizations in hip fracture patients. The preoperative factors that predict postoperative heart failure remain unclear. This study sought to identify predictors of postoperative heart failure among known conditions associated with heart failure in patients undergoing hip fracture repair operations.
Methods:
We conducted a population‐based historical cohort study 1116 Olmsted County, Minnesota, residents age 65 years or greater undergoing 1212 hip fracture repairs from 1988 through 2002. We obtained data through medical record review and defined heart failure according to the Framingham criteria. We report outcomes to 1 year of follow‐up.
Results:
Median patient age was 85 years (range 65 to 107 years). Overall mortality during hospitalization was 4.7% (57 of 1212 subjects). The cumulative rate of postoperative heart failure was 21.3% (95% Cl 18.8%–23.7%). Rates of postoperative heart failure were significantly higher among those with preoperative heart failure (HR 3.0; 95% Cl 2.3–3.9; P < 0.001). Table 1 displays the association of other preoperative clinical charactenstics with postoperative heart failure. Hazard ratios for postoperative heart failure were significantly higher among patients with advanced age, preoperative coronary artery disease, atrial fibrillation/flutter or complete heart block, and those using loop diuretics, digoxin, and oral anticoagulants. Risk of inpatient mortality was much higher for those who developed early postoperative heart failure (OR 4.7; 95% Cl 2.4–9.0; (P < 0.001).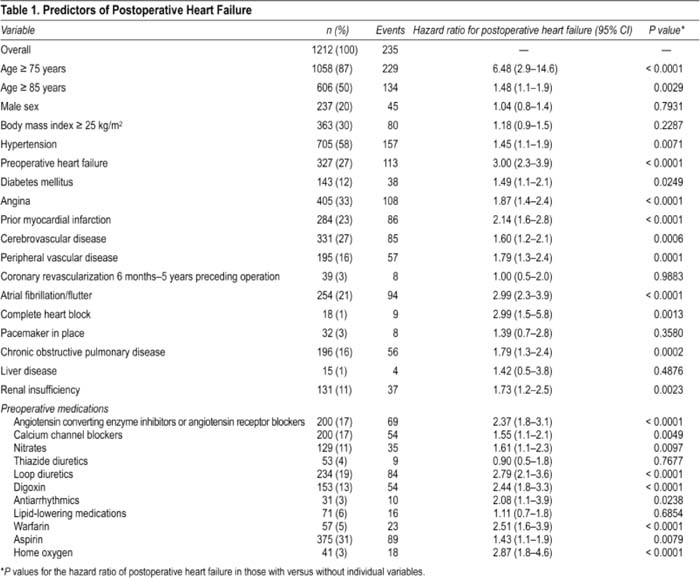 Conclusions:
This study presents unique, population‐based data demonstrating that heart failure frequently complicates the postoperative care of elderly hip fracture patients and significantly increases odds of death during the index hospitalization. Stranger predictors of postoperative heart failure include preoperative heart failure, arrhythmias, and medications associated with the treatment of these conditions. Whether perioperative optimization of existing heart failure and arrhythmias affects the morbidity and mortality associated with hip fracture repairs remains unknown. Future work must address perioperative management heart failure predictors in an effort to improve postoperative outcomes of hip fracture patients.
Author Disclosure:
M. Cullen, none; R. Gullerud, none; D. Larson, none; J. Huddleston, none.
To cite this abstract:
Cullen M, Gullerud R, Larson D, Huddleston J. Predictors and Outcomes of Heart Failure after Hip Fracture Repair: A Population‐Based Study. Abstract published at
Hospital Medicine 2010, April 8-11, Washington, D.C.
Abstract 41.
Journal of Hospital Medicine.
2010; 5 (suppl 1). https://www.shmabstracts.com/abstract/predictors-and-outcomes-of-heart-failure-after-hip-fracture-repair-a-populationbased-study/. Accessed April 1, 2020.
« Back to Hospital Medicine 2010, April 8-11, Washington, D.C.