Prediction of Bleeding in Hospitalized Medical Patients on Anticoagulant Prophylaxis
1Hurley Medical Center, Flint, MI
2Henry Ford Hospital, Detroit, MI
3Oakwood Healthcare System, Dearborn, MI
4University of Michigan, Ann Arbor, MI
5Ann Arbor VA Healthcare System, Ann Arbor, MI
Meeting: Hospital Medicine 2014, March 24-27, Las Vegas, Nev.
Abstract number: 115
Background:
Unless bleeding risk outweighs the risk of thrombosis, current guidelines recommend pharmacologic prophylaxis for hospitalized medical patients who are at high risk of venous thromboembolism (VTE). The IMPROVE bleeding risk score was developed to predict in‐hospital bleeding based on risk factors present at admission in hospitalized medical patients and a score of < 7 and > 7 had major bleeding rates of 0.4% and 4.1% respectively. We sought to examine the major in‐hospital bleeding rate based on the IMPROVE score in the Michigan Hospital Medicine Safety Consortium.
Methods:
A nurse abstractor at each of the 40 collaborating hospitals used web‐based data entry to collect detailed demographic and clinical data on hospitalized medical patients, including elements of the IMPROVE risk score. For this analysis, patients who were < 18 years of age, pregnant, admitted for surgery or palliative care, admitted directly to the ICU, were prescribed therapeutic doses of an anticoagulant, or were not given pharmacologic prophylaxis on admission were excluded. Elements of the IMPROVE risk score include: moderate renal failure (estimated glomerular filtration rate [eGFR] 30‐59), male gender, age 40‐84 years, current cancer, rheumatic disease, central venous catheter, intensive care (ICU) stay, severe renal failure (eGFR < 30), hepatic failure (INR > 1.5), age > 85, platelet count < 50 X 109 cells/L, bleeding in 3 months before admission, and active gastroduodenal ulcer. Major bleeding was defined as a bleeding event contributing to death, clinically overt bleeding associated with a fall in hemoglobin level of > 2 g/dL or transfusion of > 2‐3 units of packed RBCs, or bleeding within a critical organ (intracranial, retroperitoneal, intraocular, adrenal gland, spinal, or pericardial).Test characteristics of the IMPROVE score in patients who received anticoagulant prophylaxis, were calculated.
Results:
Of the 12,348 patients that received pharmacologic prophylaxis on day 1 or day 2 of the index hospital stay, 825 (6.7%) were classified as high bleeding risk based on an IMPROVE score of >7. Major bleeding occurred in 12 (1.45%) patients with high and in 47 (0.41%) with low bleeding risk (p<.001). See table for the sensitivity, specificity, positive and negative predictive values.
Conclusions:
The rate of major bleeding in high risk patients was much lower in our cohort of hospitalized medical patients who received pharmacologic prophylaxis compared to the IMPROVE derivation cohort and may reflect a shorter length of stay, differences in the definition of major bleeding and less ICU patient care. The IMPROVE bleeding risk score is most useful at identifying patients who are not likely to have a major bleeding event while receiving anticoagulant prophylaxis.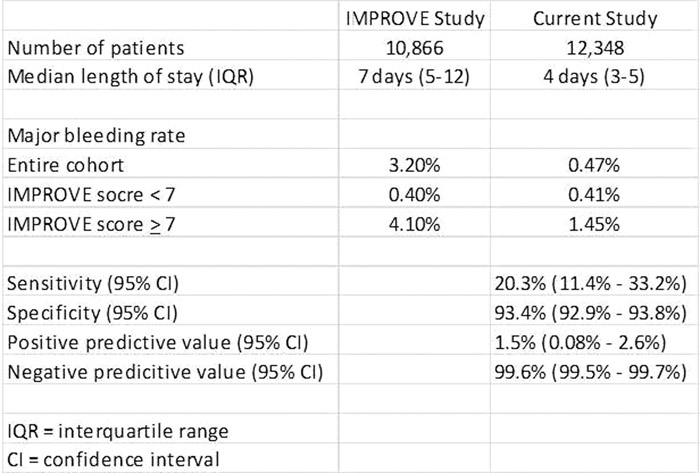 To cite this abstract:
Kaatz S, Paje D, Lee B, Greene D, Bernstein S, Flanders D. Prediction of Bleeding in Hospitalized Medical Patients on Anticoagulant Prophylaxis. Abstract published at
Hospital Medicine 2014, March 24-27, Las Vegas, Nev.
Abstract 115.
Journal of Hospital Medicine.
2014; 9 (suppl 2). https://www.shmabstracts.com/abstract/prediction-of-bleeding-in-hospitalized-medical-patients-on-anticoagulant-prophylaxis/. Accessed March 28, 2020.
« Back to Hospital Medicine 2014, March 24-27, Las Vegas, Nev.