Physician‐to‐Physician Handoff: The Veterans Affairs Cairo Project
1Washington, DC, VA Medical Center, Washington, DC
2VA Iowa City Health Care System/University of Iowa, Iowa City, IA
3VA Iowa City Health Care System/University of Iowa, Iowa City, IA
4VA Central Office, Washington, DC
5VA Iowa City Health Care System/University of Iowa, Iowa City, IA
6VA Iowa City Health Care System/University of Iowa, Iowa City, IA
7VA Iowa City Health Care System/University of Iowa, Iowa City, IA
8VA Iowa City Health Care System/University of Iowa, Iowa City, IA
Meeting: Hospital Medicine 2008, April 3-5, San Diego, Calif.
Abstract number: 120
Background:
The Joint Commission on Accreditation of Healthcare Organizations (JCAHO) introduced a National Patient Safety Goal that states hospitals should "implement a standardized approach to 'handoff' communications, including an opportunity to ask and respond to questions." Few studies on the safety or efficacy of current patient handoff systems exist, and few standardized electronic medical record (EMR)‐based handoff tools are available.
Purpose:
This project designed and examined the utility of a standardized handoff software tool.
Description:
Paper‐based handoff sheets used by physicians were collected at 2 VA medical centers before and after implementation of an EMR‐linked handoff tool and abstracted to identify the presence or absence of vital information. Physicians answered a questionnaire regarding their perceptions of handoff methods before and after the EMR‐linked handoff tool was implemented. Nine hundred and sixty‐three patient handoffs were abstracted at baseline (n = 550) and postintervention (n = 413). Improvements in handoff tool content were found for vital component domains including code status, floor location, room number, 2 types of identifying information, typed format, medication, and allergy lists. Eighty questionnaires were completed preintervention (n = 36) and postintervention (n = 44). The handoff software was well liked. There was postintervention improvement in respondent perceptions that the handoff system optimizes patient safety and is of excellent quality (P < .01) without causing omissions of necessary information (P < .01) or commission of unnecessary information (P = .04). There was significant improvement in perceptions that the handoff system is easy to use, efficient, and easy to read (P < .05). Respondents reported 12.4 minutes less time typing handoffs postintervention (44.7 vs. 32.3 minutes; P = .08) while caring for slightly more patients (6.4 vs. 6.8, P = .04). They spent similar amounts of time in face‐to‐face handoff communication (12.9 vs. 12.7 minutes, P = .53). Postintervention respondents reported increased comfort (P = .02) with handing off patients to covering physicians and feeling greater preparedness (P = .01) to care for patients received. No significant postintervention changes were seen in reported physician‐to‐physician communication including changes in the handoff setting, giving a verbal report, format of the report, or use of "if‐then" statements. No change was observed in communication with nursing.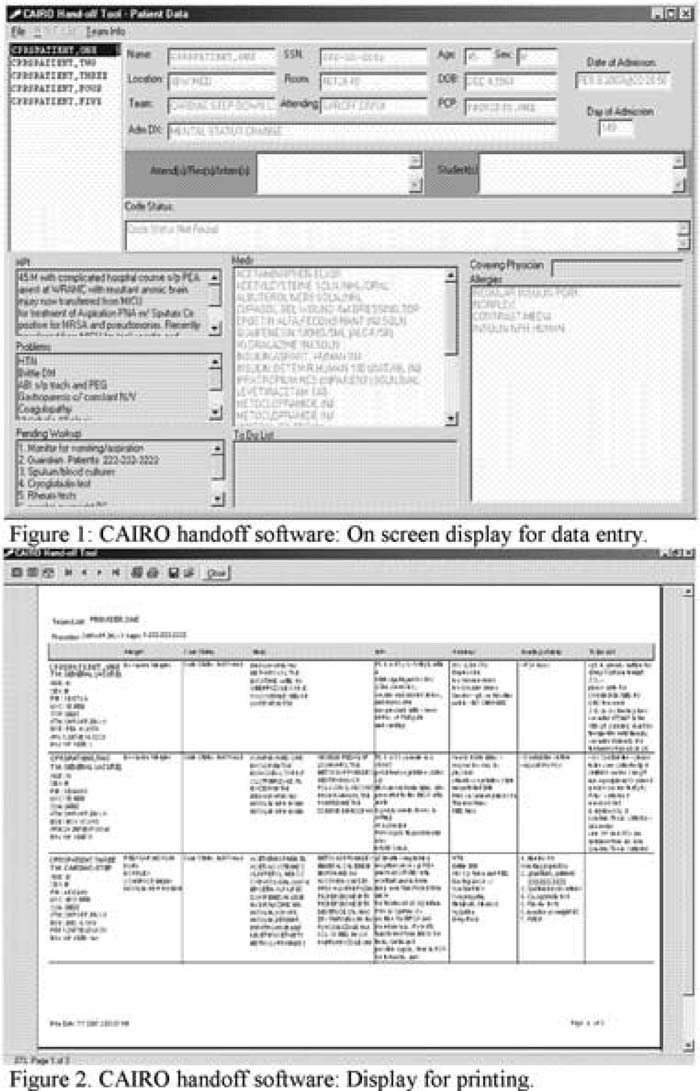 Conclusions:
The standardized handoff software improves shift change between physicians with better data accuracy and content and is well liked by users. This handoff tool has shown improvements in physician perceptions of handoff‐related patient safety, quality, and efficiency. The success of this new EMR‐based handoff tool has led to national adoption with planned implementation across all VA Medical Centers.
Author Disclosure:
D. Shroff, none; J. Anderson, none; A. Curtis, none; N. Elderidge, none; K. Cannon, none; R. Karnani, none; T. Abrams, none; P. Kaboli, none.
To cite this abstract:
Shroff D, Anderson J, Curtis A, Eldridge N, Cannon K, Karnani R, Abrams T, Kaboli P. Physician‐to‐Physician Handoff: The Veterans Affairs Cairo Project. Abstract published at
Hospital Medicine 2008, April 3-5, San Diego, Calif.
Abstract 120.
Journal of Hospital Medicine.
2008; 3 (suppl 1). https://www.shmabstracts.com/abstract/physiciantophysician-handoff-the-veterans-affairs-cairo-project/. Accessed September 16, 2019.
« Back to Hospital Medicine 2008, April 3-5, San Diego, Calif.