Background:
The transfer of patients between acute care hospitals (inter‐hospital transfer, IHT) is becoming increasingly common. However, lack of evidence‐based guidelines to direct high quality patient transfer creates variability in the quality of the transfer process, potentially leading to poor patient outcomes. Therefore, a better understanding of problematic aspects of the transfer process from frontline providers is a crucial first step to inform development of interventions to improve the quality of IHT.
Methods:
We surveyed residents and inpatient attendings from Internal Medicine, Neurology, and Surgery at a large urban tertiary referral hospital who are involved in accepting and caring for transferred patients. Subjects were asked about the frequency with which they encountered various issues related to quality in caring for transferred patients, and whether they felt these scenarios affected the safety of the transfer process, using 5‐ and 3‐point Likert scales respectively. Reponses were then dichotomized into "sometimes or frequently" vs. "rarely or never".
Results:
Overall response rate was 51% (145/284) with highest response rates from Internal Medicine and Neurology residents and attendings. Responses to survey questions are shown in Figures 1 and 2. The majority of survey respondents reported that they frequently encountered transferred patients arriving without necessary transfer records, greater than 24 hours after being accepted, with unrealistic expectations of care, and not requiring specialized care. In addition, survey respondents identified availability of transfer records and time of day of patient arrival as frequently contributing to the safety of the transfer process.
Conclusions:
This survey identifies quality and safety issues frequently encountered by frontline providers involved in the receiving end of the transfer process, providing potential targets for improvement of the IHT process. Further research is needed to identify quality and safety issues from transferring institutions, patients' and families' perspectives, and associations with patient outcomes.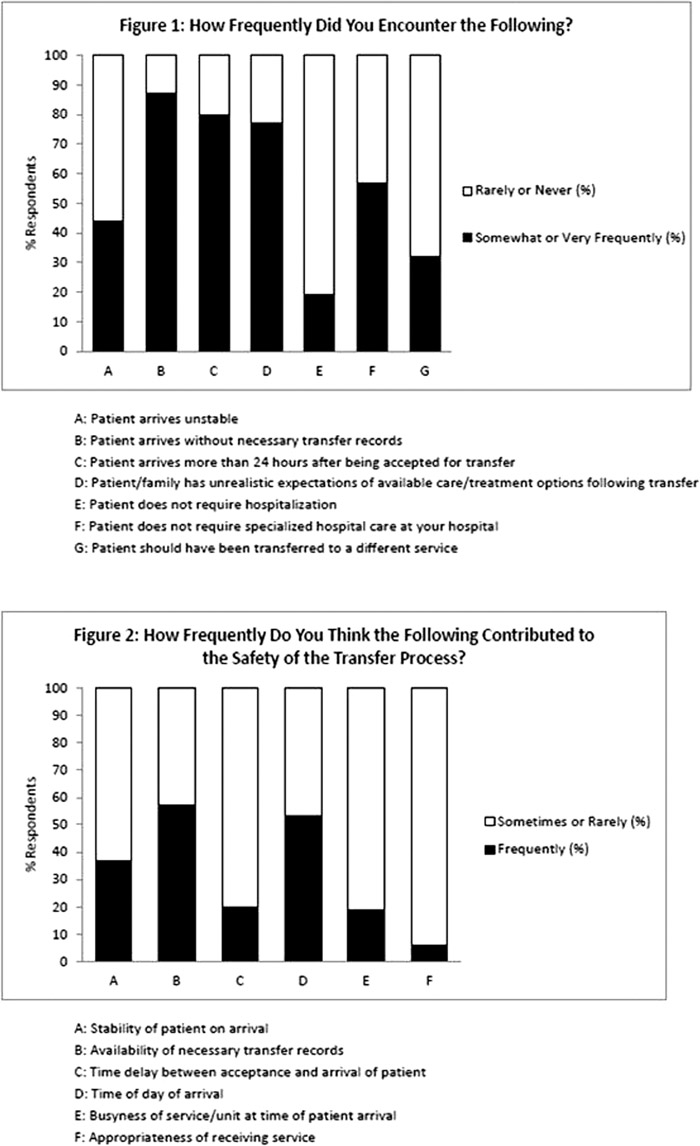 To cite this abstract:
Mueller S, Schnipper J. Physician Perspectives on Inter‐Hospital Transfer. Abstract published at
Hospital Medicine 2014, March 24-27, Las Vegas, Nev.
Abstract 161.
Journal of Hospital Medicine.
2014; 9 (suppl 2). https://www.shmabstracts.com/abstract/physician-perspectives-on-interhospital-transfer/. Accessed September 20, 2019.
« Back to Hospital Medicine 2014, March 24-27, Las Vegas, Nev.