Peripherally Inserted Central Catheter‐Related Bloodstream Infection: Prevalence, Patterns and Predictors
1University of Michigan, Ann Arbor, MI
2Ann Arbor VA Healthcare System, Ann Arbor, MI
Meeting: Hospital Medicine 2014, March 24-27, Las Vegas, Nev.
Abstract number: 53
Background:
Growing use of peripherally inserted central catheters (or, "PICCs"), has led to increasing recognition of the risk of bloodstream infection (BSI). Despite increasing awareness of this outcome, limited data regarding risk factors associated with PICC‐BSI exist. We sought to identify specific patient‐, provider‐ and device‐characteristics associated with PICC‐BSI after controlling for confounding factors.
Methods:
We assembled a retrospective cohort of adult patients who underwent PICC placement for any reason between June 1, 2009 to June 30, 2012 at an academic, 145‐bed University Affiliated Veterans Affairs Medical Center. Data regarding insertion and outcomes were collected using electronic medical record review, administrative data and ICD‐9 billing codes. Because we were interested in both risk factors and time‐to‐event for the same, multivariable logistic regression and Cox‐proportional hazards regression models, covariates from patient‐, provider‐ and device‐domains were selected a priori based on a published conceptual model. Outcomes were reported as odds ratios (OR) and hazard ratios (HR) with corresponding 95% confidence intervals (CI). Outcomes of interest were specified a priori and included: rate and microbiology of PICC‐BSI; patient, provider and device‐factors associated with this outcome.
Results:
Between June 2009 and June 2012, 966 PICCs were inserted in 747 unique patients for a total of 27,173 catheter days. Indications for PICC insertion included: long‐term antibiotic administration (52%, n=503), venous access (21%, n=201), total parenteral nutrition (16%, n=155) and chemotherapy (11%, n=107). On bivariate analysis, intensive care unit status (OR 3.23[1.87‐5.56]), mechanical ventilation (OR 4.39[2.49‐7.73]), hospital and ICU length of stay (OR 1.04[1.02‐1.05]) and OR 1.03 [1.02‐1.04] respectively), POWER PICCs (OR 2.58[1.43‐4.65]), and PICCs placed by interventional radiology (OR 2.57 [1.42‐4.67]) were associated with PICC‐BSI. Importantly, PICC‐BSI was also associated with number of catheter‐lumens (OR 5.21 [2.39‐11.36] and OR 10.84 [4.45‐26.43] respectively). Using a conceptual model to inform multivariable modeling, we found that hospital and ICU length of stay and number of device lumens remained significantly associated with PICC‐BSI after adjustment. Notably, the HR for PICC lumens increased dramatically, suggesting earlier time to CLABSI among patients with multi‐lumen PICCs (HR 4.89 [1.80‐13.32] and HR 15.35 [4.87‐48.35] for double and triple lumen PICCs, respectively). Use of alteplase appeared protective against PICC‐BSI (OR 0.26 [95%CI 0.07‐0.90]). Neither the number of prior PICCs, number of insertion attempts, or subsequent device adjustments was associated with a greater risk of CLABSI.
Conclusions:
PICC‐related CLABSI is associated with catheter dwell time, ICU insertion, and number of device lumens. Policy and procedural oversights targeting these factors appear necessary to reduce rates and risk of this adverse outcome.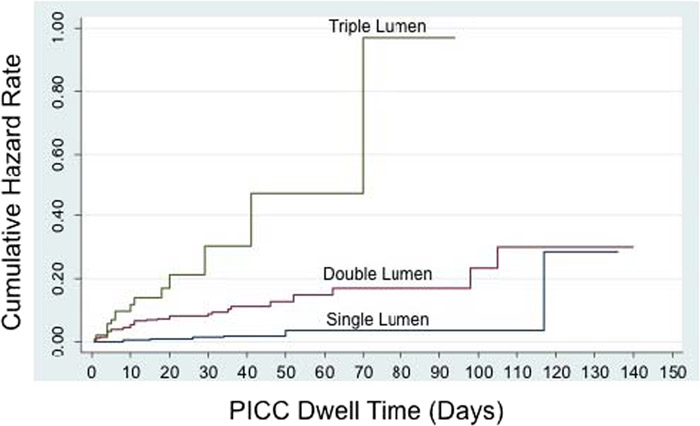 To cite this abstract:
Chopra V, Ratz D, Kuhn L, Lopus T, Chenoweth C, Krein S. Peripherally Inserted Central Catheter‐Related Bloodstream Infection: Prevalence, Patterns and Predictors. Abstract published at
Hospital Medicine 2014, March 24-27, Las Vegas, Nev.
Abstract 53.
Journal of Hospital Medicine.
2014; 9 (suppl 2). https://www.shmabstracts.com/abstract/peripherally-inserted-central-catheterrelated-bloodstream-infection-prevalence-patterns-and-predictors/. Accessed March 28, 2020.
« Back to Hospital Medicine 2014, March 24-27, Las Vegas, Nev.