Background:
Sudden Infant Death Syndrome (SIDS) is the death of an infant younger than one year of age with the cause of death being unknown even after a complete autopsy and investigation. SIDS is the leading cause of Sudden Unexpected Infant Death (SUID) in the US among infants between the ages of one month to a year, with most of the deaths occurring between 2 and 4 months. There are no external nor internal signs that are associated with SIDS, which makes it an unpredictable event. Since SIDS is not preventable, the most effective intervention we can implement as health care providers is to educate parents on measures to decrease the risk factors that contribute to SUID. Up to 70% of SIDS/SUID deaths occur in unsafe sleep environments (1), so safe sleep educational programs have a large potential for decreasing infant deaths. 
Purpose:
To evaluate change in safe sleep modeling on a pediatric unit after training health care providers and staff in SUID risk‐reduction recommendations.
Description:
Our study was divided into three phases:
Pre‐intervention: Pediatric Unit room observations to assess the presence of known SUID risk factors prior to any intervention.
Intervention: Nursing education consisting of a 45‐minute lecture and discussion outlining known risk factors of SUID and how to implement best practices to reduce SUID risk. All parents were given safe sleep information on admission to the hospital. 
Post‐intervention: Reassessing Pediatric Unit rooms for the presence of known SUID risk factors and comparing this to pre‐intervention results. 
Conclusions:
The pre‐intervention results of the initial Pediatric Unit room observations (N=29) demonstrated a very low rate of 14% of rooms meeting all safe sleep measures. This was even lower than a prior newborn nursery study performed by this group, which recorded 30% of rooms meeting all safe sleep measures.
81% of infants had a blanket under the infant and 58% of rooms had extra items in cribs, known SIDS/SUID risk factors. 2 infants were bed‐sharing with parents and one infant was sleeping unattended in a car seat. All of these practices are against the hospital safe sleep policy. 89% of infants were appropriately supine. 
Post test assessments after the educational intervention for the staff are ongoing and will be completed soon (January 2014). Preliminary results show a dramatic increase in safe sleep modeling by the hospital staff.
Similar educational interventions have been performed in newborn nurseries with very good results (including this same research group) but few educational initiatives have been described in inpatient pediatric unit settings. Safe sleep education is a safety initiative that will require multiple education intervention with parents, and the pediatric unit is another area that this message can be given. 
References 
1. Concurrent risks in sudden infant death syndrome. Ostfeld et al. Pediatrics. 2010;125(3):447.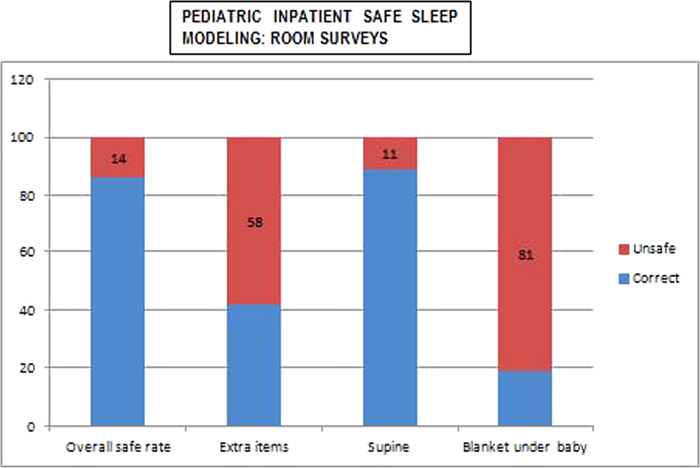 To cite this abstract:
Hale D. Pediatric Inpatient Safe Sleep Modeling. Abstract published at
Hospital Medicine 2014, March 24-27, Las Vegas, Nev.
Abstract 205.
Journal of Hospital Medicine.
2014; 9 (suppl 2). https://www.shmabstracts.com/abstract/pediatric-inpatient-safe-sleep-modeling/. Accessed April 1, 2020.
« Back to Hospital Medicine 2014, March 24-27, Las Vegas, Nev.