Background:
Behavioral emergencies occur when patients act in a manner that poses a danger to themselves, family or hospital staff. Pediatric Hospitalists may encounter these events caring for patients with underlying psychiatric or behavioral disorders and patients presenting after ingestion. Outside of psychiatric facilities, these events are relatively rare in hospitalized pediatric patients and pediatric professionals receive little training in providing safe care for children exhibiting dangerous behaviors. At our institution, violent patient behaviors necessitating the use of restraints occur on an almost monthly basis and have resulted in both patient and staff injuries. Given these violent patient events and JCAHO/CMS regulations on the use of patient restraints, we identified a critical need for staff training in this area.
Purpose:
A multidisciplinary team collaborated to develop training modules to enable clinical staff to attain basic familiarity with critical information necessary to identify and respond to patients with behavioral emergencies. Behavioral emergency events that involve the use of restraints are reviewed and lessons learned are incorporated into ongoing training.
Description:
Training occurs in a tiered manner to provide all staff with the basic skills needed to identify and deescalate potential behavioral emergencies as well as how to respond should one occur. A select group of identified staff is given further in‐depth and hands‐on training in behavioral emergency response, patient restraint and emergency psychiatric medication use.
1)

Nursing staff and medical aides complete a Crisis Prevention course to enable them to identify triggers that might contribute to the development of a behavioral emergency and choose appropriate interventions to avert a crisis. Both Verbal and Nonverbal techniques are taught to decrease and prevent inappropriate behaviors from escalation to dangerous levels. Staff learn principles of personal safety to help avoid injury to all involved in any behavioral crisis.

2)

All clinical staff complete a web‐based graphic novel demonstrating a mock behavioral emergency and model staff responses.

3)

Pediatric Hospitalists, Security Staff, Pediatric Housestaff and Nursing Supervisors participate in hands‐on mock behavioral emergency drills to practice the skills needed for these events.
Conclusions:
Patient Behavioral Emergencies are rare and dangerous events. We have implemented and describe a comprehensive staff training program to promote enhanced skills for preventing and responding to these incidents.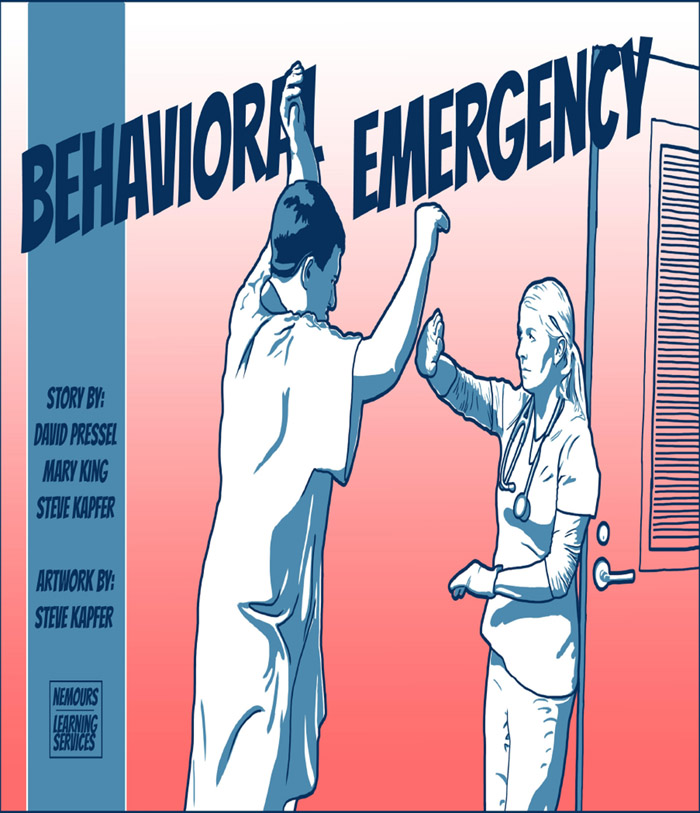 To cite this abstract:
Pressel D, King M, Kapfer S, March P, Pressel A. Pediatric Behavioral Emergencies — Stay Calm, Stay Safe. Abstract published at
Hospital Medicine 2014, March 24-27, Las Vegas, Nev.
Abstract 207.
Journal of Hospital Medicine.
2014; 9 (suppl 2). https://www.shmabstracts.com/abstract/pediatric-behavioral-emergencies-stay-calm-stay-safe/. Accessed March 28, 2020.
« Back to Hospital Medicine 2014, March 24-27, Las Vegas, Nev.