Background: Many hospitalized children have ongoing social stressors and strains. Universal routine social screening is often impractical in clinical practice; however, information on where a child resides is universally available. We sought to determine the correlation between neighborhood-level socioeconomic data and caregiver reported hardship.
Methods: We analyzed a population-based cohort of 774 children aged 1-16 years who were hospitalized with asthma exacerbations. Patient addresses were geocoded and linked census tract- and zip code-level neighborhood data from the US Census. Neighborhood data were categorized into deciles based on the distribution across the hospital's 8-county primary service area. Caregivers answered previously validated questions about income, experience of 7 financial strain measures, and access to medical care. We compared 1) neighborhood median household income to caregiver-reported household income; 2) percentage of neighborhood residents living below the federal poverty line to caregiver-reported financial strain; 3) percentage of neighborhood households without access to a car to caregiver-reported access to primary care. We constructed heat maps and quantified correlation using Kendall's tau b tests.
Results: The cohort was 57% African American and 33% white. A total of 63% reported household income <$30000, 44% reported >=3 financial strain measures, and 69% reported some barriers to accessing care. Census tract-level data generally correlated better with information reported by caregivers than zip code-level data. Caregiver-reported household income correlates with census tract median household income (tau=0.39; p<0.01); financial strain correlates to poverty at census tract (tau=0.26; p<0.01); primary care access correlates to car ownership at census tract (tau=0.16; p<0.01) [figure].
Conclusions: Using a patient's census tract as a marker of social risk correlates better with individual data than zip code. Using patient address and census data, may be possible in routine care as a first line-screening tool.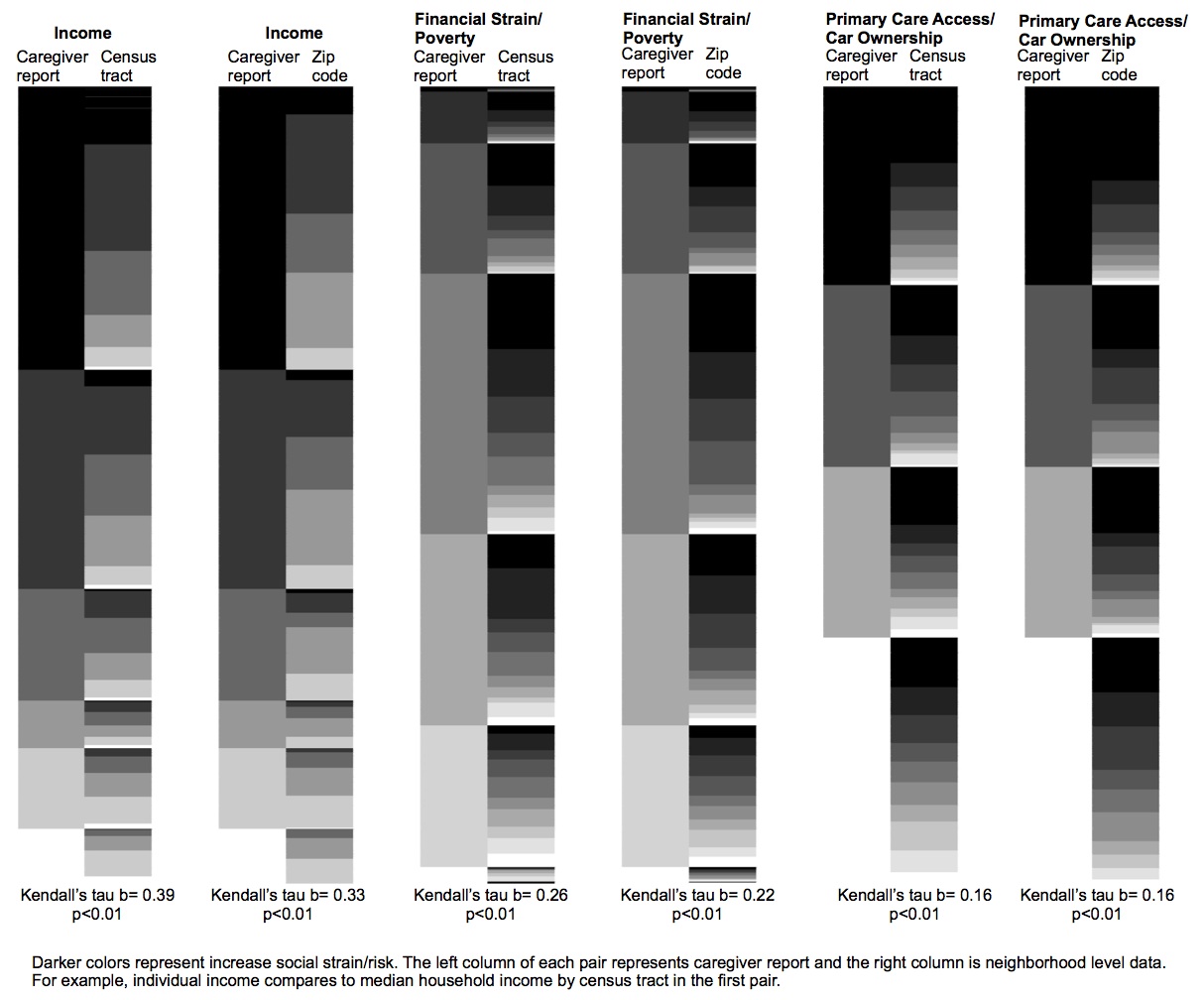 To cite this abstract:
Auger K, Beck A, Huang B, Simmons J, Kahn R. Patient Address As a Universally Available Social Screen in Children Hospitalized with Asthma. Abstract published at
Hospital Medicine 2015, March 29-April 1, National Harbor, Md.
Abstract 62.
Journal of Hospital Medicine.
2015; 10 (suppl 2). https://www.shmabstracts.com/abstract/patient-address-as-a-universally-available-social-screen-in-children-hospitalized-with-asthma/. Accessed November 18, 2019.
« Back to Hospital Medicine 2015, March 29-April 1, National Harbor, Md.