Paraganglioma Causing Resistant Hypertension in a Twenty One Year Old Female
1Fairview Hospital,Cleveland Clinic Hospital, Cleveland, OH
2Fairview Hospital, Cleveland, OH
3Cleveland Clinic, Cleveland, OH
Meeting: Hospital Medicine 2015, March 29-April 1, National Harbor, Md.
Abstract number: 628
Keywords: Clinical Vignette Abstracts — Adult
Case Presentation:
A 21 year old woman had recently delivered a healthy male infant. This was her first pregnancy, it was complicated in the third trimester by pre eclampsia due to which she underwent a emergency cesarean section. Four days post partum, she started spiking high fevers and developed tachycardia with heart rate in the 140s to 150s. She was completely asymptomatic and clinical exam was negative for any localizing signs. Infectious work up including blood and urine cultures was negative. A CT abdomen/pelvis scan with contrast was obtained to rule out septic thrombophlebitis and she was found to have a large right retroperitoneal mass measuring 9.2 x 14 x 12.5 cm in size with right renal hydronephrosis as well a 3 cm lytic lesion in the sacrum. Renal ultrasound confirmed a large retroperitoneal mass with hydronephrosis. MRI abdomen/pelvis confirmed extension of the retroperitoneal mass into the inferior vena cava (IVC). MRI lumbar spine was obtained showing an exophytic bony lesion in the dorsal aspect of S1. CT chest PE showed two pulmonary nodules measuring 7 mm and 11 mm in size respectively. MRI brain and CT brain were obtained showing calvarial lesions. A percutaneous CT guided right renal mass biopsy showed morphological and immunohistochemical findings consistent with a paraganglioma. She continued to remain severely hypertensive post delivery and was started on treatment with labetalol and furosemide. She was also started on full anticoagulation for the IVC thrombosis. She underwent right sided nephrectomy and removal of the retroperitoneal mass, her post operative course was complicated by severe hypotension requiring vasopressors.
Discussion:
Paragangliomas, also sometimes called extra adrenal pheochromocytomas are neuroendocrine tumours arising from sympathetic and parasympathetic paraganglia. Most of the abdominal tumours are sympathetic and secrete catecholamines mostly noradrenaline. The most common presentation of paragangliomas is resistant hypertension. Surgical resection is the mainstay of treatment but prolonged follow up is necessary as these tumours have a high rate of recurrence.
Conclusions:
It is important, even though rare, to keep in mind the differential diagnosis of parraganglioma in mind in a patient wth resistant hypertension.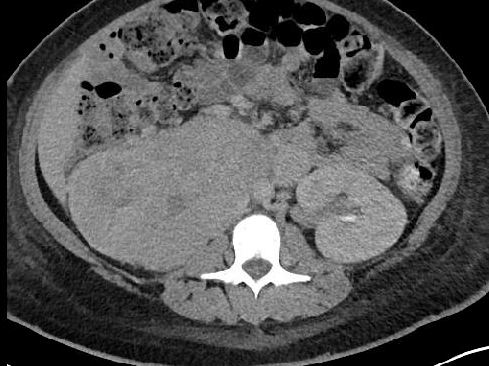 To cite this abstract:
Narechania S, Karivedu V, Thiruchelvam N, Anumandla A, Kistangari G. Paraganglioma Causing Resistant Hypertension in a Twenty One Year Old Female. Abstract published at
Hospital Medicine 2015, March 29-April 1, National Harbor, Md.
Abstract 628.
Journal of Hospital Medicine.
2015; 10 (suppl 2). https://www.shmabstracts.com/abstract/paraganglioma-causing-resistant-hypertension-in-a-twenty-one-year-old-female/. Accessed April 4, 2020.
« Back to Hospital Medicine 2015, March 29-April 1, National Harbor, Md.