Case Presentation: A 51 year-old Caucasian female with a palpable right breast nodule, underwent biopsy which confirmed invasive ductal carcinoma. Sentinel lymph node biopsy, axillary lymph node dissection (8/14) and a right mastectomy were performed. The tumor was estrogen receptor positive, progesterone receptor positive, and HER-2/neu negative. Treatment was initiated with four cycles of Adriamycin and Cytoxan followed by Docetaxel 75 mg /m2after premedication with prednisone, diphenhydramine and famotidine. Two days later, she noted numbness in the hands, then developed swelling, pain and redness localized to the fingers. She was admitted to the hospital for worsening symptoms. Examination revealed diffusely erythematous and swollen fingers. These skin findings extended on to the palm and up to the wrists bilaterally. She was diagnosed with PPES and was treated with intravenous steroids and pain medications which gradually improved her symptoms. Tapering dose of steroids was given on discharge home with complete resolution of symptoms noted 10 days later on office follow up. With switch to Paclitaxel patient remained symptom free.
Discussion:
Palmoplantar erythrodysesthesia (PPES), also known as hand-foot syndrome is often caused by chemotherapy agents like Doxorubicin, 5 Fluorouracil, Cytarabine and Tyrosine Kinase Inhibitors. Docetaxel is a commonly used chemotherapeutic agent in breast cancer. Docetaxel is a member of the taxane drug class, which is used for treating multiple malignancies such as ovarian, lung, head neck and metastatic breast cancer. It mainly produces myelosuppression and skin toxicity including erythematous pruritic maculopapular eruption, PPES, hyperpigmentation, and nail changes.
The symptoms of PPES usually start within 48 hours after the chemotherapy cycle and gradually resolve within 2 weeks after cessation of the treatment or reducing the dosage of the drug. This syndrome is characterized by paresthesia in a sock-and-glove pattern. Variable degrees of pain, tingling, dryness, erythema, scaling, swelling, and vesiculation of the hands and feet can be seen. In most cases, symptoms appear after prolonged drug exposure. The pathogenesis of PPES is not completely understood but a direct toxic effect of the chemotherapeutic agent on eccrine coils (which are in highest density on the palms and soles) is most often proposed, although there is no direct evidence to support this theory, and microscopic evidence of damage to the eccrine sweat glands or ducts is only infrequently reported. PPES appears to be dependent on the drug or the dose of the drug, with peak plasma drug concentrations, total cumulative dose, and administration schedule affecting the onset and severity. In our case the symptoms started after the first dose of docetaxel but did not reoccur with Paclitaxel which is also known to cause this syndrome.
Conclusions:
Physicians should be aware of this entity and they should stop or decrease the dose of the causing drugs. Unnecessary treatments should be avoided.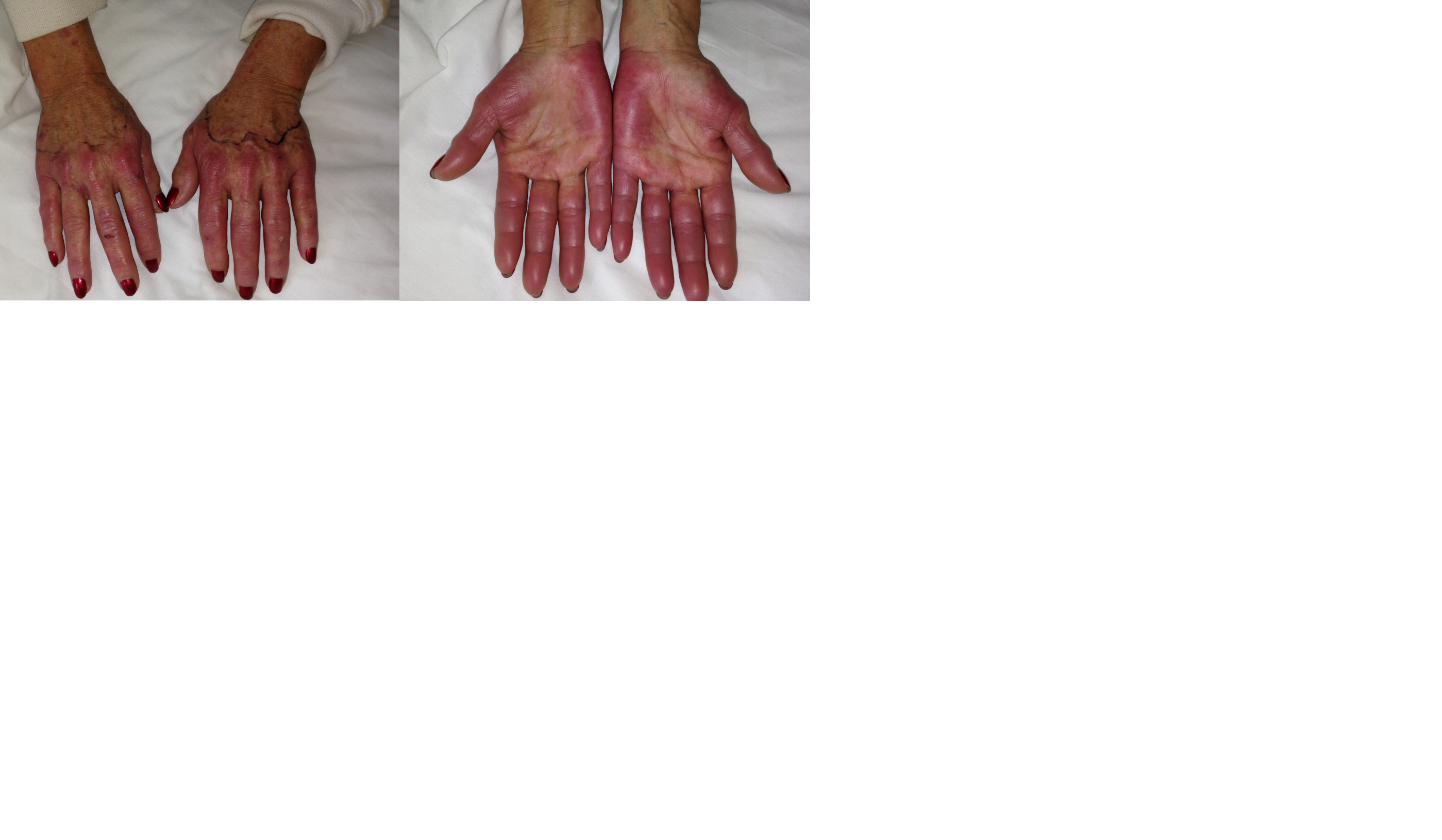 To cite this abstract:
May O, Khanna R, Daw H, Alahmad J. Palmoplantar Erythrodysesthesia Syndrome : A Rare Adverse Effect of Docetaxel Chemotherapy. Abstract published at
Hospital Medicine 2016, March 6-9, San Diego, Calif.
Abstract 674.
Journal of Hospital Medicine.
2016; 11 (suppl 1). https://www.shmabstracts.com/abstract/palmoplantar-erythrodysesthesia-syndrome-a-rare-adverse-effect-of-docetaxel-chemotherapy/. Accessed April 3, 2020.
« Back to Hospital Medicine 2016, March 6-9, San Diego, Calif.