Outcomes of Localizing Hospitalist‐Physician Assistant Teams to a Nursing Unit
1Medical College of Wisconsin, Milwaukee, WI
2Froedtert Hospital And the Medical College of Wisconsin, Milwaukee, WI
Meeting: Hospital Medicine 2011, May 10-13, Dallas, Texas.
Abstract number: 116
Background:
Localization of medical teams to a hospital unit has been shown to improve nurse–provider communication, but its affect on patient outcomes is unknown.
Methods:
Between April 1, 2010, and July 10, 2010, we conducted a trial of localizing patients assigned to 2 hospitalist–physician assistant (HPA) teams to 1 nursing unit. We concurrently compared their outcomes with the outcomes of patients assigned to 2 similar HPA teams with patients dispersed throughout the hospital to more than 10 units (the usual practice). Patients with a principal diagnosis of sickle cell disease (SSD) were excluded from the analysis, as they were preferentially assigned only to the nonlocalized teams. A faculty admitting medical officer (AMO) assigned patients to each team and did not use any clinical criteria (other than diagnosis of SSD) to make this assignment. The AMO was asked to assign at least 5 admissions to each nonlocalized team every day. Nonlocalized teams did not take new patients beyond a maximum census of 16 patients each. The AMO assigned new patients to the localized teams to keep the nursing unit patient census (32) full. Beyond these guidelines, the AMO was asked to consider the team's perceived workload and use judgment in deciding assignment. We used linear mixed models for comparing log‐transformed length of stay and charges and generalized linear mixed models for comparing 30‐day risk of readmission. We controlled for age, race, sex, payer status, weekend admission/discharge, comorbidities, principal diagnosis and the effect of repeat admissions of the same patient. This study was reviewed by the institutional review board and granted an exemption as a quality assurance project.
Results:
Six hundred and fifty‐five admissions were assigned to the localized teams, and 541 (non–sickle cell) admissions were assigned to the nonlocalized teams. These admissions were similar except that patients on localized teams were older. Compared with patients cared for by nonlocalized teams, patients cared for by localized teams had a 11% longer adjusted length of stay (P = 0.022) but similar charges and similar 30‐day risk of read‐mission (see Table 1).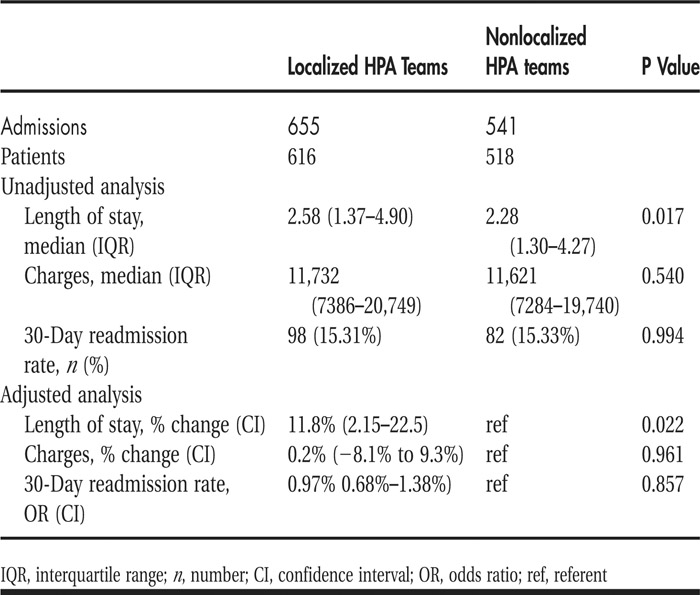 TABLE 1 Outcomes of Patients Assigned to Localized Hospitalist–Physician Assistant (HPA) Teams Versus Nonlocalized HPA Teams
Conclusions:
Our study revealed a counterintuitive finding of higher length of stay when we localized HPA teams—an intervention designed to promote efficiency. This finding needs to be further explored within a wider context of other measures of quality of care such as patient satisfaction, failure to rescue rates, and process measures. In addition, as new patients could be assigned to the localized teams only when the nursing unit had open beds due to discharges, there may have been a perverse incentive promoting longer length of stay to keep the unit census high.
Disclosures:
S. Singh ‐ none; S. Tarima ‐ none; M. Conti ‐ none; V. Rana ‐ none; D. Marks ‐none
To cite this abstract:
Singh S, Tarima S, Conti M, Rana V, Marks D. Outcomes of Localizing Hospitalist‐Physician Assistant Teams to a Nursing Unit. Abstract published at
Hospital Medicine 2011, May 10-13, Dallas, Texas.
Abstract 116.
Journal of Hospital Medicine.
2011; 6 (suppl 2). https://www.shmabstracts.com/abstract/outcomes-of-localizing-hospitalistphysician-assistant-teams-to-a-nursing-unit/. Accessed April 1, 2020.