Case Presentation:
Mr. C. is a 56‐year‐old Korean man with a history of uncontrolled diabetes mellitus, hypertension, and alcohol and tobacco abuse for the past 30 years who presented with left eye swelling, itching, and redness for the past 2 months. He denied fever, chills, loss of weight, or appetite. His review of system was positive for pruritis and rash when he did lawn work. His vision was poor on the left eye, accepted to purulent discharge from left eye and headache. After admission, he was evaluated by CT and MRI of orbit which were reported as expanding mass of left orbital structures, proptosis and stretching of left optic nerve. Ophthalmology was consulted and he underwent left orbital biopsy with lateral cantholysis. He was treated empirically for bacterial and fungal infections with intravenous vancomycin, Zosyn and amphotericin B., as well as topical antibiotics. His biopsy was negative for bacterial and fungal infections. It was positive for immunoglobulin G4 (IgG4) plasma cells. Ratio of IgG4 to total immunoglobulin was elevated in the tissue. There was no scarring. He was treated with prednisone 1 mg/kg body weight po. After one week of treatment his left orbital swelling was started improving. His insulin and blood pressure regimen were adjusted to optimize blood sugar and blood pressure control. His serum IgG4 was elevated. Pan CT of his head and neck, chest, and abdomen was positive for left parotid tumor, bilateral ground‐glass opacities, and emphysematous changes. He was counseled to quit smoking and alcohol and discharged home in stable condition. It ws arranged for him to have close follow‐up with his primary care doctor and ophthalmologist.
Discussion:
Immunoglobulin G4 related disease is a fibroinflammatory condition characterized pathologically by immunoglobulin G4 strongly positive plasma cells. Genetic predisposition, DQβ1‐57 without aspartic acid has been reported in Korean population. Modified helper T‐cell response to interleukin 10 is the reported mechanism behind IgG4‐related disease. It can affect multiple organ system including orbit, salivary glands, thyroid, lungs, kidneys, periaortic tissue, and pancreas. Diagnosis is made by tissue biopsy. Treatment includes prednisone for 3–6 months and prolonged therapy for 5 years to prevent relapse. B‐cell depletion therapy using rituximab has been reported. Less fibrosis predicts better response to therapy. Our patient showed improvement after a week of high dose of steroids as predicted by his histology.
Conclusions:
Immunoglobulin G4 related disease is a multiorgan inflammatory condition diagnosed with biopsy. In a diabetic patient presenting with pseudo tumor, it is important to rule out infectious granulomas caused by mucor mycosis and mycobacterium tuberculosis, as well as pseudomonas infection. More studies are needed pertaining to effective therapeutic regimen for IgG4‐related disease.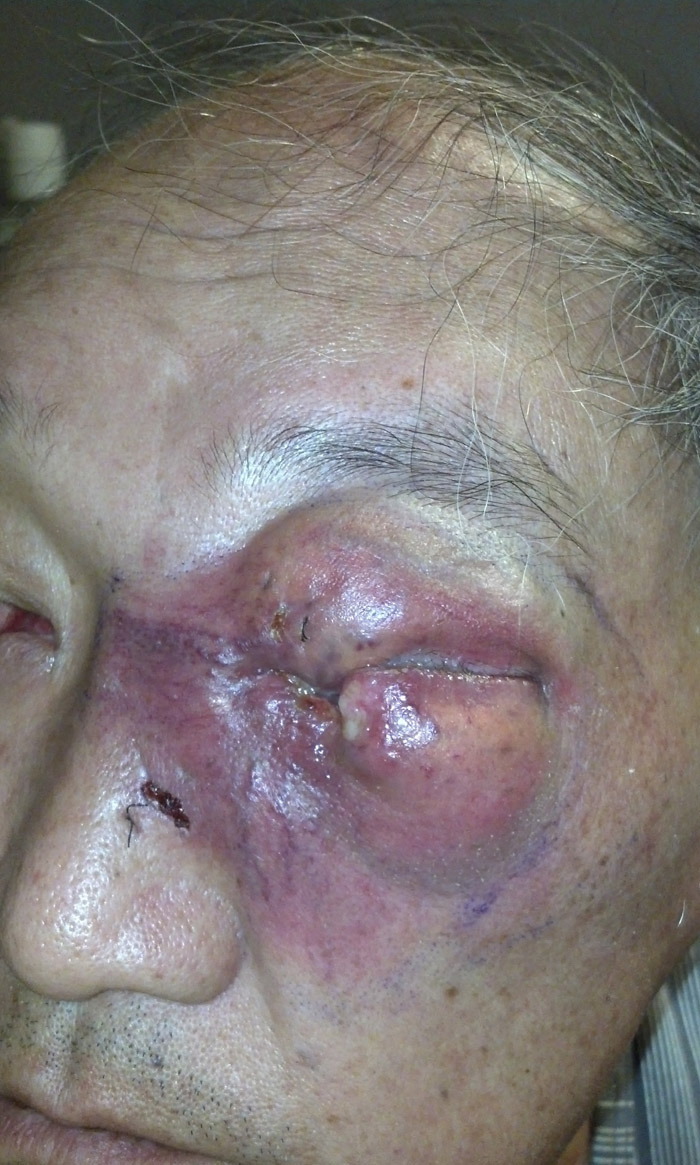 To cite this abstract:
Prakasa K, Oduyebo I. Orbital Immunoglobulin G4–Related Disease in a Diabetic Patient — a Case Presentation and Literature Review. Abstract published at
Hospital Medicine 2013, May 16-19, National Harbor, Md.
Abstract 401.
Journal of Hospital Medicine.
2013; 8 (suppl 2). https://www.shmabstracts.com/abstract/orbital-immunoglobulin-g4related-disease-in-a-diabetic-patient-a-case-presentation-and-literature-review/. Accessed March 31, 2020.
« Back to Hospital Medicine 2013, May 16-19, National Harbor, Md.