On the "Cuhsp" of Greatness: The University of Colorado Hospitalist Scholars Program
1University of Colorado, Aurora, CO
2University of Colorado —
Anschutz Medical Campus, Aurora, CO
Meeting: Hospital Medicine 2014, March 24-27, Las Vegas, Nev.
Abstract number: 181
Background:
Hospitalist training tracks have been integrated into some internal medicine residency programs to help educate future hospitalists about Quality Improvement (QI), patient safety, and transitions in care. However, few educational programs exist for undergraduate students interested in the field of hospital medicine.
Purpose:
Create a longitudinal program for undergraduate students, specifically designed to expose them to hospital medicine and prepare them for medical school and training.
Description:
The University of Colorado, or CU, Hospitalist Scholars Program (CUHSP, pronounced "cusp") is a longitudinal program for undergraduate students focused on mentorship, career development, andservice within hospital medicine. Undergraduate students from Colorado are invited to apply for this program. Selections are based upon academic achievement (GPA > 3.5), volunteerism, and commitment to the field of medicine (determined by a short essay and interview). As part of this 2‐year program, students participate in monthly didactic sessions designed to prepare them for applying to medical school and careers in medicine, as well as expose them to specific areas of hospital medicine, including QI, transitions in care, and patient safety. Students are expected to work on a QI project with a hospitalist mentor and complete at least 50 hours of volunteer work within the hospital. Each student's knowledge of the medical field, hospital medicine, QI, and preparedness for applying for medical school are assessed before and after completion of the program using Likert scale surveys (1=Strongly Disagree, 2=Disagree, 3=Neutral, 4=Agree, 5=Strongly Agree; reported below as pre, post).
Over 80 students applied for CUHSP in 2011 and 2012. Out of 6 students, 3 are in their second year and 3 have completed the program and are in the process of applying to medical school. After completing CUHSP, all of these students feel more prepared to apply to medical school (A: pre 2.4, post 4.6). They also feel more knowledgeable about careers in medicine (B: pre 1.6, post 3.5), medical training (C: pre 2.3, post 3.5), and hospital medicine (D: pre 2.8, post 4.4). All 6 students participated in a QI project geared towards improving patient/provider communication, which has led to a larger project using appreciative inquiry to improve patient satisfaction. The students have all reported feeling more comfortable designing and presenting a QI project (E: pre 2.7, post 4.3). See Table 1.
Conclusions:
Students who have participated in CUHSP report increased knowledge and preparedness for medical school and careers in medicine, including hospital medicine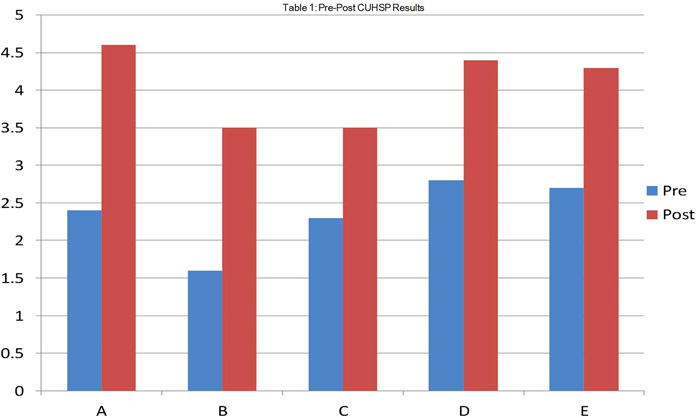 To cite this abstract:
Pino‐Jones A, Glasheen J, Tad‐y D. On the "Cuhsp" of Greatness: The University of Colorado Hospitalist Scholars Program. Abstract published at
Hospital Medicine 2014, March 24-27, Las Vegas, Nev.
Abstract 181.
Journal of Hospital Medicine.
2014; 9 (suppl 2). https://www.shmabstracts.com/abstract/on-the-cuhsp-of-greatness-the-university-of-colorado-hospitalist-scholars-program/. Accessed March 31, 2020.
« Back to Hospital Medicine 2014, March 24-27, Las Vegas, Nev.