Case Presentation:
A previously healthy 36-year-old woman presented to the emergency room with one day of fever and an episode of presyncope in the setting of 3 weeks of sinus pressure and headache. She denied cough, chest pain, vomiting, and diarrhea. She was febrile to 103.1° Fahrenheit, tachycardic to 123 beats per minute, and hypotensive to 92/54 mmHg. Her hemodynamics normalized with fluid resuscitation and acetaminophen. Physical exam was remarkable for tachycardia and bilateral maxillary sinus tenderness. Labs were notable for mild leukocytosis but were otherwise unremarkable, including cerebrospinal fluid analysis. Chest x-ray was normal and maxillofacial CT showed diffuse sinusitis. Empiric vancomycin and cefepime were initiated. 4/4 blood culture bottles grew pan-sensitive Streptococcus pneumoniaethe following day and antibiotics were narrowed to ceftriaxone.
On day 2 of hospitalization, the patient became confused and her urine output decreased. Labs were notable for new anemia, with hemoglobin decreased from 14.0 to 11.5 g/dL, and thrombocytopenia, with platelet count dropping from 297,000 to 22,000/uL. She had acute kidney injury with blood urea nitrogen (BUN) increased from 18 to 49 mg/dL and creatinine increased from 0.8 to 4.8 mg/dL. PT, PTT, and fibrinogen were normal. D-dimer was elevated to >20 ug/mL. Haptoglobin was undetectable. ADAMST13 activity levels were normal at 61%. Peripheral smear showed many schistocytes.
The patient became progressively more acidotic and somnolent requiring intubation and mechanical ventilation for airway protection. Hemodialysis was started for anuric renal failure without improvement in her mental status. After considering ongoing severe sepsis, disseminated intravascular coagulation (DIC), and thrombotic thrombocytopenic purpura (TTP), the diagnosis of atypical hemolytic uremic syndrome (HUS) was made. The patient received eculizumab, a monoclonal antibody against terminal complement cleavage of C5, which was recently approved for treatment of atypical HUS. The morning after administration of eculizumab, the patient's mental status returned to baseline and she was extubated the following day without incident. She received two more weekly doses of eculizumab with resolution of thrombocytopenia and microangiopathic hemolytic anemia (MAHA). She began making urine but remained hemodialysis-dependent at discharge with plans to continue biweekly eculizumab infusions as an outpatient.
Discussion:
Atypical HUS is an uncommon disease caused by dysregulation in the complement cascade system. It manifests as the triad of MAHA, thrombocytopenia, and acute renal failure. The diagnosis remains clinical in the absence of Shiga-toxin producing pathogen and with preserved ADAMST13 levels. The disease is more common in pediatric patients, where it represents an estimated 20% of all HUS. Atypical HUS has been associated with severe S. pneumoniaeinfection secondary to pneumonia and meningitis in children but only rarely with sinusitis. To our knowledge, this is the first such case to be reported in an adult.
Conclusions:
Atypical HUS is a rare but severe disease involving microangiopathic hemolytic anemia, thrombocytopenia, and acute renal failure caused by dysregulation in the complement cascade. We present a case of an adult patient who developed the disease secondary to S. pneumoniae sinusitis and bacteremia and showed significant clinical improvement after receiving eculizumab, a monoclonal antibody against terminal C5 cleavage.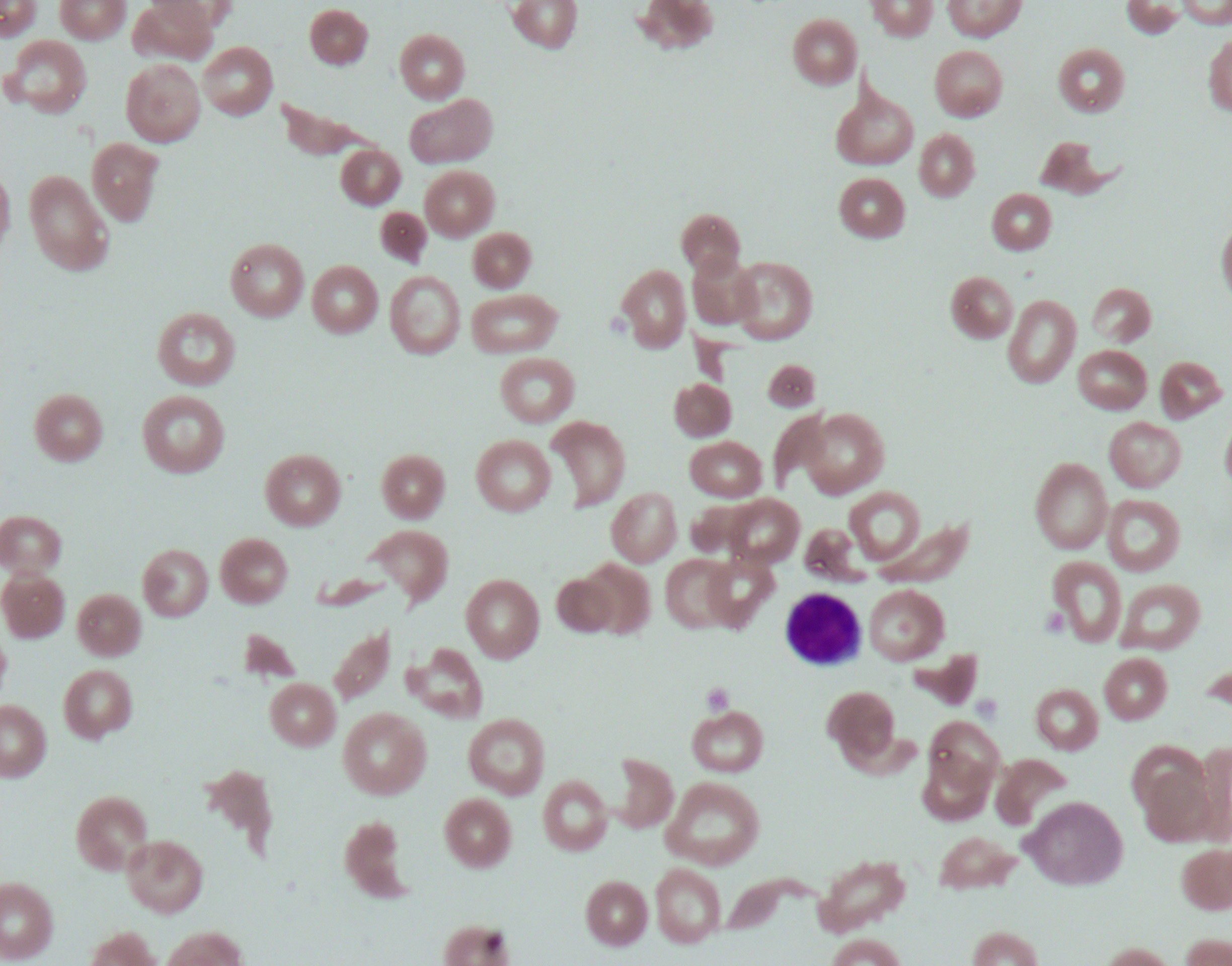 To cite this abstract:
Salciccioli KB, Wiseman A, Gold B, Imtiaz R, Ahmed S, Sethi A. Not Your Typical Complements: Atypical Hemolytic Uremic Syndrome Secondary to Streptococcus Pneumoniae. Abstract published at
Hospital Medicine 2016, March 6-9, San Diego, Calif.
Abstract 775.
Journal of Hospital Medicine.
2016; 11 (suppl 1). https://www.shmabstracts.com/abstract/not-your-typical-complements-atypical-hemolytic-uremic-syndrome-secondary-to-streptococcus-pneumoniae/. Accessed September 19, 2019.
« Back to Hospital Medicine 2016, March 6-9, San Diego, Calif.