Case Presentation: A 9 year old male presented to the emergency department (ED) with a 3 day history of fever to 103°F, sore throat, and decreased oral intake due to throat pain. On the day of presentation, the patient also developed a rash which appeared rapidly over his trunk, face, and extremities. Upon arrival to ED, he did not have trouble speaking and was able to handle his secretions. Physical examination was notable for erythematous oropharynx with symmetrically enlarged uvula. He also had generalized fine papular eruption over the face, trunk, and back. The patient received a normal saline bolus, Penicillin G, and dexamethasone. Rapid strep test was negative, and throat and blood cultures were obtained. A complete blood count with differential was unremarkable. A respiratory viral panel was also negative. The patient was admitted to the step-down unit to be monitored in case of airway obstruction. He improved by the next day and was transitioned to the floor. His rash resolved as well, and he was discharged the afternoon of hospital day 1. After discharge, blood cultures showed no growth, but throat culture was positive for Group A Streptococcus (GAS).
Discussion: The patient presented with uvulitis. Group A Streptococcus, the most common pathogen, typically causes uvulitis associated with pharyngitis. Group A Streptococcal uvulitis often does not cause respiratory distress and can present with a classic sandpaper-like "scarlatiniform" rash. Unlike GAS, H. Influenzae can cause isolated uvulitis and has a higher incidence of respiratory distress with or without associated epiglottitis. Other rare entities causing uvulitis include Fusobacterium nucleatum, Prevotella intermedia, and S. pneumoniae. Viral pathogens can cause uvular lesions as well, but no reports have described isolated viral uvulitis. Non-infectious causes of uvulitis include trauma, irritant inhalation, vasculitis, allergic reactions, and angioedema (hereditary or drug-induced). Respiratory distress is uncommon unless accompanied by epiglottitis or peritonsillar abscess. Initial management of acute uvulitis is largely centered on airway protection and prevention of airway compromise. Lateral neck X-ray should be obtained in uvulitis patients without pharyngitis to rule out epiglottitis. Imaging should also be considered in patients with noninfectious uvulitis. Computed tomography of the neck should be obtained in patients who present with trismus to rule out peritonsillar abscess. Antibiotic therapy is typically based on clinical presentation.
Conclusions: Pharyngitis is routinely encountered by hospitalists. It is unusual to see and treat uvulitis. Recognition of this disease entity and timely initial management are important aspects in care of patients with uvulitis. This case presentation highlights this unusual entity and to remind us that not all sore throats are pharyngitis!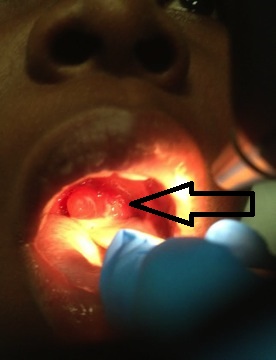 To cite this abstract:
Lee C, Smithhart W, Shodhan S. Not Your Typical Case of Pharyngitis. Abstract published at
Hospital Medicine 2015, March 29-April 1, National Harbor, Md.
Abstract 765.
Journal of Hospital Medicine.
2015; 10 (suppl 2). https://www.shmabstracts.com/abstract/not-your-typical-case-of-pharyngitis/. Accessed November 18, 2019.
« Back to Hospital Medicine 2015, March 29-April 1, National Harbor, Md.