Case Presentation: An 89 year-old male developed coagulase negative Staphylococcus bacteremia and infective endocarditis of mitral valve after urinary procedure for which he was started on Daptomycin for 6 weeks. At week 4, he developed fever and exertional shortness of breath without other respiratory symptoms. He was a non-smoker with no history of COPD or asthma. His initial oxygen saturation was 72% and required high flow oxygen. Pertinent labs included 6% peripheral eosinophilia, CRP 27 mg/dL, ESR 54 mm/hr, BNP 102 pg/mL. CT chest revealed bilateral lower lobe ground-glass opacification with interlobular septal thickening. ANA, Rheumatoid factor, ANCA and respiratory pathogen panel were negative. With concern for daptomycin-induced eosinophilic pneumonia, daptomycin was discontinued and vancomycin was started to complete antibiotic course. High dose methylprednisolone was started for eosinophilic pneumonia. Bronchoscopy was not done due to his fraility. Repeat CT chest 2 weeks later revealed partial clearing of the ground-glass opacities. His respiratory status improved and he was discharged on prednisone taper, Bactrim and home oxygen.
Discussion: Daptomycin is used to treat infections from Methicillin-resistant Staphylococcus aureus and Vancomycin-resistant Enterococci. Uncommonly, it can cause eosinophilic pneumonia which can mimic other infectious causes of pneumonia resulting in delayed diagnosis and management.Daptomycin-induced eosinophilic pneumonia is an uncommon but serious adverse event from daptomycin. It usually affects elderly males, approximately 1-4 weeks after starting daptomycin. Exact mechanism is unclear but is believed to be due to inflammatory response from antigenic stimulation by daptomycin. As per FDA, daptomycin-induced eosinophilic pneumonia is diagnosed when there is concurrent exposure to daptomycin, fever, dyspnea with increased oxygen requirement or requiring mechanical ventilation, new pulmonary infiltrates on chest x-ray or CT scan, bronchoalveolar lavage with > 25% eosinophils, and clinical improvement after daptomycin withdrawal. Only a handful of definite cases have been reported as all cases don't strictly meet the criteria. Daptomycin-induced eosinophilic pneumonia might be indistinguishable from other causes of pneumonia. Hence, low threshold for suspicion should be maintained in patients on daptomycin who present with new onset dyspnea. Symptoms may resolve upon discontinuation of daptomycin, however corticosteroids might be required to hasten recovery.
Conclusions: Daptomycin-induced eosinophilic pneumonia might be indistinguishable from other infectious causes, hence low threshold of suspicion should be maintained. With increasing use of daptomycin, physicians should be cognizant about this entity for timely diagnosis and management which can be lifesaving.
IMAGE 1: CT chest at presentation showing extensive ground glass opacities with interlobular septal thickening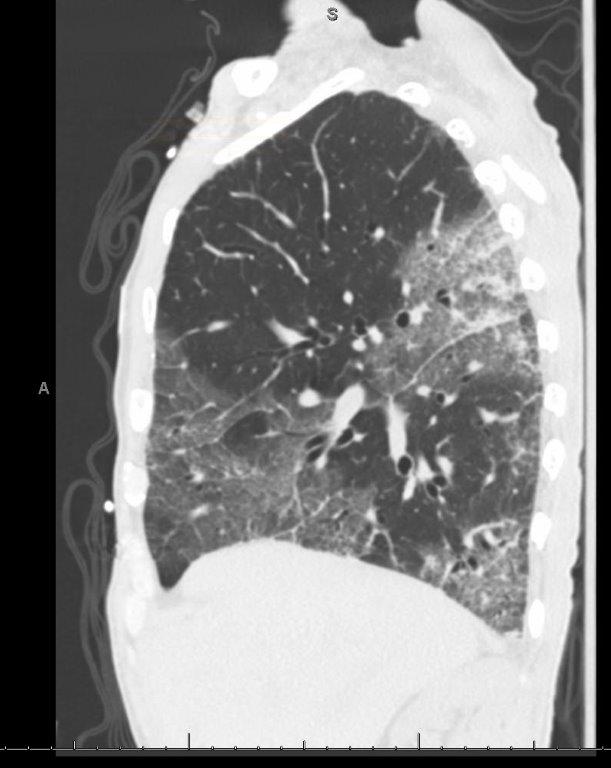 IMAGE 2: CT chest 2 weeks later showing partial clearing of the ground glass opacities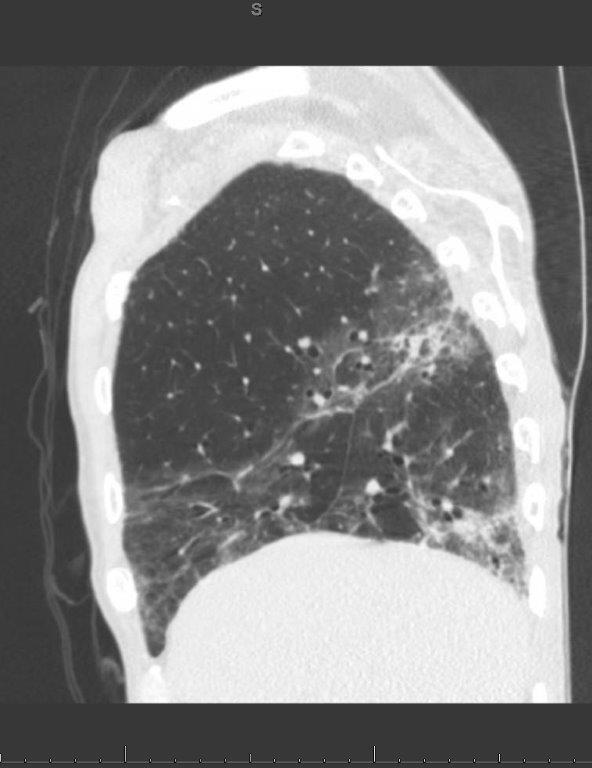 To cite this abstract:
Tachamo, N; Timilsina, B; Mohanty, E; Lohani, S; Nazir, S. NOT ALL PNEUMONIA IS INFECTIOUS!. Abstract published at
Hospital Medicine 2018; April 8-11; Orlando, Fla.
Abstract 879. https://www.shmabstracts.com/abstract/not-all-pneumonia-is-infectious/. Accessed February 25, 2020.