Case Presentation: In most instances, patients who present with a positive fluid wave would be correctly diagnosed as having ascites. However, a few cases have been described in literature where a giant ovarian cyst is falsely assessed as ascites (1-3). We present one such case with a rare histological finding.
A 23 year old female with no known past medical history presented to clinic with a complaint of abdominal distention for five years. She had no abdominal pain, nausea or vomiting. She endorsed decreased intake due to abdominal discomfort which led to weight loss of thirty pounds in one year. Otherwise, she had no constitutional symptoms. Her gynecological history was unremarkable. She consumed approximately three drinks per day for two and a half years during college. However, in the last year she reported only occasionally drinking on the weekends. Significant examination findings include a markedly distended abdomen approximately corresponding to thirty-six weeks gestational age. Her abdominal examination was also remarkable for a pronounced fluid wave consistent with marked ascites. Initial investigations included liver function test, complete blood count and an abdominal/ pelvic ultrasound. The lab tests were all within normal limits and the pelvic ultrasound revealed a huge complex cystic structure seen arising from the left adnexa. Further investigations included a Ca-125 which was normal and a computed tomography scan of the abdomen which showed a huge fluid-containing structure in the abdomen/pelvis with a volume of more than 12 L (image). She subsequently underwent laparoscopic left ovarian cystectomy and left partial salpingectomy. Intra-operative findings revealed a 40 cm left ovarian cyst that had 17 L of cyst fluid removed. The final pathological diagnosis was a benign papillary serous cystadenofibroma of the ovary. The post operative course was relatively uncomplicated and the patient was discharged home.
Discussion: Ovarian cysts are quite common in women over the age of forty (3). However, giant ovarian cysts are now rarely seen with the advent of early diagnostic imaging (3-5) . Among the cases that have been described in recent literature, the majority are serous cyst adenomas (a benign epithelial neoplasm) in adolescents and older age groups. Cystadenofibromas, which contains both epithelial and fibrous stromal components, are relatively rare (6). This case is of interest, as it is one of the few cases of giant ovarian cyst in a young adult, with a relatively rare histological finding.
Conclusions: This case presents a learning point as giant ovarian cyst should be considered as a differential diagnosis in a female presenting with abdominal distention and positive fluid wave.
References
1. Lombardo L, Babando G. Giant ovarian cyst mimicking ascites. Gastrointestinal Endoscopy 1986;32(3):245-246.
2. Mikos T, Tabakoudis G, Pados G, Eugenidis N, Assimakopoulos E. Failure of ultrasound to diagnose a giant ovarian cyst: a case report. Cases J 2009;2(1):6909.
3. Fimmano A, Bottazzi C, Cirillo C. Giant bilateral ovarian cysts in an adolescent masked by obesity and mimicking ascites: a case report. Chirurgia Italiana 2004;56(5):711-15.
4. Doland M, Boulanger S, Salameh J. Laparoscopic management of giant ovarian cyst. JSLS 2006;10(2):254-6.
5. Sujatha V, Babu S. Giant ovarian serous cystadenoma in a postmenopausal woman: a case report. Cases J 2009;2(1):7875.
6. Wasnik A, Elsayes K. Ovarian cystadenofibroma: A masquerader of malignancy. Indian Journal of Radiology and Imaging 2010;20(4):297.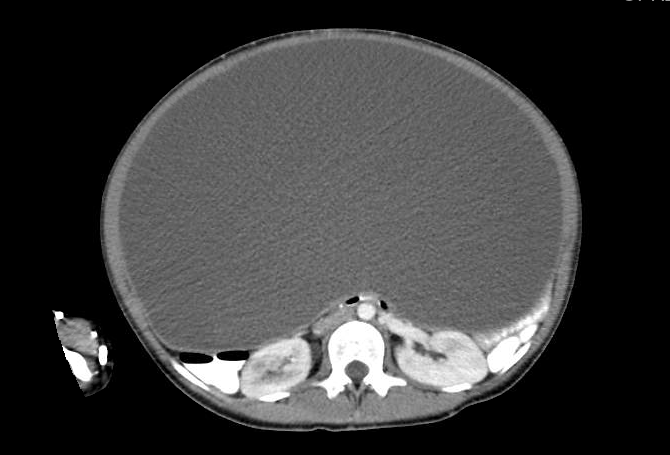 To cite this abstract:
Oo H, Gottdiener A. Not All Abdominal Distention Plus Fluid Wave Equals Ascites. Abstract published at
Hospital Medicine 2016, March 6-9, San Diego, Calif.
Abstract 718.
Journal of Hospital Medicine.
2016; 11 (suppl 1). https://www.shmabstracts.com/abstract/not-all-abdominal-distention-plus-fluid-wave-equals-ascites/. Accessed April 7, 2020.
« Back to Hospital Medicine 2016, March 6-9, San Diego, Calif.