Case Presentation: Patient is a 37 year old male with past medical history of ADHD and anxiety who comes to hospital with complaints of numbness and tingling beginning in his bilateral lower extremities now going up to his upper extremities. Symptoms started 3-4 days prior to arrival and were intermittent initially. However symptoms are now becoming more constant and described as a pinching sensation. Patient states used nitrous oxide for past 2 months and is concerned that the Nitrous Oxide could have been causing his symptoms. Reports now he is finding it very difficult to walk, write and tie his shoes. He also reports sometimes the numbness and tingling radiates upwards. Denies trauma, travel history, sick contacts and reports immunizations are up to date. While patient was in the Emergency Department, he received a STAT dose of vitamin B12 injection, folate and thiamine. Patient was admitted to the medical floors for further work-up. Patient received a lumbar puncture via neurology with no significant findings Was also found to have normal B12, & folic acid levels. However was found to have increased homocysteine and methylmalonic acid levels. Patient was started on a vitamin B12 injection trial to which he states his symptoms slightly improved. This was the point patient was diagnosed with subacute combined degeneration secondary to b12 deficiency Patient was coincidentally found to be positive for THC and Benzodiazepines on admission.
Discussion: Nitrous oxide (N2O), commonly found in aerosol canisters, has been misused as a recreational drug for its euphoric effects. N2O inactivates vitamin B12 via oxidation, causing reduced recycling of homocysteine to methionine, thereby precipitating demyelination in both the central and peripheral nervous system. As a result, N2O toxicity primarily manifests as neurologic toxicity, presenting as generalized weakness, polyneuropathy, ataxia, and psychosis. Patients with chronic exposure to N2O may develop progressive and debilitating neuropathy. Patients may also present with hematologic sequelae of B12 deficiency, namely macrocytic anemia as evidenced by an increased mean cell volume.Serum B12 levels may be within normal limits in patients presenting with chronic N2O exposure, because the assay used to measure this level does not differentiate between the normal and oxidized form of vitamin B12. Since these levels may appear to be normal, functional B12 deficiency must be diagnosed via elevated levels of methylmalonic acid and homocysteine, as these substrates are catalyzed by B12. Primary treatment of N2O toxicity involves removing the source of exposure. In addition, administration of intramuscular vitamin B12 followed by daily supplementation can potentially reverse neurotoxicity. There is limited evidence that suggests methionine supplementation also aids in recovery.
Conclusions: Clinicians should be aware of nitrous oxide overdose as it is a rare but debilitating condition. This case highlights the importance of rapid recognition and initiation of treatment in order to achieve favorable patient outcomes.
IMAGE 1: MRI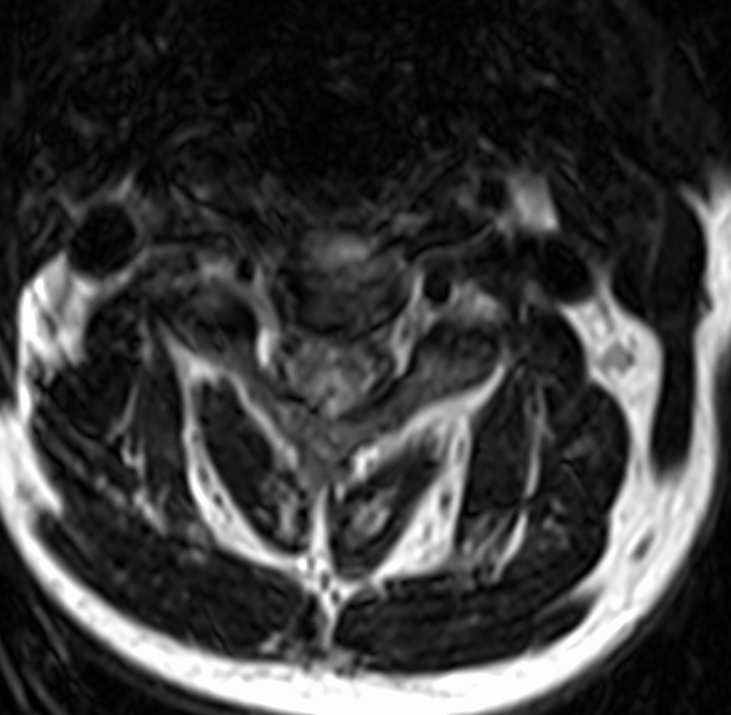 To cite this abstract:
Shah, S; Pandhi, B; Rehman, A; Lam, L; Thapar, V; John, K; Goswami, R; Paulus, S; Flanagan, B; Kurian, V. NOT A LAUGHING MATTER: A NITROUS OXIDE POISONING CASE. Abstract published at
Hospital Medicine 2018; April 8-11; Orlando, Fla.
Abstract 841. https://www.shmabstracts.com/abstract/not-a-laughing-matter-a-nitrous-oxide-poisoning-case/. Accessed April 7, 2020.