Case Presentation:
A 42 y/o Hispanic female with a history of IV drug abuse and dermatitis since 2005 with recurrent episodes of cellulitis presented to the hospital with severe edema, erythema and pain of the right lower extremity for 3 days. She had been treated with steroid injections and topical steroids intermittently for her dermatitis since 2005. She denied Hepatitis C stating she was last tested in 2003. She was found to have cracked demarcated and pigmented skin lesions with extensive scaling on the dorsal aspect of both feet from the toes extending across the dorsum of the foot, advancing 4 cm up the anterior portion of the bilateral lower extremities. The lesions were also noted on the dorsal aspect of both hands from just below the nailbeds to the wrist. There was fluid drainage from the lesions on her feet. A CT scan of the legs showed soft tissue inflammation. Abdominal CT was unremarkable. Labs revealed elevated INR (1.6), PTT (43), bilirubin (2.4) and low albumin (1.4). A hepatitis panel was positive for hepatitis C virus with the 1a genotype. A punch biopsy of one of the lesions showed mild hyperkeratosis, minimal acanthosis and slight psoriasiform hyperplasia with mild superficial dermal chronic inflammation with post‐inflammatory hyperpigmentation. She was diagnosed with Necrolytic acral erythema (NAE). Her cellulitis improved with IV antibiotics (vancomycin and zosyn) and zinc supplementaiton. She was discharged to follow up with Dermatology and Hepatology.
Discussion:
Necrolytic acral erythema (NAE) is a rare condition, first described in 1996. It is a cutaneous manifestation of hepatitis C viral infection (considered an early cutaneous marker of hepatitis C) with onset typically between 35‐55 years old. It is described as a well‐defined, pruritic or burning, hyperkeratotic erythematous eruption that most often affects the acral surfaces. The pathogenesis of NAE is thought to be related to zinc dysregulation, which can occur as a result of hepatitis C induced metabolic alteration. Histopathologically, it closely resembles psoriasis. Treatment for NAE is to treat the underlying hepatitis C infection. Oral zinc replacement has also been successful in some cases.
Conclusions:
Cellulitis is a very common clinical entity in hospital settings. While the vast majority of cellulitis admissions are very straightforward it is important for a good hospitalist to recognize when the cellulitis is a complication of another underlying disease. In this case, despite the rarity of NAE, it has a very distinct distribution on the dorsal aspects of acral regions allowing it to be diagnosed by examination from an astute physician. Awareness of NAE is important not only for accurate dermatologic diagnosis but also because of the potential for earlier diagnosis and treatment of hepatitis C infection.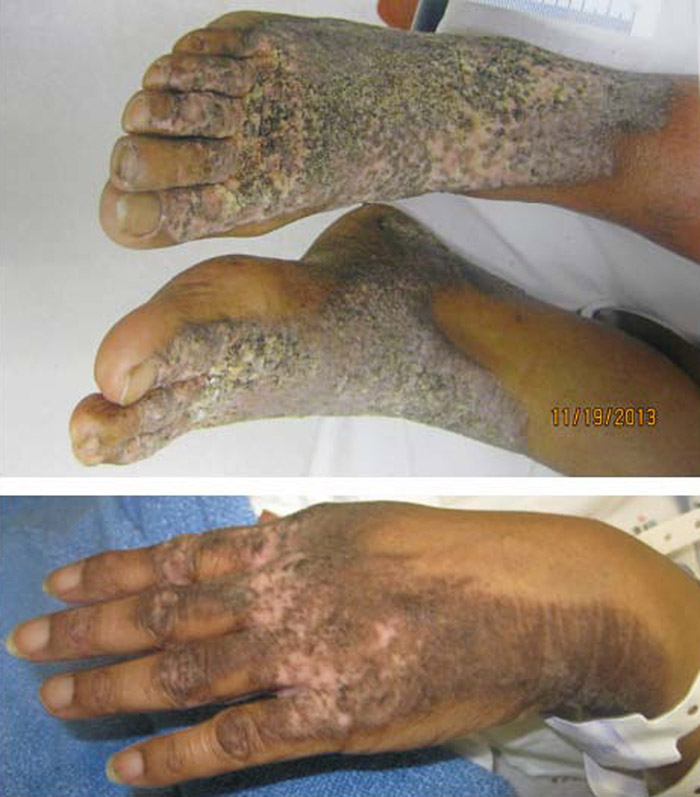 To cite this abstract:
Yaramada P, Miller S, Au H. Necrolytic Acral Erythema Associated with Hepatitis C. Abstract published at
Hospital Medicine 2014, March 24-27, Las Vegas, Nev.
Abstract 689.
Journal of Hospital Medicine.
2014; 9 (suppl 2). https://www.shmabstracts.com/abstract/necrolytic-acral-erythema-associated-with-hepatitis-c/. Accessed March 29, 2020.
« Back to Hospital Medicine 2014, March 24-27, Las Vegas, Nev.