Case Presentation: A 44 year-old female with a history of essential hypertension presented with one month of progressive chest pain, dyspnea and fevers. These symptoms were associated with a dry cough, sore throat and symmetric joint pains with swelling and morning stiffness of the hands and wrists. Her chest pain was left sided and knife-like, radiating to the right trapezius. The pain was worse when supine and with inspiration; improving with leaning forward and NSAIDs. She denied any overlying joint redness or warmth, rashes, skin changes, photosensitivity, dysphagia or odynophagia.
On presentation, her vitals were unremarkable. Physical exam found bilateral wrist stiffness and symmetric swelling of the small joints of the hands. Electrocardiogram was unremarkable, though initial labs were notable for elevated rheumatoid factor, ASO titer and a troponin-T of 0.08. Echocardiogram revealed a moderate sized pericardial effusion and left ventricular diastolic dysfunction. These findings were consistent with pericarditis with myocardial involvement (i.e., myopericarditis). Pericardiocentesis drained 2L of serous fluid.
Particular consideration was given to infectious and post infectious processes. With respect to infectious endocarditis, elevated RF satisfied a minor diagnostic criterion, however, no other criteria were met, and no manifestations of active infection were present. Absence of characteristic migratory large-joint polyarthritis and a down-trending ASO titer excluded Rheumatic Fever. Pericardial fluid cultures, cytology, Gram stain and AFB stains were all negative, further supporting a non-infectious etiology. Subsequent labs found an elevated ANA titer and positive anti-U1-RNP, favoring a diagnosis of MCTD. Accordingly, IV steroids were initiated in our patient and she was discharged with a regimen of methotrexate and prednisone.
Discussion: Mixed Connective Tissue Disease (MCTD) is a rare entity encompassing features of scleroderma, lupus and/or polymyositis in the setting of a positive anti-U1-RNP antibody. Here we present the case of a woman with arthralgias, carditis and a recent febrile illness. This constellation of symptoms poses a diagnostic challenge for hospitalists in delineating between infectious, post infectious and collagen vascular etiologies.
Pericarditis is the most common cardiac manifestation of MCTD, though concurrent myocardial involvement is rare. Management of MCTD related myopericarditis differs from that of other etiologies as it centers on high dose IV steroids rather than NSAIDs and colchicine. Although pericardial effusions are not uncommon in medical practice, their workup is oftentimes unrevealing. Few studies have found that Light's Criteria can be applied to pericardial fluid with good sensitivity and specificity. Hence, we extrapolated Light's Criteria and found an exudative effusion, consistent with her diagnosis of MCTD.
Conclusions: This case emphasizes that hospitalists should keep MCTD in the differential for patients presenting with symptoms of acute pericarditis as it bears important therapeutic and prognostic implications. Further, we suggest a novel application of Light's criteria to serve as a rapid, objective measure of pericardial fluid which may prove particularly useful in cases where the choice of therapy varies considerably based on etiology, and further, where therapeutic delays may prove dire.
IMAGE 1: Pericardial Effusion on Transthoracic Echocardiogram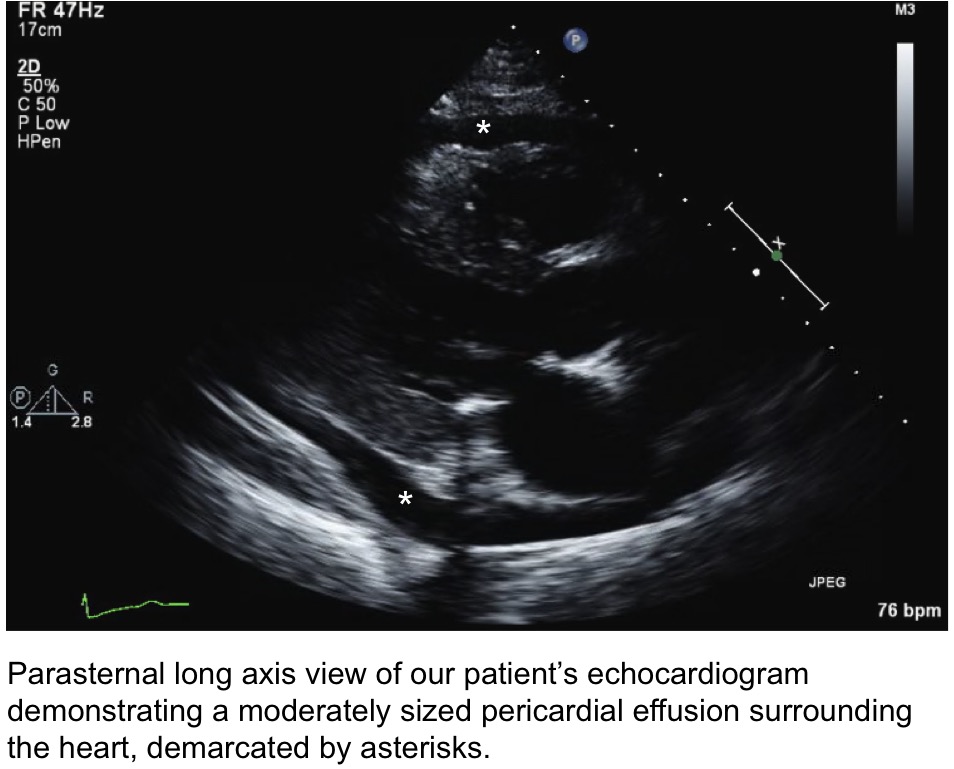 To cite this abstract:
Patel, S; Young, A; Politano, S. MYOPERICARDITIS: AN UNUSUAL PRESENTATION OF MIXED CONNECTIVE TISSUE DISEASE. Abstract published at
Hospital Medicine 2018; April 8-11; Orlando, Fla.
Abstract 786. https://www.shmabstracts.com/abstract/myopericarditis-an-unusual-presentation-of-mixed-connective-tissue-disease/. Accessed April 5, 2020.