Case Presentation:
An 83-year-old Caucasian man visited an outpatient clinic with a complaint of right ankle pain and swelling for the past 4 months. The patient had a history of bladder cancer with trans-urethral resection followed by BCG immunotherapy. His past medical history consists of stable CAD, DM with no trauma to the lower extremity and no history of Pulmonary or extra Pulmonary tuberculosis. Physical exam showed pitting edema, redness, and tenderness on palpation in the right ankle. X-ray of the Tibia showed cystic lesions (image 1) and bone scan revealed a lucent area in the metaphysis with mild periostitis. Bone Biopsy confirms chronic osteomyelitis with foci of necrosis and granulomas. Grocott's Methenamine Silver stain revealed no fungal element and AFB stain showed a few acid-fast bacilli. The confirmatory test was specific Polymerase Chain Reaction despite negative blood cultures. The patient was treated with Isoniazid, Ethambutol and Rifampin for 9 months and showed improvement.
Discussion:
Mycobacterium.bovis(Bacillus Calmette-Guerin, BCG) is a live-attenuated strain that is commonly used for immunization against Tuberculosis and in the treatment of in situ/ micro invasive transitional cell bladder cancer. We report a case of BCG related osteomyelitis of the Tibia, after 10 years of initial treatment with intra-vesical BCG therapy for bladder cancer. BCG was given through a trans-urethral catheter into the urinary bladder. The Bacteria disrupts uroepithelial cells, spreads via lymphatic's/ blood and triggers an immune response which includes, induction of CD4 T cells/ Macrophages, increase in interleukins and IFN Gamma in bladder. Hypersensitivity hypothesis is supported by TH1 mediated granuloma formation, absence of AFB despite high clinical suspicion and positive response to steroids. Current literature review showed that the complication of BCG Immunotherpy is Sepsis, Hepatitis, Pneumonitis, Arthritis and Vertebral Osteomyleitis, but Osteomyelitis of the long bone has rarely been reported. However, BCG osteomyelitis of the distal tibia has been never reported (as our presentation). Dissemination may occur many years after initial therapy and most patients respond to anti-tuberculosis drugs, except Pyrazinamide.
Conclusions:
We report a case of Tibular osteomyelitis 10 years after intra-vesical BCG immunotherapy for bladder cancer.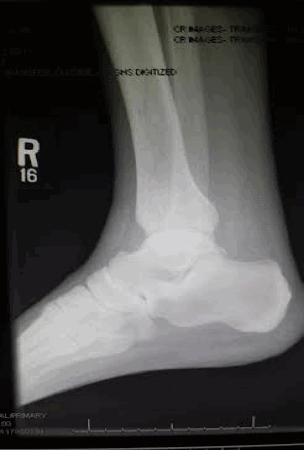 To cite this abstract:
Dongerkery S, Crevecoeur L, Shi Q, Dzielak E, Yang Y, Malik Q. Mycobacterium Bovis Bacillus Calmette-Guérin (Bcg) Osteomyelitis of the Distal Tibia After Intravesical Bcg Therapy for Bladder Cancer. Abstract published at
Hospital Medicine 2015, March 29-April 1, National Harbor, Md.
Abstract 508.
Journal of Hospital Medicine.
2015; 10 (suppl 2). https://www.shmabstracts.com/abstract/mycobacterium-bovis-bacillus-calmette-guerin-bcg-osteomyelitis-of-the-distal-tibia-after-intravesical-bcg-therapy-for-bladder-cancer/. Accessed April 10, 2020.
« Back to Hospital Medicine 2015, March 29-April 1, National Harbor, Md.