Mitigating the Risks of Adverse Medication Events During Care Transitions from Hospital to Skilled Nursing Facilities
1Cedars Sinai Medical Center, Los Angeles, CA
2Cedars‐Sinai Medical Center, Los Angeles, CA
3Cedars‐Sinai Medical Care Foundation, Beverly Hills, CA
4Cedars‐Sinai Health System, Los Angeles, CA
Meeting: Hospital Medicine 2014, March 24-27, Las Vegas, Nev.
Abstract number: 708
Background:
Preventing avoidable readmissions has become a national healthcare priority. Patients discharged to skilled nursing facilities (SNFs) are a particularly high‐risk population, with an estimated 25% of all Medicare patients discharged to SNFs being readmitted to acute care facilities within 30 days. SNF nurses have indicated that they may use several sources of information to determine patients' medication list, including patients, families, or caregivers; hospital discharge summaries; and/or SNF Attending MDs providing orders over the phone. Given this variability, significant concerns exist about the potential for patient harm during the care transition.
Purpose:
Cedars‐Sinai Medical Center's Readmissions Oversight Committee created the Enhanced Care Program (ECP) to improve the safety and accuracy of care transitions from its acute care hospital to local SNFs. The team initially consisted of nurse practitioners (NPs), a medical director, a nurse educator, and administrative support. This study was designed to assess the benefit of adding a clinical pharmacist to ECP in order to oversee the discharge medication reconciliation process from hospital to SNF, with the following objectives: 1) Ensure the integrity of the discharge medication list, 2) Identify DRPs that could lead to an adverse drug events and/or readmissions, and 3) Serve as a consultative resource for ECP NPs.
Description:
After a patient was enrolled in ECP, the SNF's Medication Administration Record (MAR) was sent to (and reviewed by) a pharmacy technician, who compared it to the hospital discharge med list and generated a list of discrepancies. The clinical pharmacist then reviewed each discrepancy and performed an evaluation to determine if serious and/or significant drug‐related problems (DRPs) were present. If a potential DRP was detected, the clinical pharmacist contacted the NP and discussed how to resolve each discrepancy.
Conclusions:
Over a 10‐month period, ECP enrolled 754 patients transferred to SNFs, and the overall program demonstrated a 25% 30‐day readmission reduction from baseline (decrease from 20% to 15%). Post‐discharge medication reconciliation was completed by the pharmacy team on 620 discharges and 243 (39%) of these cases required a pharmacist intervention. For these 243 cases, a total of 455 serious and significant DRPs were identified, with the most common DRPs categorized as one of the following:
1. Incorrect dose (30%);
2. Recommendation to initiate or discontinue therapy (28%);
3. Discovery of an unintentionally omitted medication (19%).
Ensuring the accuracy of patients' medication list is an ongoing challenge in today's health care system. Patients who are transferred from hospital to SNF are at particularly high risk of suffering from medication errors because of the facility‐to‐facility hand‐off and the greater likelihood of polypharmacy. The addition of a clinical pharmacist to ECP helped to ensure the accuracy of the reconciliation process, likely contributed to the lower readmission rate achieved by ECP, and was a valuable resource to the ECP NPs and SNF staff. The overall cost‐effectiveness for dedicating a limited resource such as a pharmacist to this care transitions program must be carefully evaluated.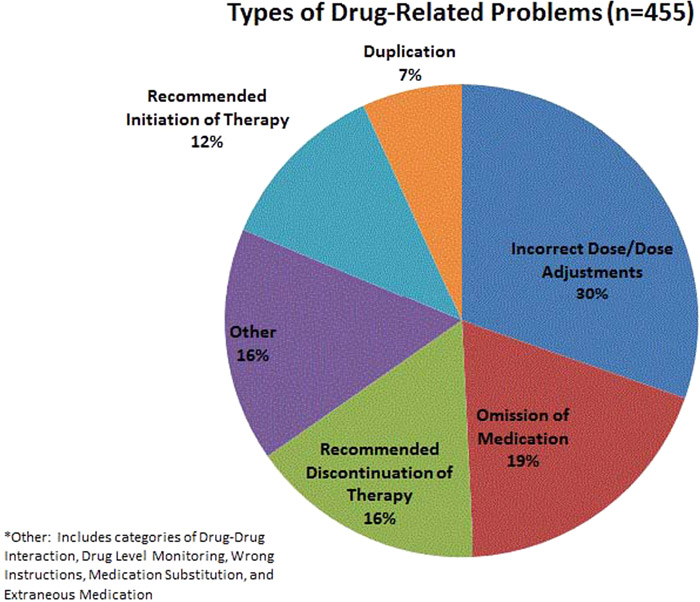 To cite this abstract:
Rosen B, Nguyen C, Hart K, Shane R. Mitigating the Risks of Adverse Medication Events During Care Transitions from Hospital to Skilled Nursing Facilities. Abstract published at
Hospital Medicine 2014, March 24-27, Las Vegas, Nev.
Abstract 708.
Journal of Hospital Medicine.
2014; 9 (suppl 2). https://www.shmabstracts.com/abstract/mitigating-the-risks-of-adverse-medication-events-during-care-transitions-from-hospital-to-skilled-nursing-facilities/. Accessed March 28, 2020.
« Back to Hospital Medicine 2014, March 24-27, Las Vegas, Nev.