MCOMM: Redefining Medical Communication in the 21st Century
1University of Michigan Health System, Ann Arbor, Ml
2University of Michigan Health System, Ann Arbor, Ml
Meeting: Hospital Medicine 2009, May 14-17, Chicago, Ill.
Abstract number: 110
Background:
Communication between members of the medical team — MDs, RNs, PAs, and house staff — has traditionally relied on a 1‐way paging system. Although effective, this medium has significant limitations including a 1‐way flow of information and a relative lack of patient centeredness. Furthermore, paging systems essentially revolve around a closed‐loop design and have no means of being able to separate urgent from mundane messages. In an ever complex inpatient environment where team work remains key to safe and effective patient care, paging systems remain antiquated and promote isolation of individual team members from decision making processes.
Purpose:
To create a unique communication system based on wireless devices that allows for patient‐centered, task‐oriented, and priority based messaging in real‐time fashion. Such a system was conceived, designed, and created completely at the University of Michigan.
Description:
Designed around WiFi and PUSH technology, the MComm system is housed on a central server and delivers messages to individual users carrying wireless devices through defined information architecture (Figure 1). Uniquely, MComm is designed fo be patient centered through the implementation of patient‐specific task lists. Such jobs, or tasks, can be created by any member of the medical care team using either their wireless devices or a universally accessible Web‐based portal. Tasks are assigned to either individual or multiple members of the care team and are further labeled as urgent or nonurgent, arbitrarily defined as those that need addressing within 30 minutes. Once a task is assigned, the wireless device carried by the designated individual signals as either an audible or a silent/vibratory alert based on task priority. Thus, individual users become aware of urgent tasks but are uninterrupted for nonurgent ones. Acknowledgement of the task on the wireless device lets the original creator know that the message has been received, thus terminating the "closed loop" inherent with paging systems. Tasks can be filtered across patients according to priority, assignee, creator, and/or status, allowing for immediate work flow prioritization (Figure 2). At the end of each workday, individual devices and/or user accounts can be passed on to night coverage teams, allowing for complete transparency of daily activities, a previously unique dimension of the handoff process. All activities on MComm are archived and securely stored for HIPAA compliance and for peer review should issues arise.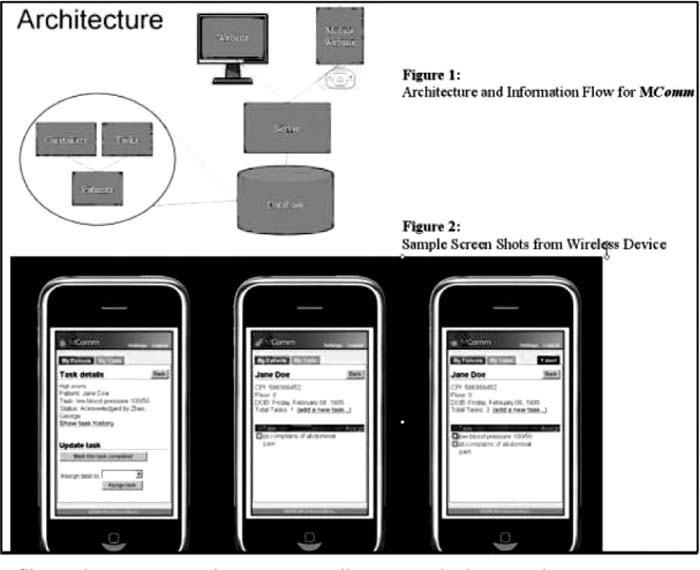 Conclusions:
The MComm system is currently in beta‐testing and is being piloted around our facility. Already, planned future enhancements such as real‐time chat and capabilities for voice communication via both cellular and WiFi technology are under development. Through a patient‐centered design and a unique approach to messaging, MComm stands to revolutionize medical communication in the 21st century.
Author Disclosure:
V. Chopra, University of Michigan Health System, Inventor and Patent Holder, MComm; P. Gogineni, University of Michigan Health System, Inventor and Patent Holder, MComm; G. Zhao, none; M. Schweikett, none; S. Metz, none; B. Abel, none.
To cite this abstract:
Chopra V, Gogineni P. MCOMM: Redefining Medical Communication in the 21st Century. Abstract published at
Hospital Medicine 2009, May 14-17, Chicago, Ill.
Abstract 110.
Journal of Hospital Medicine.
2009; 4 (suppl 1). https://www.shmabstracts.com/abstract/mcomm-redefining-medical-communication-in-the-21st-century/. Accessed April 5, 2020.