Case Presentation:
A 69‐year‐old Hispanic man presented with several months of progressive bilateral paraorbital swelling and ptosis. The patient had presented 1 year ago to an outside physician complaining of sudden‐onset bilateral eyelid swelling. At that time there were no visual changes, and it was thought to be age related. The patient sought medical attention 2 months later because of persistence of symptoms. At that time his symptoms were attributed to volume overload, and he was instructed to reduce salt intake. As symptoms progressed over the next months, the patient presented a third time with increased paraorbital swelling and marked ptosis. An MRI was done at this time, and he was diagnosed with Graves' disease and referred to an endocrinologist who correlated the findings with a slightly elevated thyroid‐stimulating hormone (TSH) and diagnosed him with subclinical Graves' disease. After 11 months of progressively worsening paraorbital swelling, now complicated by weight loss, constitutional symptoms, and visual changes, the patient sought a third opinion at our clinic. The patient's review of symptoms was notable for a recent 5‐ to 10‐pound weight loss, visual changes in both eyes, fatigue, and night sweats. His medical history was noncontributory, and family history was notable for an uncle with lymphoma. Physical examination was remarkable for bilateral ptosis with paraorbital swelling and con‐junctival injection. Visual examination revealed decreased visual acuity bilaterally but more pronounced in the right eye and diplopia on lateral gaze. Neurologic, vascular, and motor exams were unremarkable. Labs, including a complete blood count, liver function tests, CMB, and thyroid function tests, were within normal limits except for an abnormal white blood cell count differential. Repeat MRI and biopsy of retro‐orbital masses with immunohistologic staining and subsequent PET scan provided a diagnosis of stage IV malignant mantle cell lymphoma (MCL). Chemotherapy was initiated, and patient has responded well to treatments thus far, with complete regression of visual changes and resolution of ptosis and paraorbital swelling.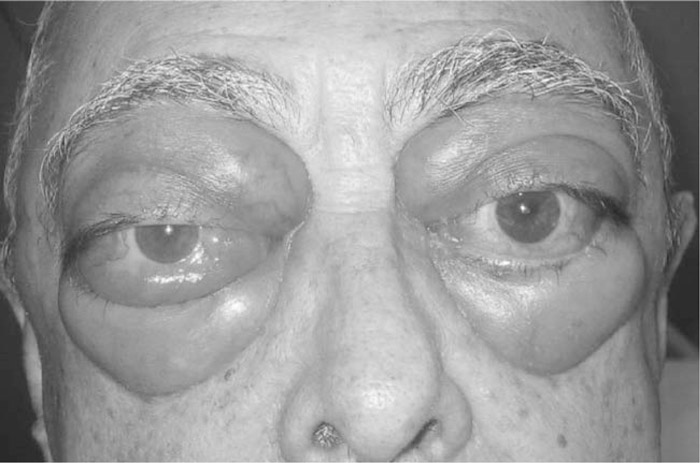 Discussion:
MCL is a mature B‐cell non‐Hodgkin's lymphoma (NHL), represents fewer than 10% of adult NHLs, and has a median age of onset of 68 years. Up to 25% of cases present with extranodal disease, with the most common sites including spleen, bone marrow, and gastrointestinal tract. Ocular involvement is very rare, occurring in fewer than 5% of cases and typically indicates more disseminated disease, a higher stage at presentation, and a worse prognosis with more relapses. Treatment involves rituximab‐con‐taining chemotherapy.
Conclusions:
This case documents a rare presentation of MCL that mimics the characteristic findings of Graves'. In this case a slightly elevated TSH, which is normal in aging patients and does not indicate thyroid disease, was misinterpreted as causative of the patient's eye symptoms. This illustrates the importance of establishing a broad and thoughtful differential and of legitimately ruling out more malignant etiologies before addressing more common diagnoses.
Disclosures:
W. Myint Aung ‐ none; B. Addicott ‐ none; T. Vothang ‐ none
To cite this abstract:
Aung W, Addicott B, Vothang T. Mantle Cell Lymphoma Presenting with Paraorbital Swelling and Ptosis. Abstract published at
Hospital Medicine 2011, May 10-13, Dallas, Texas.
Abstract 234.
Journal of Hospital Medicine.
2011; 6 (suppl 2). https://www.shmabstracts.com/abstract/mantle-cell-lymphoma-presenting-with-paraorbital-swelling-and-ptosis/. Accessed April 8, 2020.