Maintaining Glycemic Control During Transition from Infusion Insulin to Subcutaneous Insulin Safely: A Protocol‐Driven, Multidisciplinary Approach
1University of California San Diego, San Diego, CA
2University of California San Diego, San Diego, CA
3University of California San Diego, San Diego, CA
4University of California San Diego, San Diego, CA
5University of California San Diego, San Diego, CA
6University of California San Diego, San Diego, CA
7University of California, San Diego, CA
8University of California, San Diego, CA
9University of California San Diego, San Diego, CA
Meeting: Hospital Medicine 2009, May 14-17, Chicago, Ill.
Abstract number: 79
Background:
The transition from insulin infusion is problematic. A pilot study in our institution revealed that uncontrolled hyperglyce‐mia was the rule in the first 48 hours after discontinuing insulin infusion and that basal subcutaneous (SC) insulin was virtually never given prior to stopping the infusion.
Methods:
We designed a protocol to proactively manage the transition from insulin infusion and conducted a prospective study to assess its safety and efficacy. The protocol's step‐by‐step approach determined if patients needed scheduled SC insulin, calculated the total daily dose (TDD) by extrapolating the infusion rate and adding a safety factor, and apportioned the TDD into basal and nutritional components. Patients with diabetes or a HgA1c ≥ 6 (pharmacists could order HgA1c if not available) or on high‐dose steroids and infusion rates > 1 unit/ hour were placed on scheduled SC insulin, whereas patients with stress hyperglycemia were not, regardless of the infusion rate. Critical care patients on insulin infusion > 24 hours and in‐house for at least 48 hours post‐transition were included. Pharmacists and hospitalists monitored insulin infusion patients and proactively offered protocol guidance to the primary team, but adherence was not mandatory. Demographics, glucose levels, and insulin dosing data were collected.
Results:
Sixty‐six transitions were done according to the protocol, with 31 requiring scheduled insulin. Forty‐eight transitions did not adhere to protocol guidance, with 9 patients receiving unnecessary scheduled basal insulin and 39 failing to receive recommended insulin. Protocol adherence for diabetes patients resulted in a day 1 population glucose mean of 167 mg/dL versus 216 mg/dL (P‐0.001) in nonprotocol transitions and day 2 means of 175 versus 215 mg/dL (P = 0.012), respectively. Higher amounts of insulin given in diabetes patients on protocol did not result in increased hypoglycemic events (Table 1) and significantly decreased the percentage of patients with values greater than 300 mg/dL. Patients triaged to no scheduled transition insulin per protocol remained well controlled (mean glucose 146 and 152 mg/dL on days 1 and 2, respectively). A HbA1c > 6 was found in 14 of 101 patients with no nrior history of diabetes.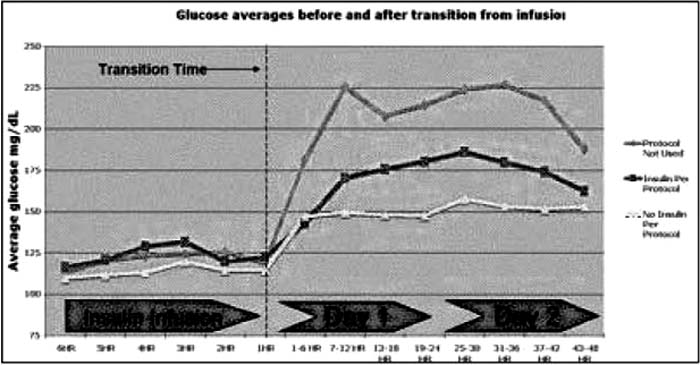 Conclusions:
The transition protocol was effective and safe. Protocol adherence reduced unnecessary use of basal insulin, improved glycemic control, did not increase hypoglycemia, and identified patients with previously undiagnosed diabetes. Fear of hypoglycemia and physician reluctance hampered adherence, and future efforts will focus on enhancing reliable use of the protocol.
Author Disclosure:
P. Ramos, none; D. Childers, none; G. Maynard, none; K. Box, none; J. Namba, none; J. Lee, none; P. Graham, none; M. Renvall, none; K. Stadalman, none.
To cite this abstract:
Ramos P, Childers D, Maynard G, Box K, Namba J, Lee J, Graham P, Renvall M, Stadalman K. Maintaining Glycemic Control During Transition from Infusion Insulin to Subcutaneous Insulin Safely: A Protocol‐Driven, Multidisciplinary Approach. Abstract published at
Hospital Medicine 2009, May 14-17, Chicago, Ill.
Abstract 79.
Journal of Hospital Medicine.
2009; 4 (suppl 1). https://www.shmabstracts.com/abstract/maintaining-glycemic-control-during-transition-from-infusion-insulin-to-subcutaneous-insulin-safely-a-protocoldriven-multidisciplinary-approach/. Accessed March 30, 2020.