Case Presentation:
A 67-year-old man with a history of previously treated prostate cancer presented with two weeks of low back pain. The pain had progressed and was now associated with bilateral lower extremity shooting pain and weakness. He denied bowel or bladder incontinence or saddle anesthesia. He was found to be afebrile with normal vital signs, poor dental hygiene, tenderness over the lumber spinous processes, and had normal neurologic and prostate exams. MRI showed mild compression fractures with small lytic lesions throughout the spine and a large lytic lesion at the L5 vertebral body. He had a normal white blood cell count and PSA. There was concern for metastatic cancer given the findings on imaging and his prior history. Surprisingly, the vertebral biopsy showed no evidence of malignancy but showed findings consistent with osteomyelitis. Veillonella species grew from the broth of the tissue biopsy and then from one of two blood cultures. Further focused history revealed that four weeks prior, he had suffered a mechanical fall and had knocked out several teeth. Ceftriaxone was started and he completed a 6 week course of antibiotics with symptom improvement.
Discussion:
Veillonella is anaerobic, gram-negative coccus that forms part of the normal microflora in the oral cavity, upper respiratory tract, gastrointestinal tract, and vagina. Pathogenic Veillonella species are usually found in polymicrobial processes. Isolated Veillonella infection is rare but has been found to cause dental and pulmonary infections, meningitis, endocarditis, osteomyelitis, and prosthetic joint infections. V. parvula is the most common virulent species. There have been only two reports of foot osteomyelitis in diabetics and seven reports of vertebral osteomyelitis. The infection has been associated with endoscopic biopsies, esophageal perforation, immunosuppression and poor dentition. Some reported cases did not find any underlying risk factor. Some of these patients presented with signs of infection, while others only had sub-acute back pain. Bacteremia was common in these case reports. In our case, it is thought that the primary source of Veillonella osteomyelitis was the oral cavity. It is likely that the combination of poor dental hygiene and dental trauma during his fall led to transient bacteremia, which seeded his vertebrae.
Conclusions:
Veillonella species rarely cause infection; however, an indolent infection can lead to devastating lytic lesions that mimic other more common disease processes such as metastatic cancer. Diagnosis can be delayed due to the slow growing nature of Veillonella (4-5 days), especially for patients with nonspecific symptoms. Also, Veillonella is often considered a culture contaminant, so the key to diagnosis of an infection is correlating the clinical scenario with biopsy culture and blood culture data.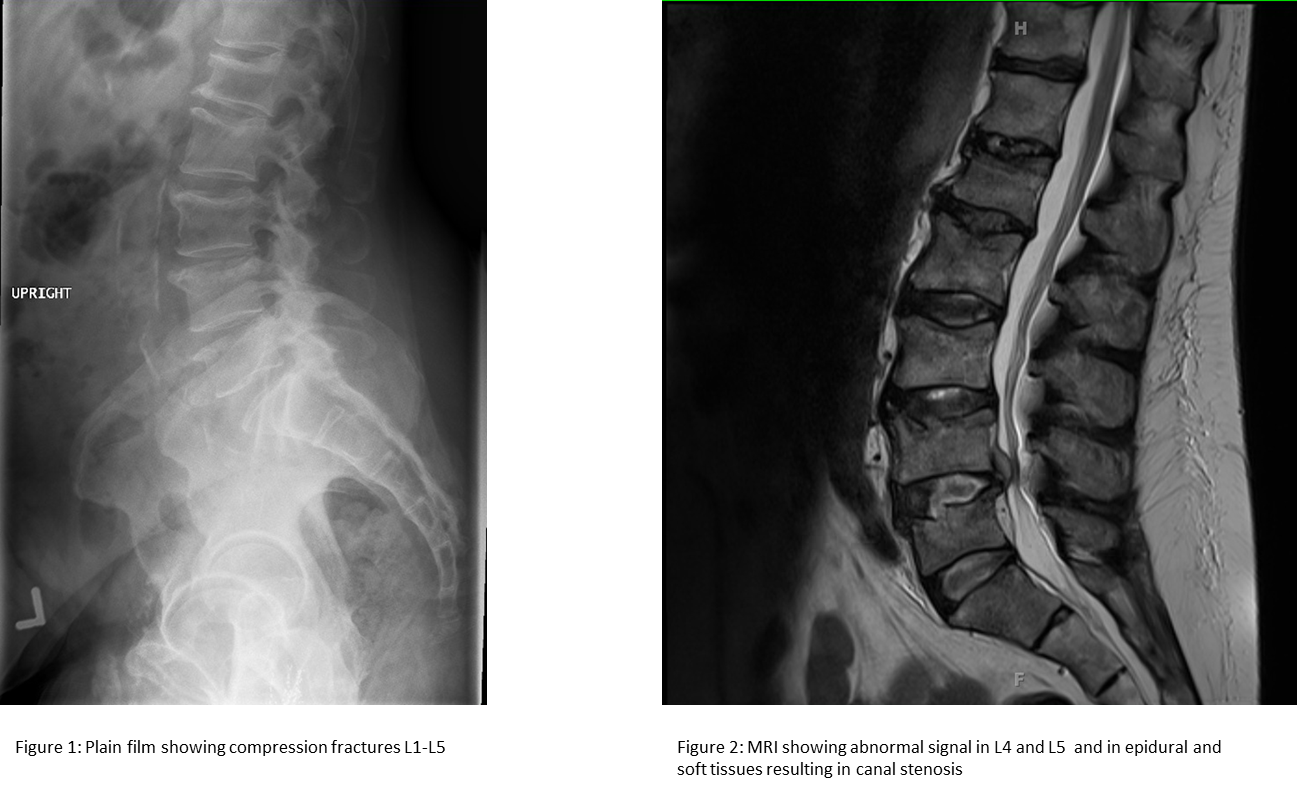 To cite this abstract:
McCary S, Allyn R. Lytic Lesions: Looking Lethal but Leaving Room for a Simple Cure. Abstract published at
Hospital Medicine 2016, March 6-9, San Diego, Calif.
Abstract 413.
Journal of Hospital Medicine.
2016; 11 (suppl 1). https://www.shmabstracts.com/abstract/lytic-lesions-looking-lethal-but-leaving-room-for-a-simple-cure/. Accessed April 1, 2020.
« Back to Hospital Medicine 2016, March 6-9, San Diego, Calif.