Long‐Term Retention of Central Venous Catheter Insertion Skills after a Simulation‐Based Mastery Learning Intervention
1Northwestern University Feinberg School of Medicine, Chicago, IL
2Northwestern University Feinberg School of Medicine, Chicago, IL
3Northwestern University Feinberg School of Medicine, Chicago, IL
4Northwestern University Feinberg School of Medicine, Chicago, IL
Meeting: Hospital Medicine 2010, April 8-11, Washington, D.C.
Abstract number: 20
Background:
Serious or fatal iatrogenic complications occur in 2.9% to 3.7% of hospitalized patients, and medical procedures are the second most common cause of these complications. In prior work we showed that a mastery learning intervention featuring a central venous catheter (CVC) simulator and ultrasound significantly reduces procedural complications and improves patient care. Whether skills gained from this educational intervention are retained over time is unknown. Thus, the aim of this study was to evaluate CVC insertion skills 6 and 12 months after the intervention.
Methods:
This was a prospective cohort study of 49 second‐ and third‐year internal medicine residents at an urban teaching hospital. Subjects completed subclavian (SC) and internal jugular (IJ) CVC insertion training using a CVC simulator. At posttest, they were required to achieve a minimum passing score (MPS) set by an expert panel on a 27‐item skills checklist. After simulation training, these residents rotated in the medical ICU, where they inserted CVCs in actual patients. Subsequently, residents' skills were retested at 6 and 12 months using the CVC simulator and the skills checklist. Scores at posttest and after 6 and 12 months were compared to evaluate skills retention.
Results:
The MPS was 79.1%. Eighteen residents graduated from the program during the study and were not available for both follow‐up testing sessions. There was no statistically significant difference in the proportion of residents who met or exceeded the MPS at immediate posttest and after 6 and 12 months. For IJ CVC insertion, 46 of 49 residents (93.9%) met the MPS at posttest, 28 of 34 (82.4%) at 6 months, and 27 of 31 (87.1%) at 1 year (Fig. 1). For SC CVC insertion, 47 of 49 (95.9%) met the MPS at posttest, 29 of 34 (85.3%) at 6 months, and 26 of 31 (83.9%) at 1 year (Fig. 2). The residents who failed to meet the MPS were different at each testing occasion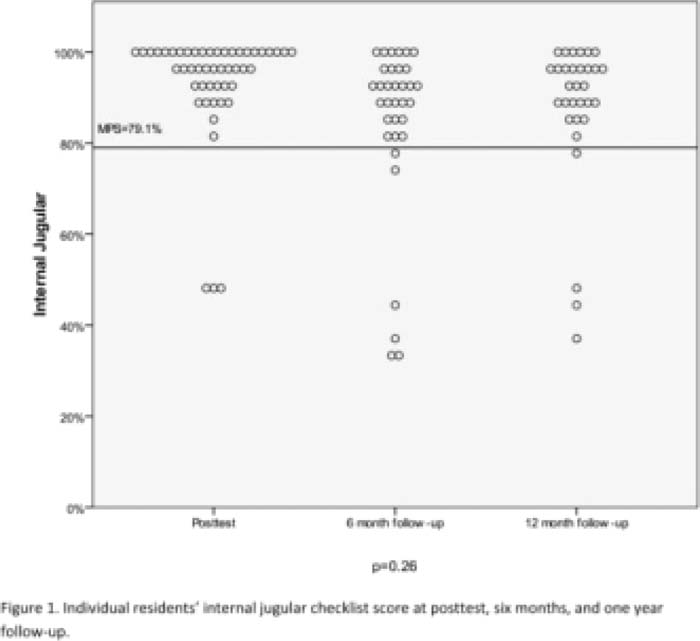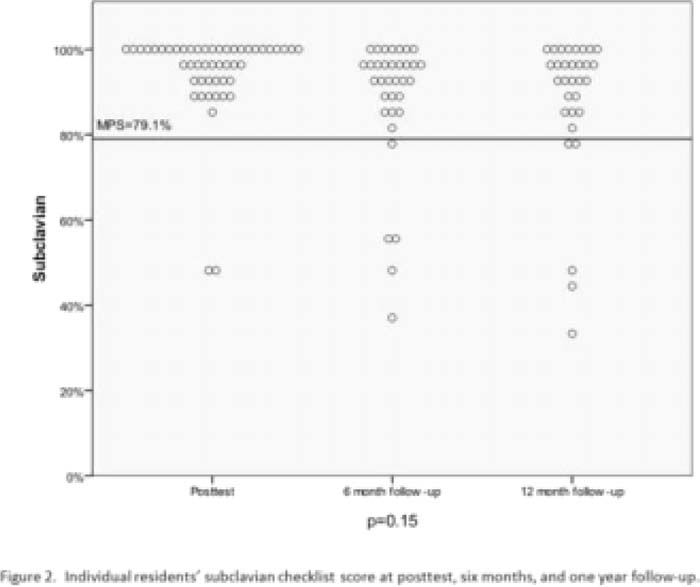 Conclusions:
This study demonstrates long‐term retention of CVC insertion skills obtained after deliberate practice with a medical simulator. The percentage of residents meeting the MPS was not significantly different at the 6‐ and 12‐month follow‐up compared with immediately posttest, indicating skill retention. As it is difficult to predict which residents will retain skills, programs may wish to consider periodic testing and refresher training.
Author Disclosure:
J. Barsuk, none; E. Cohen none; W. McGaghie, none; D. Wayne, none.
To cite this abstract:
Barsuk J, Cohen E, McGaghie W, Wayne D. Long‐Term Retention of Central Venous Catheter Insertion Skills after a Simulation‐Based Mastery Learning Intervention. Abstract published at
Hospital Medicine 2010, April 8-11, Washington, D.C.
Abstract 20.
Journal of Hospital Medicine.
2010; 5 (suppl 1). https://www.shmabstracts.com/abstract/longterm-retention-of-central-venous-catheter-insertion-skills-after-a-simulationbased-mastery-learning-intervention/. Accessed March 30, 2020.
« Back to Hospital Medicine 2010, April 8-11, Washington, D.C.