Case Presentation: A 29-year-old Caucasian woman with chronic alcohol abuse presented to the emergency department with a 1-day history of confusion, epigastric pain and dyspnea following excessive alcohol ingestion for 3 days. Vital signs were temperature 36.7º C, BP 137/78 mmHg, pulse 125 /min, respiratory 28 /min, and SpO2 96% on ambient air. She appeared cachectic and obtunded. Physical examination was notable for bilateral mid-lung rhonchi, and diffuse abdominal tenderness without guarding. Labs were significant for WBC 3210 /L, hemoglobin 12.2 g/dL, platelet 321 x103/L, sodium 126 mmol/L, potassium 4.8 mmol/L, chloride 90 mmol/L, bicarbonate 3 mmol/L, creatinine 1.57 mg/dL, glucose 61 mg/dL, lactic acid 10.1 mEq/L, AST 659 U/L, ALT 121 U/L, ALP 153 U/L, total bilirubin 1.1 mg/dL, albumin 5.1 g/dL and lipase 1285 U/L. An arterial blood gas revealed a metabolic acidosis with pH 6.79. Her abdominal CT demonstrated hepatomegaly with hepatic steatosis.
The patient was hospitalized for acute pancreatitis. Two hours after admission, she had a Pulseless Electrical Activity arrest attributed to severe acidosis. She was intubated and cardiopulmonary resuscitation (CPR) was continued for 5 minutes before the return of spontaneous circulation (ROSC), and the patient was transferred to our facility for intensive care. After arrival, her abdomen became increasingly distended and tense, with signs of abdominal compartment syndrome and a bladder pressure of 32 cmH2O. Her hemoglobin also dropped to 8.5 g/dL over a 10-hour interval, raising concerns for intra-abdominal hemorrhage. During an emergent exploratory laparotomy, a 6-cm liver laceration directly under the xiphoid process was repaired, and a 2-liter hemoperitoneum was evacuated. Her hospital course was further complicated by acute respiratory distress syndrome and acute tubular necrosis requiring short-term hemodialysis. She was discharged in independent condition on hospital day 21.
Discussion: Effective chest compressions are essential to maintaining circulation during CPR. Common complications include chest wall injuries such as rib or sternal fractures. Intra-abdominal injuries associated with chest compressions are rarely encountered. Liver laceration or rupture has been reported to occur in 0.6-3% of patients receiving CPR, and risk is increased in children, ischemic hepatitis, and hepatic distention. In our case, the patient's hepatomegaly associated with long-term alcohol overuse and suspected hepatic congestion likely increased her risk for hepatic injury. While appropriate CPR technique is encouraged, correct hand position and chest compression depth do not prevent complications. Recognition of risk factors and close monitoring can lead to early detection of intra-abdominal injuries, and prompt initiation of life-saving treatment.
Conclusions: Liver laceration associated with CPR as a complication is infrequently reported and practically hard to prevent. Careful monitoring of suspicious symptoms and signs in high-risk patients is important in treating this iatrogenic condition.
IMAGE 1: Post-operative CT image of hepatomegaly with severe hepatic steatosis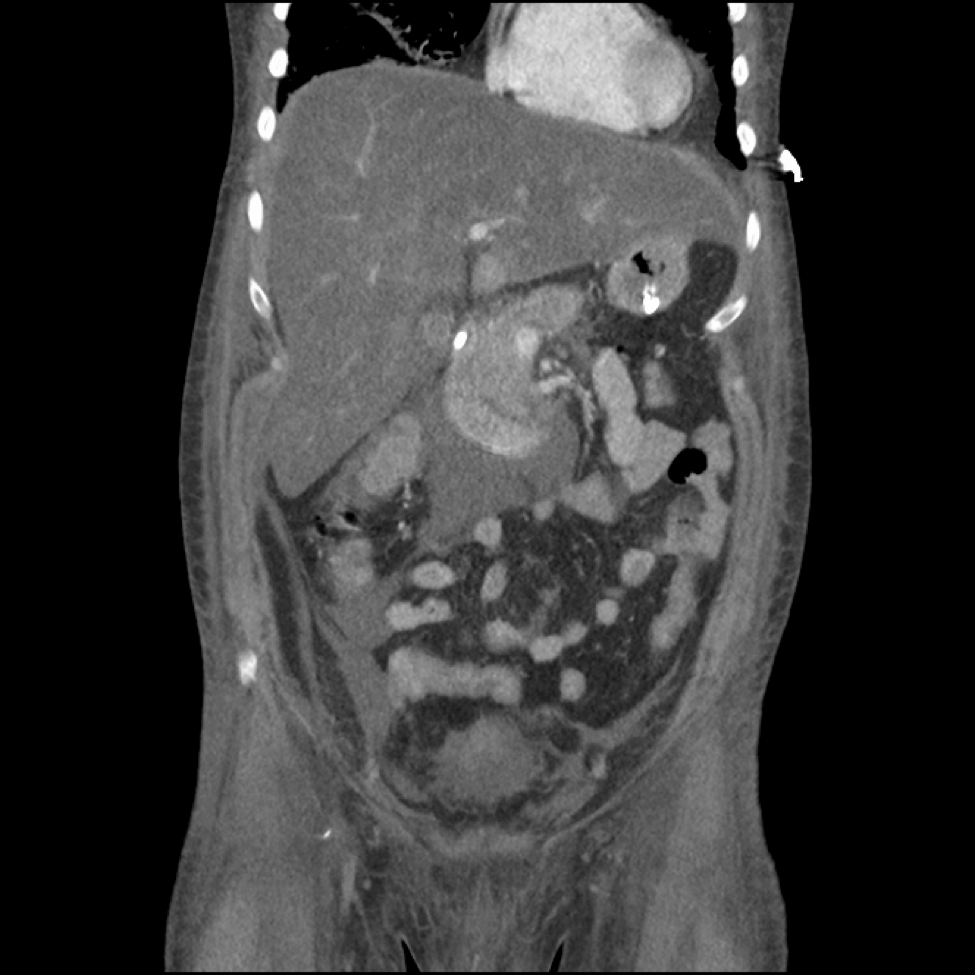 To cite this abstract:
Zhang, ZS; Gong, T; Ikeda, R. LIVER LACERATION AS A COMPLICATION OF CPR IN AN ALCOHOLIC PATIENT WITH HEPATOMEGALY. Abstract published at
Hospital Medicine 2018; April 8-11; Orlando, Fla.
Abstract 929. https://www.shmabstracts.com/abstract/liver-laceration-as-a-complication-of-cpr-in-an-alcoholic-patient-with-hepatomegaly/. Accessed February 21, 2020.