Case Presentation:
A 39-year-old man with pulmonary sarcoidosis presents with two days of progressive change in mental status. He is admitted to the medical ICU after initial attempts to resolve hypotension with intravenous isotonic resuscitation are unsuccessful. He was hypothermic and obtunded on exam. Initial studies reveal a serum sodium of 171 mmol/L and a CT scan of the brain finds an ill-defined hyperdense suprasellar mass as well as foci of calcification throughout the cerebrum and cerebellum.
With concern for pituitary infiltration, serum cortisol, ACTH, free T4, TSH, GnRH, testosterone, and urine studies are obtained. Studies show panhypopituitarism and central diabetes insipidus as a consequence of neurosarcoidosis. Promptly, exogenous stress dose steroids are started followed by levothyroxine with prompt stabilization in his hypotension. Over several days, desmopressin administration with liberal free water intakes resolves the hypernatremia with improvement in mental status. MRI reveals abnormal enhancement of the cerebellum, suprasellar, and hypothalamic regions with extensive leptomeningeal involvement – all findings consistent with neurosarcoid-induced panhypopituitarism.
After stabilization, persistent hypothermia and new onset sinus bradycardia (35 bpm) with paroxysmal atrial fibrillation with slow ventricular response become the focus of his management. EKG exhibits sinus bradycardia, with normal QRS amplitude, without AV block, and normal chronotropic response with ambulation. A trans-thoracic echo is normal. Given the presence of multi-organ sarcoidosis, cardiac MRI and nuclear SPECT are obtained which shows no evidence of infiltration or fibrosis of the heart wall or vessels. Without pathology on imaging, his bradycardia is determined to be caused by slowed depolarization through intrinsic pacemakers due systemic hypothermia caused by thermo-dysregulation from sarcoid infiltration of the hypothalamus. A decision is made to forego pacemaker or defibrillator device therapies at this time.
Discussion:
Sarcoidosis is a non-caseating granulomatous disease and is often first noticed on chest X-ray (typically with hilar or mediastinal adenopathy). However, it can affect many organs including the skin, eyes, liver, bone marrow, kidneys, brain, heart, and the musculoskeletal system. Most patient do not require therapy and can go into spontaneous remission while others may require lifelong immunomodulation.
Cardiac granulomas can be found in up to 25% of patients with sarcoidosis at time of death, but is clinically apparent in only 5% of patients. While the most common cardiac arrhythmia is complete AV block (23-30%), followed by 1stdegree AV block and bundle branch disturbances, the spectrum can range from asymptomatic arrhythmias to fatal ventricular arrhythmias.
In this patient with suspected cardiac involvement, further cardiac imaging with MRI or FDG-PET is indicated. Anti-arrhythmic medication has been poorly studied in patients with cardiac sarcoidosis and may worsen heart block (beta blockers) or exacerbate restrictive lung disease (amiodarone). These patients may require AICD placement depending on degree of fibrosis and changes found in the heart and cardiac conduction system.
Conclusions:
Sarcoidosis can affect multiple organ systems including the brain and the heart. Patients with sarcodiosis and cardiac disturbances may benefit from further cardiac imaging to determine degree of fibrosis and risk for further cardiac disease.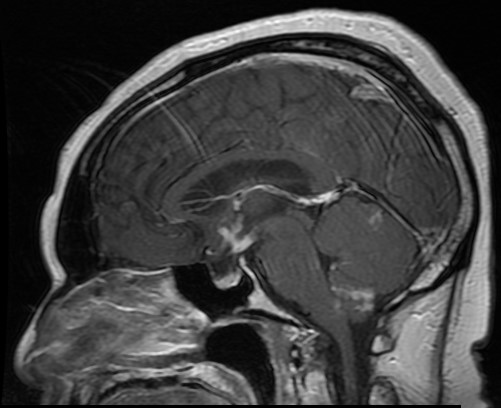 To cite this abstract:
Premkumar V, Davies L. Listen to Your Brain but Follow Your Heart. Abstract published at
Hospital Medicine 2016, March 6-9, San Diego, Calif.
Abstract 743.
Journal of Hospital Medicine.
2016; 11 (suppl 1). https://www.shmabstracts.com/abstract/listen-to-your-brain-but-follow-your-heart/. Accessed March 29, 2020.
« Back to Hospital Medicine 2016, March 6-9, San Diego, Calif.