Case Presentation:
We report a 14 year old boy who presented with acute pharyngitis, complicated with multifocal pneumonia and an epidural abscess collection with bilateral frontal and sphenoidal sinus abscesses. He did not have any past medical history and his presenting complaint was a 6-day history of headache, tactile fever, sore throat, abdominal pain and malaise followed 2 days later by vomiting and diarrhea. On examination, he was ill appearing with exudative pharyngitis and a 3cm mass in the right forehead and right lateral neck tenderness. He had no focal neurologic deficits. He had leukocytosis with bandemia and elevated CRP. A chest radiograph demonstrated a left upper lobe and lingular pneumonia. He was resucitated and started on broad spectrum antibiotics. Further testing for HIV, Mycoplasma, EBV, TB and rheumatologic conditions were unrevealing.
Despite antibiotics, he continued to be febrile. A CT of the head done on hospital day 4 for the expanding forehead mass revealed a right frontal extracranial soft tissue abscess with extension into the frontal and sphenoidal sinuses. After a neurosurgical evaluation, he underwent a craniotomy for evacuation of the abcess. He was discharged after a 12 day hospital stay with oral antibiotics.
Discussion:
Lemierre syndrome is an uncommon but potentially life-threatening complication of acute pharyngitis. The implicated organism first causes an acute pharyngitis which spreads to cause a thrombophlebitis of the internal jugular vein. Subsequent septic embolization leads to multiple systemic metastatic abscesses. The advent of antibiosis greatly reduced the incidence of Lemierre syndrome as it was rare that the disease was allowed to progress to fulminance.
The clinical pathogenesis has several identifiable stages. The primary infection is an acute oropharyngeal infection followed by septic thrombophlebitis of the internal jugular vein. This is possible via two pathways, the first being a hematogenous spread via tonsillar vein or the second via a direct extension and invasion into the adjacent peritonsillar tissue and then further into the lateral pharyngeal space via lymphatic system. From the internal jugular vein, there is hematogenous spread to systemic sites leading to metastatic septic emboli and abcess formation. The neck swelling is often mild and non-specific, making it easily missed. It is not surprising that most patients had evidence of metastatic abcesses by the time of diagnosis.
Conclusions:
The diagnosis of Lemierre Syndrome requires a high index of suspicion. This syndrome should be suspected when there is an acute pharyngitis accompanied with neck pain, for which physical signs of meningitis like Kernig's and Brudzinski's sign are absent, especially when accompanied with worsening respiratory symptoms and deranged liver or renal panels. It is also prudent to look for potential abscesses which could be disseminated, especially if patient's clinical presentation is not improving.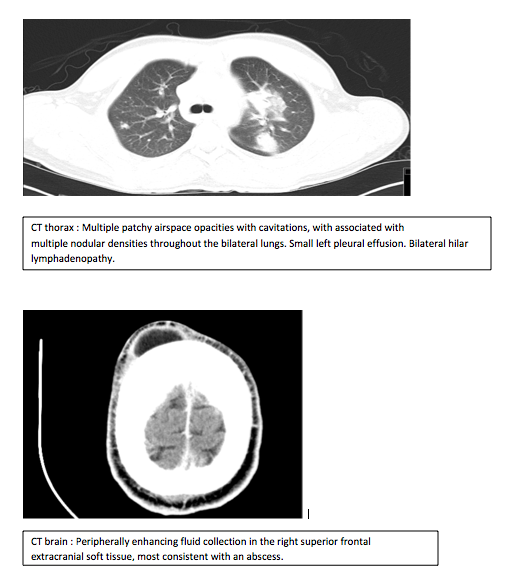 To cite this abstract:
Chinnadurai A, North S, Robinson L. Lemierre's Syndrome: A Rare but Lethal Complication of Pharyngitis. Abstract published at
Hospital Medicine 2015, March 29-April 1, National Harbor, Md.
Abstract 747.
Journal of Hospital Medicine.
2015; 10 (suppl 2). https://www.shmabstracts.com/abstract/lemierres-syndrome-a-rare-but-lethal-complication-of-pharyngitis/. Accessed November 17, 2019.
« Back to Hospital Medicine 2015, March 29-April 1, National Harbor, Md.