Case Presentation:
An otherwise healthy 36‐year‐old male presented to our institute with a 4‐day history of low‐grade fever accompanied by sore throat and myalgia. Physical examination was remarkable for an injected pharynx without any neck tenderness or swelling. CBC showed platelet count of 45,000/uL and WBC count of 8700 cells/uL (neutrophil of 85%). Blood chemistry test was remarkable for elevated creatinine of 2.1 mg/dL. He was diagnosed with viral upper respiratory tract infection (URI) and was admitted for fluid rehydration. However, on the second day of hospitalization, he developed a high fever of 39.2°C along with pleuritic chest pain and low blood pressure of 80/50 mmHg. He was immediatley resuscitated with IV fluid, blood cultures were obtained and empirical antibiotics (vancomycin and piperacillin/tazobactam) were initiated. Chest X‐ray revealed bilateral patchy parenchymal opacities and subsequent CT of chest demonstrated right‐sided pleural effusion and multiple thick‐walled cavitary nodules consistent with septic emboli [Figure 1]. His blood cultures grew F. necrophorumon the following day and antibiotic was narrowed down to piperacillin/tazobactam. He responded well to the treatment as he became afebrile and his blood pressure was normalized. Venous duplex ultrasonography was obtained and demonstrated thrombus in the left internal jugular vein (IJV). He was finally diagnosed with Lemierre's syndrome and piperacillin/tazobactam was continued for 7 days. He was discharged to home with a 4‐week course of IV ertapenem and recovered well from the infection.
Discussion:
Lemierre's syndrome is a rare but potentially fatal infection of the IJV that is usually caused by F. necrophorum although a wide variety of bacteria been reported as causative organisms. The infection typically starts in the palatine tonsils or peritonsillar tissue and spreads into the IJV‐containing lateral pharyngeal space. This septic thrombophlebitis is usually followed by distal septic embolization, resulting in multi‐organ involvement with lung being the most commonly affected. It is classically described as a constellation of symptoms of fever, sore throat, neck swelling, pulmonary involvement and arthralgia that frequently affects young healthy adults. Nevertheless, initial clinical presentation can be subtle and the syndrome is frequently not suspected until the microbiologic data is available. Typical signs of IJV thrombophlebitis are pain and swelling along the sternocleidomastoid muscle, but they are found in only approximately a half of patients.
Diagnosis is established on the presence of thrombus in IJV and positive blood culture. CT of neck with contrast is the diagnostic modality of choice to demonstrate the thrombus although doppler ultrasonography is an alternative with a comparable sensitivity. Prolong course of intravenous antibiotic is the cornerstone of the treatment. The role of anticoagulation therapy is unclear and is generally not indicated unless there is evidence of expansion of thrombus.
Conclusions:
We report a case of a young male who presented with flu‐like symptoms and was initially misdiagnosed with viral URI. Physician should have a high degree of clinical suspicion for this diagnosis and should always consider Lemierre's syndrome as a potential cause of sepsis in otherwise healthy young adult. History of preceding pharyngitis or evidence of septic emboli, especially to the lung, may provide an additional clue to the diagnosis.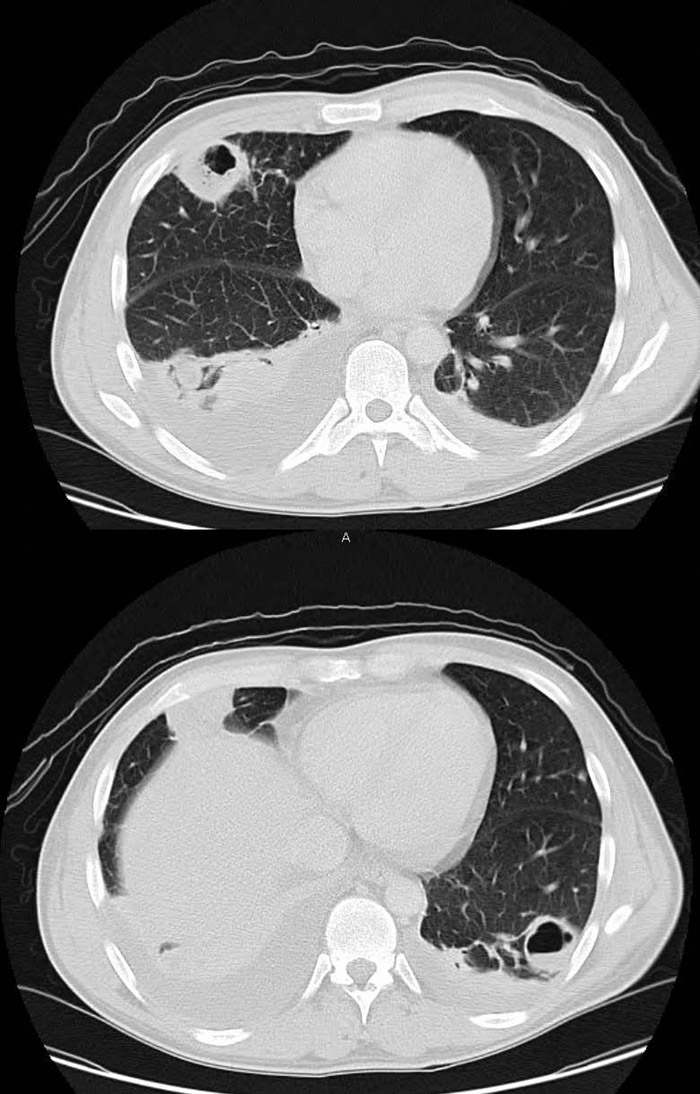 To cite this abstract:
Ungprasert P, Srivali N, Permpalung N. Lemierre's Syndrome: A Forgotten Life‐Threatening Infection. Abstract published at
Hospital Medicine 2014, March 24-27, Las Vegas, Nev.
Abstract 663.
Journal of Hospital Medicine.
2014; 9 (suppl 2). https://www.shmabstracts.com/abstract/lemierres-syndrome-a-forgotten-lifethreatening-infection/. Accessed April 7, 2020.
« Back to Hospital Medicine 2014, March 24-27, Las Vegas, Nev.