Late-Onset Robust Curly Hair Growth in a Patient with Braf-Mutated Metastatic Melanoma Responding to Dabrafenib
Matthew Keating, MD* and Constantin Dasanu, MD, PhD, Eisenhower Medical Center, Rancho Mirage, CA
Meeting: Hospital Medicine 2016, March 6-9, San Diego, Calif.
Abstract number: 604
Categories: Adult, Clinical Vignettes Abstracts
Keywords: Braf Inhibitor, Curly Hair, Dabrafenib and Metastatic Melanoma
Case Presentation:
A 64-year-old man presented to us with newly metastatic melanoma in 6/2014. PMHx included localized melanoma, CAD, type II DM, HTN, GERD, mitral valve prolapse, migraines, and bipolar disorder. Restaging PET/CT scan in 5/2014 revealed multiple new abdominal metastases. Pathology showed BRAF-mutation positivity in codon 600. He was started on dabrafenib and trametinib in 7/2014. A restaging PET/CT scan in 8/2014 showed an excellent response to therapy (remaining lesions seen in the pancreas and porta hepatis). Due to high fevers of 103-104F, he discontinued the dual therapy with dabrafenib and trametinib in 8/2014. He resumed single therapy with dabrafenib in 9/2014, with a near-complete response. Regarding the patient's hair changes, he developed a fullness not seen in years, with a newfound curly appearance never before observed in his lifetime. His appearance sharply contrasted to his previously straight hair with diffuse thinning. Remarkably, his new hairstyle did not develop until 11 months into treatment with dabrafenib. His hair became progressively wavier with curling evident at the ends. In clinic, he had a noticeably more vibrant, thicker head of hair, retaining its peppered-gray appearance and male pattern baldness but with small corkscrews emerging throughout.
Discussion:
For the first time, we link BRAF inhibitors to robust, curly hair growth. There is little published data regarding the time of onset of hair phenotype changes with BRAF inhibitors. A few studies of metastatic melanoma patients treated with BRAF inhibitors have emphasized hair thinning. In a phase I/II clinical trial of dabrafenib in Australia, 8 of 41 patients experienced hair loss, and 7 patients developed curly hair [1]. A cohort study of 28 metastatic melanoma patients treated with vemurafenib in clinical trials in Switzerland showed similar findings: 8 of 28 patients (29%) had hair thinning and diffuse alopecia, and 2 of 28 patients (7%) had curling of the hair after experiencing hair thinning [3]. A third study found that a patient on dabrafenib developed curly hair at 24 weeks [6]. Time of onset data outlining dabrafenib–associated hair abnormalities is sparse. Furthermore, previous studies have associated the curly hair effect with hair thinning. Our case report is unique in that our patient's hair developed a more robust and curly appearance. In addition, our patient did not develop these hair changes until 11 months into treatment. The previously reported hair changes have occurred no later than 24 weeks. Our proposed causality relationship of robust, curly hair with dabrafenib is at least probable with a score of 5 on the Naranjo nomogram. Our patient also experienced other, more recognized side effects of dabrafenib such as high fevers and moderate iritis.
Conclusions:
Our patient's novel reaction to dabrafenib in robust curly hair growth may have intriguing prognostic implications. Fortunately, our patient's metastatic melanoma has responded completely to dabrafenib. We dare to hypothesize that relatively late onset of curly, robust hair growth may be correlated with a positive treatment response. If our hypothesis is correct, hair changes could perhaps be used in the future as an indicator of treatment response alongside imaging modalities, guiding decisions to continue with current therapy or switch to alternative therapies. More research is needed to investigate the association between specific hair changes, their time of onset and the clinical outcomes.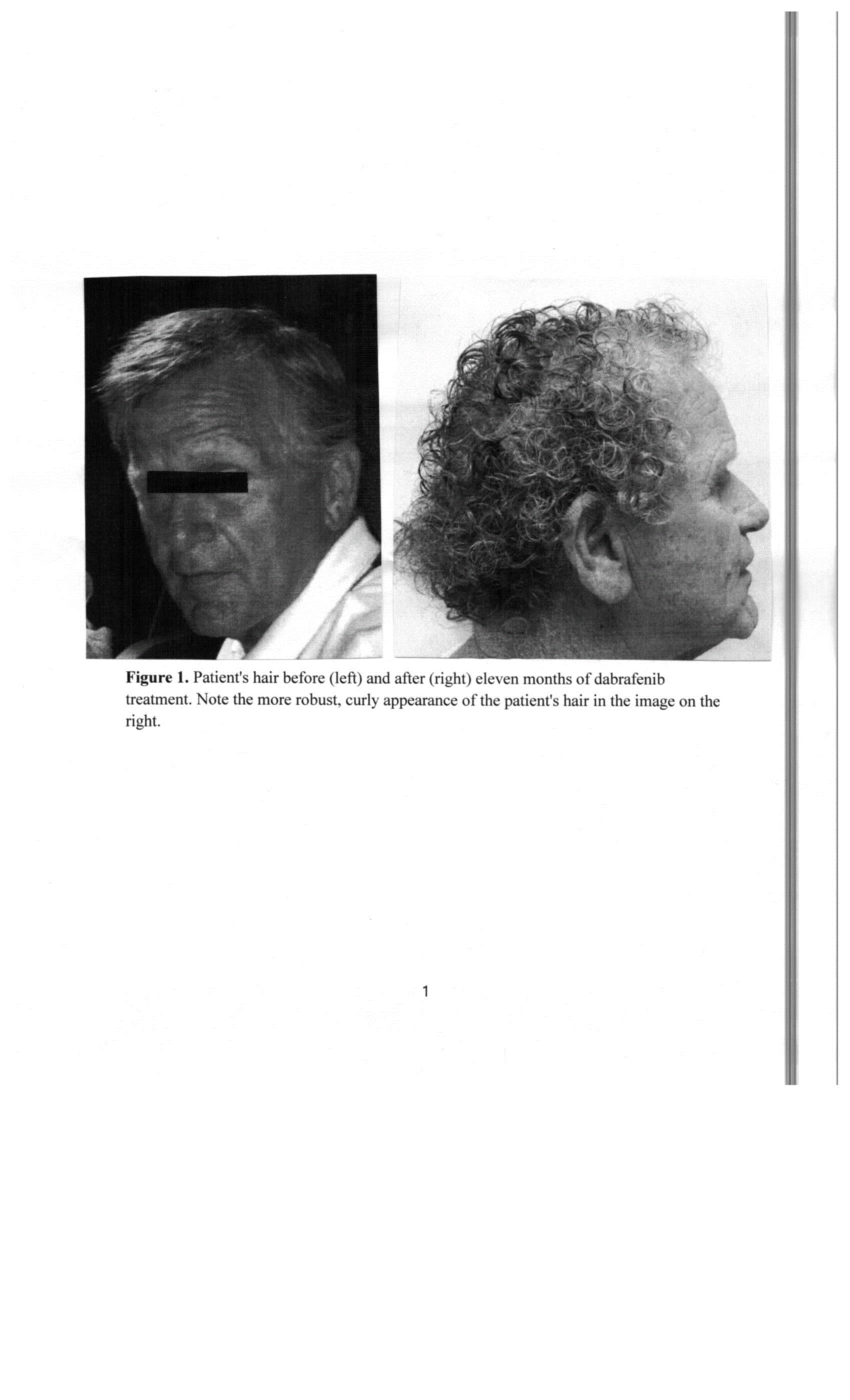 To cite this abstract:
Keating M, Dasanu C. Late-Onset Robust Curly Hair Growth in a Patient with Braf-Mutated Metastatic Melanoma Responding to Dabrafenib. Abstract published at
Hospital Medicine 2016, March 6-9, San Diego, Calif.
Abstract 604.
Journal of Hospital Medicine.
2016; 11 (suppl 1). https://www.shmabstracts.com/abstract/late-onset-robust-curly-hair-growth-in-a-patient-with-braf-mutated-metastatic-melanoma-responding-to-dabrafenib/. Accessed February 19, 2020.
« Back to Hospital Medicine 2016, March 6-9, San Diego, Calif.