Case Presentation: : A 60 year old man presented for the third time with acute worsening of back pain and lower extremity weakness, night sweats, and weight loss. During the first similar presentation 3 three months prior, he was found to have MSSA bacteremia related to dental extraction. A CT scan at that time showed an unremarkable aorta and he received a 4-week course of Nafcillin. However, He presented for a second time with back pain, which was treated symptomatically. During his current third presentation, the physical examination revealed significant L3-L4 spinal tenderness prompting detailed imaging which revealed a mycotic aneurysm of the infra-renal aorta. Since the first CT did not show any aneurysms, the current aneurysm is likely caused by the infection. Immediate surgical repair was contemplated but was deferred due to advanced liver cirrhosis. He was treated successfully with IV antibiotic therapy.
Discussion: Infection of the arterial wall leads to out-pouching and aneurysm formation. The source of infection can be blood stream or direct-spread from an adjacent organ. It can also be seen following vascular surgery. CT-Angiogram is the imaging modality of choice. The culprit organism is identified by blood cultures and/or cultures from aneurysm wall. Prolonged culture-specific antibiotic therapies in combination with open surgery or endovascular repair are needed. The condition should be suspected in the presence of persistent bacteremia and local pain. Prompt specific imaging is urgently warranted to avoid complications.
Conclusions: Mycotic aneurysm" is a term that describes infection in a blood vessel wall. Although the name suggests a fungal association, the term is still used to describe aneurysms related to other infectious organisms. Because of their rarity, such aneurysms pose a particular diagnostic challenge. Delay in diagnosis can cause significant morbidity and mortality due to severe sepsis, distant infections, or rupture.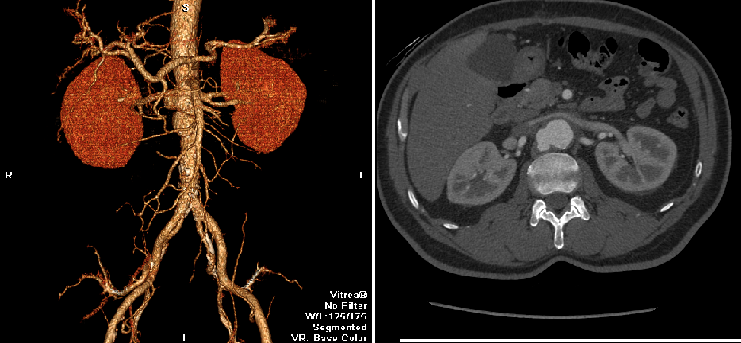 To cite this abstract:
Rehman S, Kowsika SS, Rajaratnam A, Pandey SP, Krishnan S. It's Not Just Another Back Pain!. Abstract published at
Hospital Medicine 2016, March 6-9, San Diego, Calif.
Abstract 760.
Journal of Hospital Medicine.
2016; 11 (suppl 1). https://www.shmabstracts.com/abstract/its-not-just-another-back-pain/. Accessed April 3, 2020.
« Back to Hospital Medicine 2016, March 6-9, San Diego, Calif.