It's Not Breast Cancer? A Case of Poems Syndrome Masquerading As Metastatic Cancer with Unknown Primary
Hua-Jay Cherng*1; Rajesh Chandra, MD2 and Ehsan Malek, MD2, (1)Case Western School of Medicine, Cleveland, OH, (2)University Hospitals Case Medical Center, Cleveland, OH
Meeting: Hospital Medicine 2016, March 6-9, San Diego, Calif.
Abstract number: 467
Categories: Adult, Clinical Vignettes Abstracts
Keywords: Bone, Metastases, Neuropathy and Plasma Cell, Poems
Case Presentation:
A 40 year old woman with history of stroke at age 35 was admitted from an outside hospital with a CT-PE scan showing diffuse "osteoblastic" lesions and bilateral axillary lymphadenopathy. She complained of progressive weakness and painful paresthesias in her upper and lower extremities, diffuse body swelling, and a 100-lb weight loss all within the past year. On exam, she had motor and sensory deficits, anasarca, hirsutism affecting her face and extremities, skin hyperpigmentation, and peau d'orange changes in both breasts without palpable masses. Workup for metastatic breast cancer was initiated, but bilateral mammograms were negative and her bony lesions were not metabolically active on PET/CT scan. Part of her neuropathy workup included an SPEP, which showed a small IgG lambda spike of 0.4 g/dL. EMG showed a demyelinating polyneuropathy. Eye exam showed bilateral papilledema. VEGF was slightly elevated at 87 pg/mL. Bone marrow biopsy showed a clonal lambda plasma cell population. This patient was discharged with a diagnosis of POEMS syndrome. She received an autologous stem cell transplant and her neuropathy and edema gradually improved.
Discussion:
POEMS (polyneuropathy, organomegaly, endocrinopathy, monoclonal paraprotein, skin changes) syndrome is a rare plasma cell dyscrasia. Additional features include sclerotic bony lesions, extravascular volume overload, papilledema, elevated VEGF, and risk of thrombosis. The pathophysiology is poorly understood but symptoms are thought to stem from cytokine secretion. The diagnosis of POEMS syndrome is easily missed due to its complexity and rarity. The osteosclerotic lesions can be confused for blastic metastases from underlying solid malignancy, and the neuropathy presents similar to that of chronic inflammatory demyelinating polyneuropathy. The standard of therapy for diffuse disease without significant organ dysfunction is autologous stem cell transplant (ASCT). Progression free and overall survival 5 years after ASCT is 75% and 94% respectively.
Conclusions:
A patient with underlying POEMS syndrome represents a significant diagnostic challenge in the inpatient setting. Hospitalists may be the first to encounter such a patient and must recognize the importance of unifying the seemingly unrelated symptoms. Furthermore, they should keep an open mind when evaluating patients with metastatic bone disease; POEMS syndrome should be on the differential when a patient presents with osteosclerotic lesions without primary solid tumor, polyneuropathy, and a positive SPEP with lambda M spike.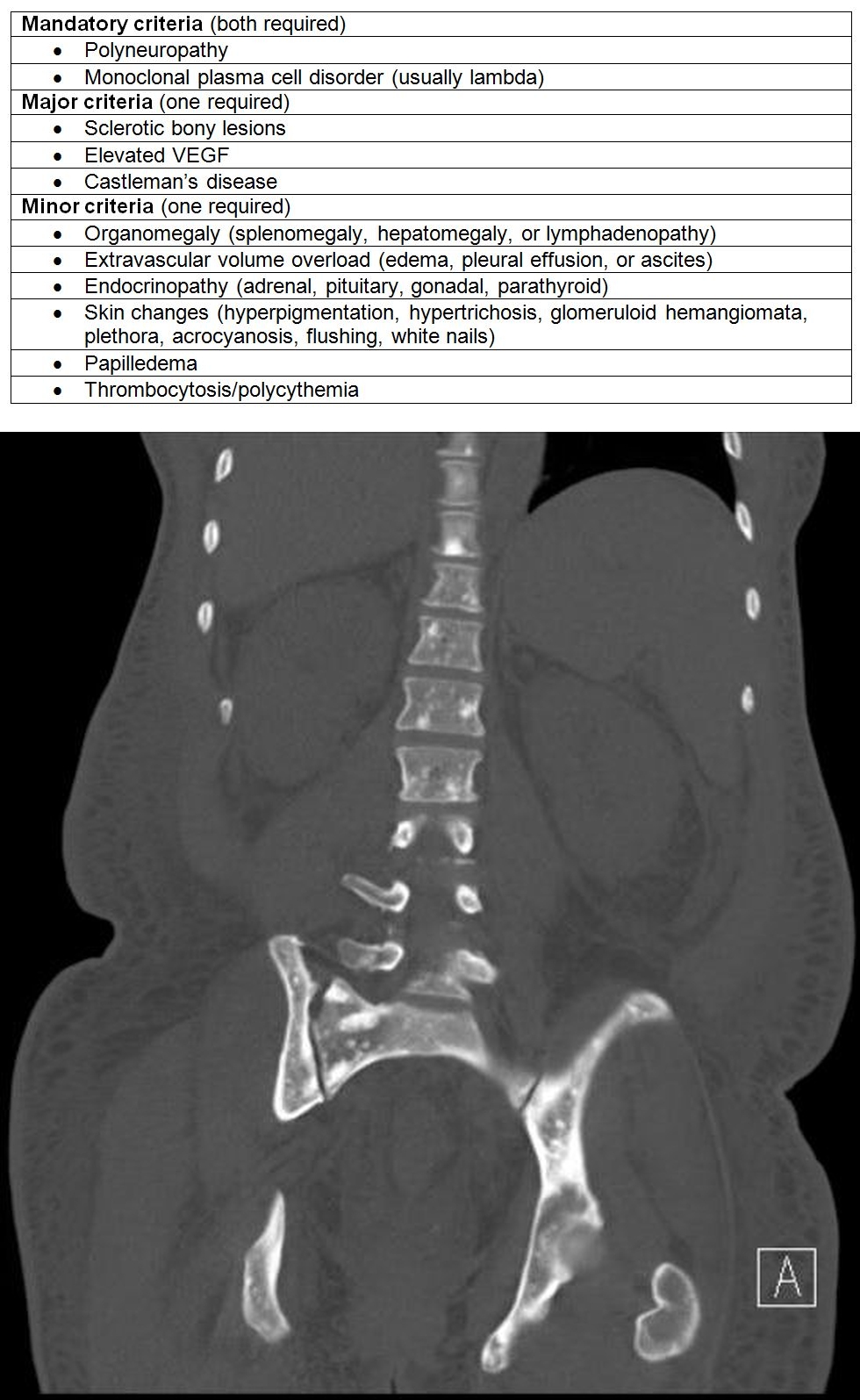 To cite this abstract:
Cherng HJ, Chandra R, Malek E. It's Not Breast Cancer? A Case of Poems Syndrome Masquerading As Metastatic Cancer with Unknown Primary. Abstract published at
Hospital Medicine 2016, March 6-9, San Diego, Calif.
Abstract 467.
Journal of Hospital Medicine.
2016; 11 (suppl 1). https://www.shmabstracts.com/abstract/its-not-breast-cancer-a-case-of-poems-syndrome-masquerading-as-metastatic-cancer-with-unknown-primary/. Accessed April 5, 2020.
« Back to Hospital Medicine 2016, March 6-9, San Diego, Calif.