Case Presentation:
53-year-old female with past medical history of alcohol induced chronic pancreatitis who had multiple admissions with hematemesis and melena, abdominal pain, fatigue and severe microcytic anemia. During her first admission patient was found to have hemoglobin of 7.3 g/dL and no abnormalities were elucidated by upper endoscopy examinations and CT angiogram. CT abdomen showed chronic pancreatitis with infected pseudocyst with areas of internal hemorrhage close to the head of pancreas. Patient was transfused and discharge with stable Hemoglobin. After three months, she was re-admitted with similar symptoms, this time Hemoglobin dropped to 4 g/dl with upper endoscopy showing mild esophagitis and features suggestive of portal gastropathy. Colonoscopy and CT angiogram were again negative. She was discharge post transfusion. One year after she was re-admitted, hemoglobin was found to be of 6 g/dL, work up was repeated and finally enteroscopy revealed active bleeding from ampulla and Hemosuccus pancreaticus was diagnosed. IR guided embolizations were done where contrast extravasation was noted from the region of the gastro-duodenal artery. Distal GDA was embolized and patient was discharge post procedure with stable Hemoglobin of 11 g/dl.
Discussion:
Hemosuccus Pancreaticus is defined as bleeding from the papilla of Vater via the pancreatic duct, however hemorrhage from the papilla of Vater is rarely revealed with endoscopy. This condition is commonly associated with chronic pancreatitis, pancreatic cancer and pseudocysts. Pancreatic enzymes may cause necrosis of the peripancreatic vessels that cross tissue planes and boundaries resulting in pseudoaneurysm formation. Splenic artery pseudoaneurysm represents the leading cause of this condition. Appropriate and sometimes multiple endoscopic or radiologic procedures should be chosen to establish the diagnosis, especially in those with a known history of pancreatic disorders who present with abdominal pain and GI hemorrhage. Rapid embolization from the site of bleeding or surgery is the option of treatment if embolization is not possible. In our case initial endoscopies and even angiography studies did not show any sings of bleeding making it a challenging diagnosis. We herein report a case of Hemosuccus Pancreaticus and discuss the problem and pitfalls in management of this rare disease
Conclusions:
Difficulties in determining the location of GI bleeding sometimes causes delay in treatment of patients. Hemosuccus Pancreaticus is a fatal disease if not diagnosed and treated properly. For proper and prompt management all hospitalists should be aware of this condition when we encounter a patient intermittent upper gastrointestinal bleeding with an obscure source especially in chronic pancreatitis.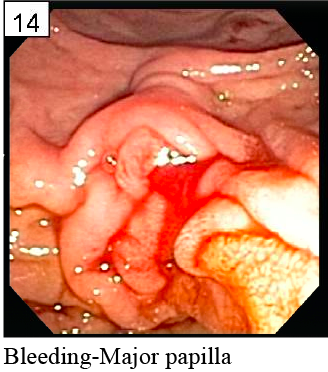 To cite this abstract:
Pena C, Ashat M. Is the Patient Bleeding Again? A Curious Case of GI Bleeding. Abstract published at
Hospital Medicine 2016, March 6-9, San Diego, Calif.
Abstract 733.
Journal of Hospital Medicine.
2016; 11 (suppl 1). https://www.shmabstracts.com/abstract/is-the-patient-bleeding-again-a-curious-case-of-gi-bleeding/. Accessed April 9, 2020.
« Back to Hospital Medicine 2016, March 6-9, San Diego, Calif.