Case Presentation:
A 31‐year‐old woman who was 8 weeks pregnant presented to her obstetrician for an initial prenatal examination. On physical exam, a firm, fixated 4 × 5 cm mass was palpated in the midline of the neck. The patient revealed that she became aware of the mass 8 months prior, but that it had only recently started to rapidly enlarge. Fine‐needle aspiration suggested a poorly differentiated large‐cell malignancy. Subsequent CT scanning confirmed a midline lesion anterior to the strap muscles without thyroid involvement. Excisional biopsy and immunohistolo‐gical staining of the entire mass demonstrated the characteristics of a subcutaneous malignant melanoma with intact epidermis. Staging was limited to either TX‐NX‐M1a stage IV (distant metastasis with unknown primary) or T4b‐NX‐MX stage II (high‐risk primary with ulceration). Follow‐up with full‐body skin, pelvic, and eye examinations failed to locate a primary site from which metastasis may have occurred. Further nodal biopsy, imaging studies, and chemotherapies were withheld at the patient's request until delivery. Eight months later, the patient presented to the emergency department with frequent headaches, persistent nausea, vomiting, and clumsiness. Subsequent head CT scanning demonstrated 2 large, hemorrhagic mass lesions of the right hemisphere. The patient immediately underwent cesar‐ean section and delivered a healthy neonate. Further imaging revealed metastases to the sternal notch, trachea, lung, and right iliac bone. The patient's condition continued to rapidly decline with ensuing seizure activity, loss of consciousness, and death.
Discussion:
The incidence and mortality rate of melanoma has increased significantly worldwide over the last several decades. Although most malignant melanoma exists superficially, intradermal malignant melanoma of an unknown primary is an exceedingly rare type, with clinical presentation and pathophysiology that remain one of medicine's great enigmas.
Conclusions:
Melanoma is the second most common cancer in women of child‐bearing age and constitutes one of the more common types of cancers diagnosed in pregnancy. Evaluation of intradermal melanoma should involve a complete skin examination looking for a primary site. In up to 5% of patients, metastatic melanoma can be the first manifestation of the disease. The examiner should try to identify subclini‐cal hypopigmented areas, which may suggest a regressed primary lesion. The patient should be referred for procto‐scopic, gynecologic, ocular, and nasal mucosal examinations. Staging workup and treatment should be performed as for the equivalent clinical stage of known primary.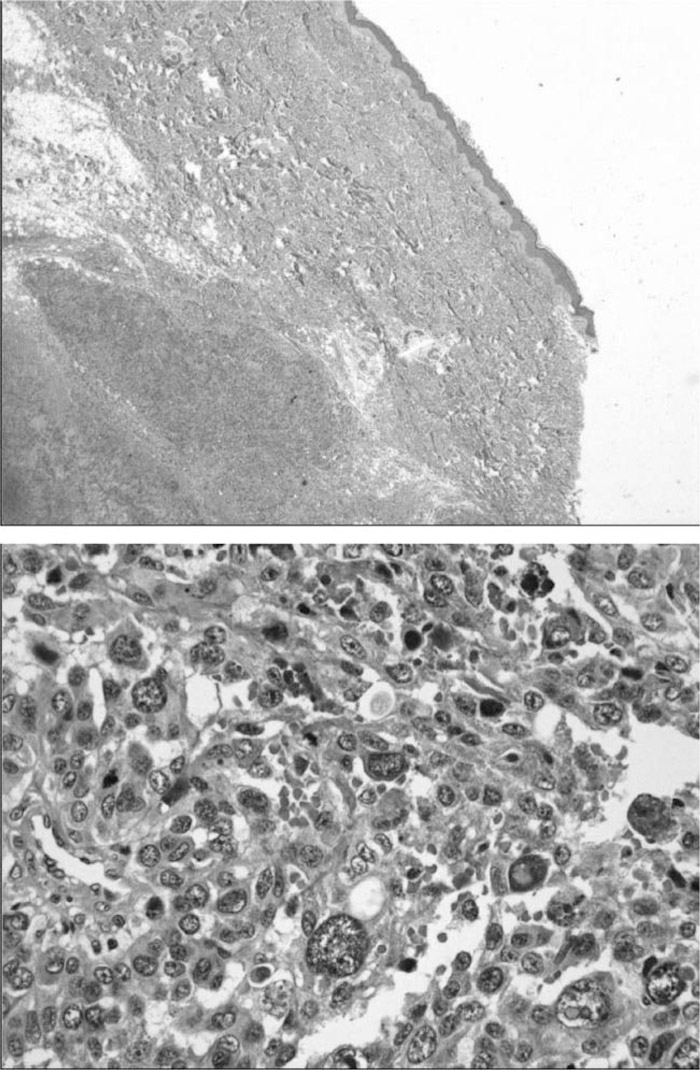 Disclosures:
H. Kaleem ‐ University of Illinois at Urbana‐Champaign, resident; I. Uzoaru ‐Carle Foundation Hospital, clinical pathologist.
To cite this abstract:
Kaleem H, Uzoaru I. Intradermal Malignant Melanoma: The Great Enigma. Abstract published at
Hospital Medicine 2011, May 10-13, Dallas, Texas.
Abstract 307.
Journal of Hospital Medicine.
2011; 6 (suppl 2). https://www.shmabstracts.com/abstract/intradermal-malignant-melanoma-the-great-enigma/. Accessed March 29, 2020.