Indication‐Based Ordering Produces Improved Outcomes in Reducing Rate of Preventable Venous Thromboembolic Events
1University of California, San Diego, San Diego, CA
Meeting: Hospital Medicine 2007, May 23-25, Dallas, Texas
Abstract number: 86
Background:
Venous thromboembolic (VTE) disease is a significant burden for hospitalized inpatients. At our institution, we designed an intervention that would force physician users both to rate degree of VTE risk and to intervene with best‐practice therapeutic choices at admission and at transfer of level of care. Using a validated chart review mechanism, we demonstrated a significant reduction in the rate of preventable VTE events.
Purpose:
At baseline, our institution had a comprehensive computerized provider order management (CPOM) application. Thus, at both admission and at transfer of level of care, the user was provided with several anti‐VTE and anticoagulation choices; however, no risk assessment was required. In this setting it was impossible to "force" the users to either define the degree of risk or to use evidence based guidelines to institute a harm reduction strategy that took into account a patient's degree of bleeding risk or other contraindication to anticoagulant prophylaxis.
Description:
Thus, a multidisciplinary group was convened that designed both a prospective chart review tool and an algorithm by which users would classify a patient as being at low, moderate to high, or very high risk of VTE. Last, the group designed a stratification schema of contraindications to anticoagulation. Once a user had determined the VTE risk and degree of contraindication, he or she was guided to select the best possible strategy for VTE risk reduction. This order set and risk stratification would be available for renewal every 72 hours or on transfer of level of care. This protocol was made available for all adult medical and surgical inpatients in May 2006; neonates and pregnant patients were excluded from the target group.
Conclusions:
Using a chart review tool that was in place prior to the introduction of the new online order set and protocol, the study group evaluated all VTE events for degree of preventability. Time‐series analysis showed the group had an 85% reduction in preventable VTE between the 2 months prior to the intervention and the 2 months subsequent to the intervention. Similarly, the percentage of patients deemed to have "adequate" VTE prophylaxis increased by 18% in the same comparison period (see the figure). Ongoing analysis is in place to ensure a persistent reduction in the VTE rate. This study was limited by the absence of a crossover control group, but the time‐sequence evidence is compelling that use of indication‐based ordering and risk stratification can reduce the rate of preventable VTE in hospitalized inpatients.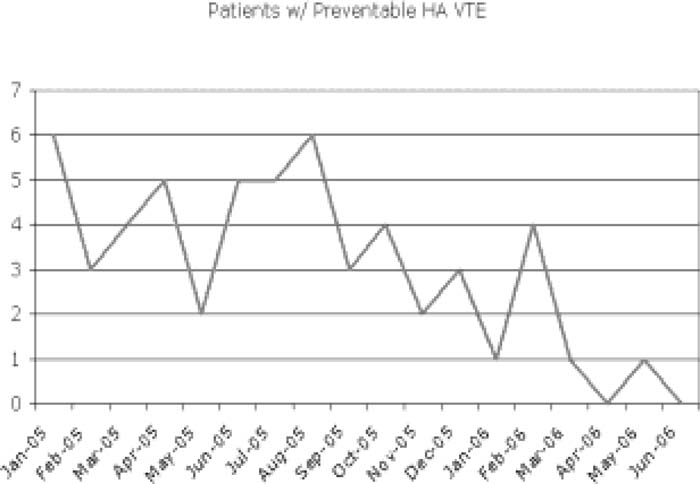 Author Disclosure:
J. Lee, None; G. Maynard, None.
To cite this abstract:
Lee J, Maynard G. Indication‐Based Ordering Produces Improved Outcomes in Reducing Rate of Preventable Venous Thromboembolic Events. Abstract published at
Hospital Medicine 2007, May 23-25, Dallas, Texas
Abstract 86.
Journal of Hospital Medicine.
2007; 2 (suppl 2). https://www.shmabstracts.com/abstract/indicationbased-ordering-produces-improved-outcomes-in-reducing-rate-of-preventable-venous-thromboembolic-events/. Accessed April 6, 2020.