Improving Service Excellence with Etiquette‐Based Medicine
1Johns Hopkins Bayview Medical Center, Johns Hopkins School of Medicine, Baltimore, MD
2Johns Hopkins Bayview Medical Center, Johns Hopkins School of Medicine, Baltimore, MD
3Johns Hopkins Bay view Medical Center, Johns Hopkins School of Medicine, Baltimore, MD
4Johns Hopkins Bayview Medical Center, Johns Hopkins School of Medicine, Baltimore, MD
Meeting: Hospital Medicine 2010, April 8-11, Washington, D.C.
Abstract number: 144
Background:
Providing quality care is a top priority in hospital medicine. Quality of patient care comprised not only "technical" components (correct diagnosis and medical management), but also "sefvice" elements. Quality of service pertains to the interpersonal aspects of care, which rely on trust, communication, and patient respect. Kahn proposed 6 specific etiquette‐based behaviors to be performed as part of each patient encounter. Our goal was to investigate whether hospitalists practice etiquette‐based medicine and to identify physician factors that may be associated with the practice of etiquette‐based medicine.
Methods:
Using a time‐motion study design, 24 hospitalists at 3 hospitals were observed during patient encounters for a single day. Data collected included physician demographics (age, sex), years in practice, and academic rank. Three hundred and eighty‐nine patient encounters were observed, and data were collected on the following behaviors: (1) asked permission to enter the room, waited for an answer; (2) introduced self, showing ID badge; (3) shook hands (wore glove if needed); (4) sal down; (5) briefly explained his/her role on the team; and (6) asked the patient how he or she felt about being in the hospital. Chisquare analysis was used to assess the association between physician demographics and rates of compliance with specific behaviors.
Results:
Of the hospitalists observed, 50% were women, the average age was 35 years, and providers had been practicing as hospitalists for an average of 3.8 years. One third of the hospitalists in our study were from a community hospital, and two thirds were from an academic medical center. Figure 1 shows the percentage of encounters in which hospitalists performed the 6 etiquette‐based behaviors, respectively. We found a statistically significant positive association between being a hospital administrator and performing any of the etiquette‐based behaviors (P = 0.025). Also, there was a statistically significant difference in the performance of any of the etiquette‐based behaviors across institutions (P = 0.018). There was no significant association between sex, age, or years as a practicing hospitalist and the performance of any etiquette‐based behaviors.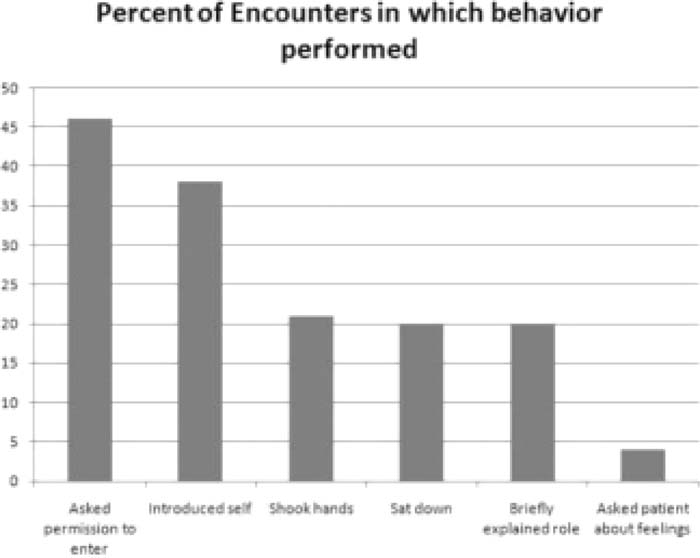 Conclusions:
Hospitalists can enhance service excellence by practicing etiquette‐based medicine. Five of the 6 etiquette‐based medicine behaviors take place at the beginning of the patient encounter and may set the tone for a positive, relationship‐centered interaction, which can build trust and improve communication. Education and training in etiquette‐based medicine for hospitalists may very well be a strategy for improving service excellence.
Author Disclosure:
D. Tad‐y, none; H. Bhogal, none; F. Kisuute, none; S. Wright, none.
To cite this abstract:
Tad‐y D, Bhogal H, Kisuule F, Wright S. Improving Service Excellence with Etiquette‐Based Medicine. Abstract published at
Hospital Medicine 2010, April 8-11, Washington, D.C.
Abstract 144.
Journal of Hospital Medicine.
2010; 5 (suppl 1). https://www.shmabstracts.com/abstract/improving-service-excellence-with-etiquettebased-medicine/. Accessed April 10, 2020.
« Back to Hospital Medicine 2010, April 8-11, Washington, D.C.