Background: Disparities in compensation and leadership still exist for women and underrepresented minorities in medicine. While studies have identified factors that lead to and perpetuate these inequities, institutions still struggle with how to implement long needed change to support increased diversity in our work environments, leadership opportunities, and equitable compensation specific to these populations.
Purpose: Our newly formed Division of Hospital Medicine (DHM) at the University of Colorado has made Diversity, Equity, and Inclusion a key strategic area of focus. We created a new role, Director of Diversity and Equity and developed a Division-wide program to support efforts to eliminate salary inequities and ensure a diverse and equitable work environment.
Description: The DHM held a focus group early in the year, led by our Division Head and Director of Diversity and Equity, to discuss perceived issues around diversity, equity, and inclusion with a specific focus on compensation. While our group defined compensation broadly, salary, protected time, and leadership opportunities remained at the forefront. Based on key areas that were identified, we performed an in-depth review of: (1) Compensation practices within the Department of Medicine and DHM by rank and gender, (2) Leadership roles, including associated funding and protected time, and (3) Diversity recruitment strategies. Utilizing data from our internal review of current practices, as well as a review of best practices from an array of fields, we created best practices around compensation and recruitment for our division. A variety of initiatives were developed (Table 1), which included (1) Development of a compensation plan that eliminated salary inequities among faculty of similar rank/training, (2) Standardization of the Full Time Equivalent (FTE) for similar leadership roles, and (3) Development of toolkits for achieving gender equity and diversity in recruitment, focused on committee composition and candidate pools. Each of the initiatives were vetted with Departmental and hospital leadership as their support in these initiatives were key to the successes. Our toolkits are being utilized at both the division and departmental level and were recently published by the Association of American Medical Colleges (AAMC).
Conclusions: Through deliberate assessment and development of processes around compensation, leadership, and recruitment, inequities can be reduced or eliminated in hospital medicine. The initiatives described are scalable and most require little to no resources. A similar approach to promotion and tenure processes will be key to ensuring successes in these areas as well.
IMAGE 1: Program to Improve Diversity, Equity, and Inclusion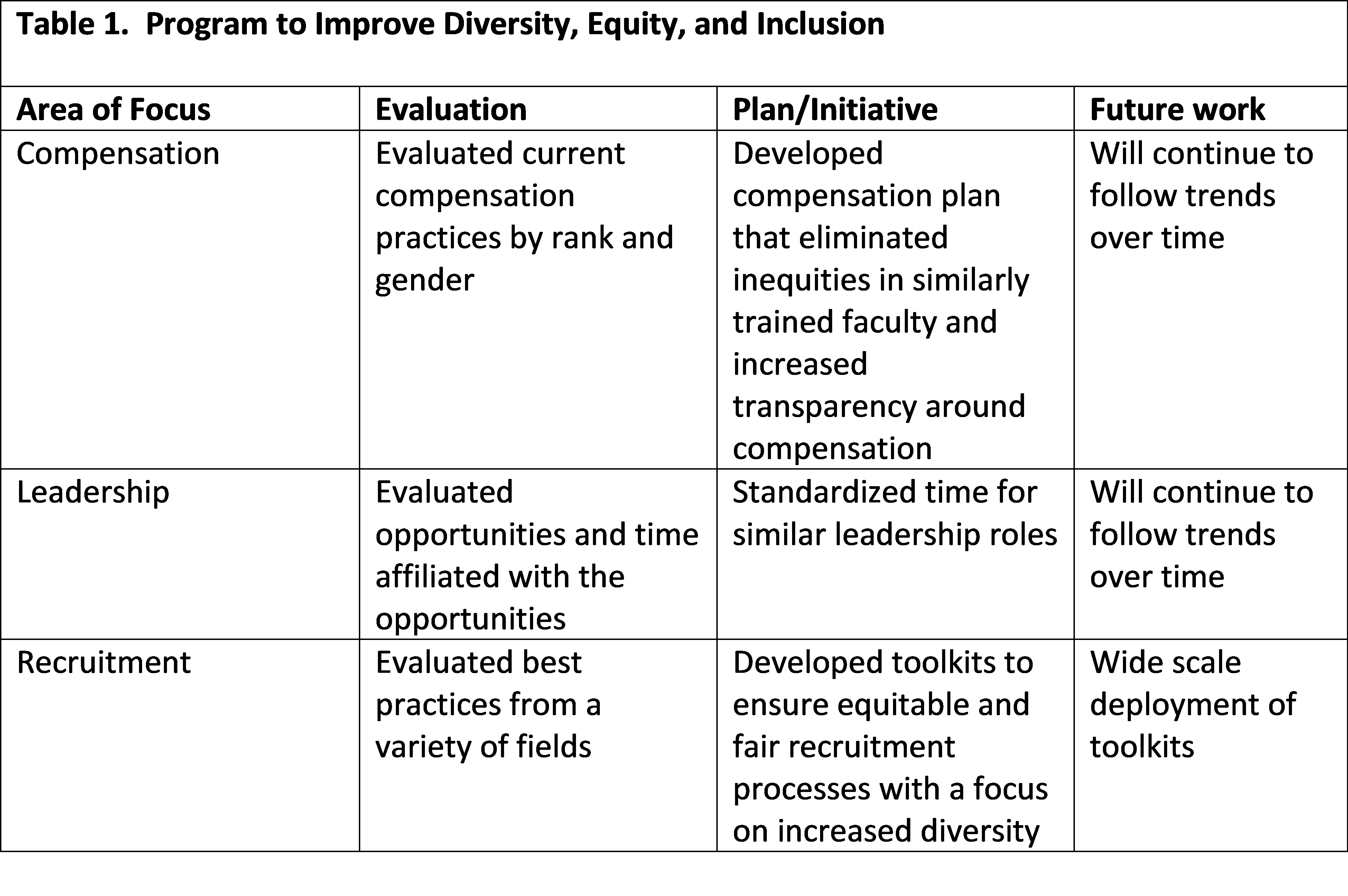 To cite this abstract:
del Pino Jones, A; Burden, M; Lleras, L; Campbell, S; Bowden, K. IMPROVING DIVERSITY, EQUITY, AND INCLUSION: A DIVISION WIDE PROGRAM TO IMPROVE DIVERSITY, EQUITY, AND INCLUSION IN HOSPITAL MEDICINE. Abstract published at
Hospital Medicine 2019, March 24-27, National Harbor, Md.
Abstract 116. https://www.shmabstracts.com/abstract/improving-diversity-equity-and-inclusion-a-division-wide-program-to-improve-diversity-equity-and-inclusion-in-hospital-medicine/. Accessed January 21, 2020.
« Back to Hospital Medicine 2019, March 24-27, National Harbor, Md.