Implementation of Evidence‐Based Order Sets Improves Clinical and Financial Outcomes in the Treatment of Pneumonia and Heart Failure
1Cedars‐Sinai Health System, Los Angeles, CA
2Iowa Health System, Des Moines, IA
3Iowa Health System, Des Moines, IA
4Iowa Health System, Des Moines, IA
5Cedars‐Sinai Health System, Los Angeles, CA
6Cedars‐Sinai Health System, Los Angeles, CA
Meeting: Hospital Medicine 2010, April 8-11, Washington, D.C.
Abstract number: 96
Background:
Evidence‐based order sets have been shown to improve clinical and financial outcomes. However, most order set studies have been conducted in academic medical centers or stand‐alone hospitals. The Iowa Health System (IHS) is an integrated health system consisting of relationships with 26 community hospitals in Iowa and western Illinois. IHS has developed evidence‐based order sets as part of a larger effort to standardize care and improve health care quality at affiliate hospitals.
Methods:
The study had a retrospective case—control design. Corporate‐wide order sets were developed and approved using an evidence‐based order set templates and knowledge management tools from Zynx Health Incorporated, The development and approval process involved input from a variety of quality improvement stakeholders from each affiliate hospital. Physicians at each hospital were encouraged to use paper‐based versions of the order sets but still had the option to maintain their usual practice. Data were collected from patients who were discharged with APR‐DRG diagnoses of community‐acquired pneumonia (CAP) or heart failure (HF) between January and June 2008. Cost, length of stay (LOS), and inpatient mortality data were extracted based on insurance claims paid during the study period. Severity case‐mix analysis was done using APR‐DRG severity levels (1–4).
Results:
Our review identified 1948 cases, 958 CAP and 990 HF, across IHS. Severity of illness was similar between patients receiving order sets versus those not receiving order sets, but only for patients with APR‐DRG severity 1‐3. For patients with APR‐DRG severity 1–3, in‐hospital mortality, LOS, adjusted LOS, direct cost, and adjusted cost were compared between order set and non–order set groups for each condition. The results are presented in Table 1.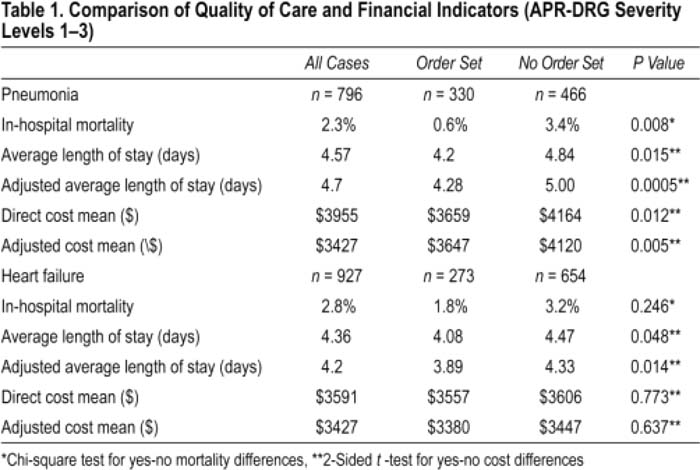 Conclusions:
The adoption of evidence‐based order sets by IHS physicians safely reduced LOS for CAP and HF patients. The CAP order set group had significantly lower inpatient mortality and the HF order set group had a trend toward lower inpatient mortality. There was also a significant reduction in direct and adjusted costs for most CAP patients, although no cost reduction was achieved for HF patients. Implementation of paper‐based evidence‐based order sets can improve clinical and financial outcomes for patients treated in community‐based hospitals for CAP and HF.
Author Disclosure:
S. Miller, none; S. Bognani, none; K. Phillips, none; I. Brady, none; J. Chang, none; D. Rhew, none.
To cite this abstract:
Miller S, Bognani S, Phillips K, Brady I, Chang J, Rhew D. Implementation of Evidence‐Based Order Sets Improves Clinical and Financial Outcomes in the Treatment of Pneumonia and Heart Failure. Abstract published at
Hospital Medicine 2010, April 8-11, Washington, D.C.
Abstract 96.
Journal of Hospital Medicine.
2010; 5 (suppl 1). https://www.shmabstracts.com/abstract/implementation-of-evidencebased-order-sets-improves-clinical-and-financial-outcomes-in-the-treatment-of-pneumonia-and-heart-failure/. Accessed March 31, 2020.
« Back to Hospital Medicine 2010, April 8-11, Washington, D.C.