How Patient‐Centered Are You? The Implementation and Assessment of a Train‐the‐Trainer Shared Decision Making Curriculum for Bedside Rounds
1University of California, San Francisco, San Francisco, CA
2Stanford University School of Medicine, Stanford, CA
3David Geffen School of Medicine at UCLA, Los Angeles, CA
Meeting: Hospital Medicine 2014, March 24-27, Las Vegas, Nev.
Abstract number: 187
Background:
Patient‐centered medical care remains a primary goal of all health care providers and medical centers. Although the majority of providers believe they practice patient‐centered care, patients frequently do not understand their condition or care plan, and their psychosocial characteristics are not considered. One of the primary means for improving the patient‐centeredness of the care we provide is through patient engagement and shared decision‐making (SDM).
Purpose:
To improve patient engagement and SDM using multi‐modal interventions based on educational science and learner‐centeredness.
Description:
We developed a patient engagement and SDM curriculum for pediatric and internal medicine residents, chief residents and hospitalists at two large academic medical centers. The curriculum includes three parts: 1) a series of train‐the‐trainer workshops for residents, chief residents and hospitalist faculty, with interactive exercises and videotaped role plays on SDM using the ASK‐INFORM‐ASK model; 2) an educational "campaign" including pocket cards, announcements, posters
reminders and an audit/feedback program; and 3) peer observations with real‐time assessment and feedback. A validated instrument, the Rochester Participatory Decision Making Scale (RPAD), will be used as a pedagogical tool and as a means to assess physician engagement in SDM. Program evaluation will include retrospective pre‐post workshop questionnaires, RPAD ratings, and pre‐post patient surveys.
To date, a total of 11 medicine residents and fellows and four hospitalist faculty have participated in the workshops. All participants showed improved confidence in using SDM tools, with a mean increase of 0.396 on a 5‐point Likert scale. Participants rated their knowledge and self‐efficacy in SDM higher after participating in the curriculum. The largest impact was on participants' confidence with inviting patient and family participation in SDM (mean increase of 0.867), followed by confidence with asking about patient/family agreement with the decision and examining the patient's or family's concerns or problems with follow through (mean increase 0.667 for each). Residents and hospitalist faculty agreed or strongly agreed that they learned skills applicable to future practice.
Conclusions:
This train‐the‐trainer curriculum, including an educational "campaign" and use of a validated instrument to evaluate SDM at the bedside, is a novel approach to medical education and faculty development. Participants were recruited to disseminate SDM and to actively engage other trainees and faculty by role modeling best practices and teaching SDM to the inpatient teams.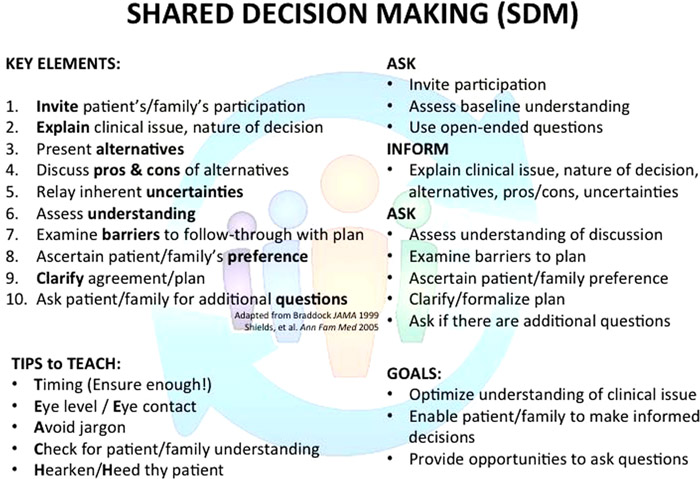 To cite this abstract:
Rennke S, Monash B, Blankenburg R, Sakai D, Harman S, Braddock C, Yuan P, Satterfield J. How Patient‐Centered Are You? The Implementation and Assessment of a Train‐the‐Trainer Shared Decision Making Curriculum for Bedside Rounds. Abstract published at
Hospital Medicine 2014, March 24-27, Las Vegas, Nev.
Abstract 187. https://www.shmabstracts.com/abstract/how-patientcentered-are-you-the-implementation-and-assessment-of-a-trainthetrainer-shared-decision-making-curriculum-for-bedside-rounds/. Accessed December 14, 2018.
« Back to Hospital Medicine 2014, March 24-27, Las Vegas, Nev.