Background:
In order to deliver patient-centered care, healthcare organizations are focusing heavily on efforts to engage patients and caregivers. Fundamental to this effort is involving patients in establishing the primary goal for recovery after hospitalization. However, providers may not always be aware of patients' preferences with regard to key recovery goals. Consequently, patients may express dissatisfaction with their hospital experience, and the potential for adverse events and non-patient-centered care persists after discharge. Few studies have investigated the degree to which patients and key care team members are concordant with regard to patients' primary goal.
Methods:
We administered a validated questionnaire (Haberle, 2011) to randomly selected patients admitted to medical oncology and intensive care units at a major academic medical center. The questionnaire asked patients or designated caregivers to select the most important goal for recovery: 1) "be cured", 2) "live longer", 3) "improve health or maintain health", 4) "be comfortable", 5) "accomplish a particular life goal," or 6) "other." The patient's assigned registered nurse (RN) and responding clinician (RC: intern, resident, or physician assistant) were independently asked to select the patient's primary goal for recovery using the same process within 24 hours of each patient's interview. We compared the differences in frequency of responses for each Haberle goal across respondent groups using an adjusted chi-squared analysis, and then performed 2-way Kappa statistical tests to measure inter-rater agreement for each respondent pair.
Results:
In total, 109 patients were interviewed along with their RC and assigned RN. The frequency of responses for each Haberle goal by respondents is listed in Table 1; there was a significant difference across respondent groups (p<0.001). The most frequent response among patients for their primary goal was "Be Cured" (46.8%), while the most frequent response among RCs (38.5%) and RNs (46.8%) was "Improve or maintain health." The patient, RC, and assigned RN all selected the same Haberle goal in 22 cases (20.2%). In 32 cases (29.4%) the patient, RC, and RN each selected a different goal. Inter-rater agreement was poor to slight for all 3 pairs (kappa 0.09 [-0.03-0.19], 0.19 [0.08-0.30], and 0.20 [0.08-0.32] for patient-RC, patient-RN, and nurse-RC, respectively).
Conclusions:
We observed poor to slight concordance among hospitalized patients and key members of their care team with regard to the patient's most important goal for recovery. To improve patient-centered care during transitions, future efforts should be directed at eliciting patient's goals and communicating them effectively to all members of the care team.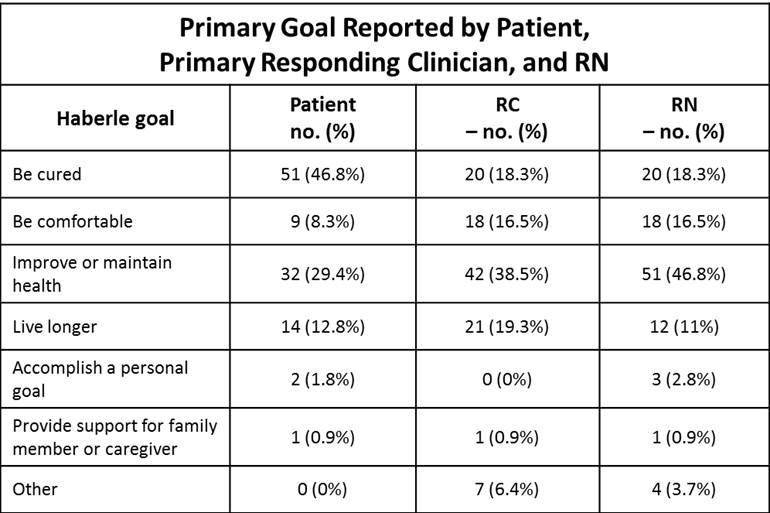 To cite this abstract:
Figueroa J, McNally K, Stade D, Lipsitz S, Schnipper J, Dalal A. How Often Are Hospitalized Patients and Providers "On the Same Page" with Regard to the Patient's Primary Recovery Goal?. Abstract published at
Hospital Medicine 2015, March 29-April 1, National Harbor, Md.
Abstract 7.
Journal of Hospital Medicine.
2015; 10 (suppl 2). https://www.shmabstracts.com/abstract/how-often-are-hospitalized-patients-and-providers-on-the-same-page-with-regard-to-the-patients-primary-recovery-goal/. Accessed November 18, 2019.
« Back to Hospital Medicine 2015, March 29-April 1, National Harbor, Md.