Hereditary Gastric Cancer Presenting As Antiphospholipid Antibody Syndrome with Extensive Venous Thrombosis
1Cleveland Clinic, Cleveland, OH
2Cleveland Clinic, Cleveland, OH
3Cleveland Clinic, Cleveland, OH
Meeting: Hospital Medicine 2013, May 16-19, National Harbor, Md.
Abstract number: 347
Case Presentation:
A previously healthy 41‐year‐old man presented to the emergency department (ED) with right‐sided pleuritic chest pain of 1‐week duration. He was diagnosed with right lower lobe pulmonary embolism (PE) on CTA of the chest, attributed to recent prolonged travel history, and the patient was subsequently discharged home on warfarin. After 2 weeks, patient presented to the ED with left‐sided neck pain. His INR elevated at 4.2. CT scan of the neck showed left internal jugular thrombus with extension to the intracranial veins. Upper‐extremity venous duplex showed cephalic vein thrombosis extending into the left subclavian vein, whereas upper‐extremity venous duplex was negative. Unprovoked venous thrombosis warranted further evaluation for underlying malignancy. CT scan of the abdomen and pelvis were unremarkable. Patient gave a history of diffuse gastric adenocarcinoma in brother at age 28 and an esophagogastroduodenostomy (EGD) was done, which showed enlarged gastric folds but biopsies were negative for malignancy. Colonoscopy was normal. Thrombophilia workup was positive for lupus anticoagulant, and patient was diagnosed with likely antiphospholipid antibody syndrome (APS) and discharged home on anticoagulation. Ten days later patient presented to the ED with hematemesis. Repeat EGD revealed prominent gastric folds, and biopsy showed diffuse, infiltrating poorly differentiated adenocarcinoma with signet ring changes (Fig. 1). A subsequent CHD1 mutation testing was positive. Given history of diffuse gastric cancer in patient's brother and positive genetic test, patient was diagnosed with hereditary diffuse gastric cancer (HDGC). Patient was started on systemic chemotherapy, which he is undergoing at this time.
Discussion:
Gastric cancer is one of he leading causes of cancer death worldwide and a genetic predisposition is obvious in some familial cases of gastric cancer. Germline mutations of the CDH1 gene are associated with HDGC, which constitutes about 1% of all gastric cancers. Gastric cancers have been reported to be associated with APS. Antiphospholipid antibodies (APLAs) are antibodies directed against certain phospholipid‐binding proteins such as prothrombin or beta 2 glycoprotein. Retrospective studies show that up to one‐third of patients with APLA have some form of venous thrombosis. The thrombotic events associated with APLA can be the first manifestation of underlying malignancy.
Conclusions:
Patients with APS have increase incidence venous thrombosis, and thrombotic events associated with APS can be the first manifestation of malignancy. It is therefore important that all patients with APS be evaluated extensively for an underlying malignancy, as it may have stimulated production of antiphospholipid antibodies leading to thrombosis.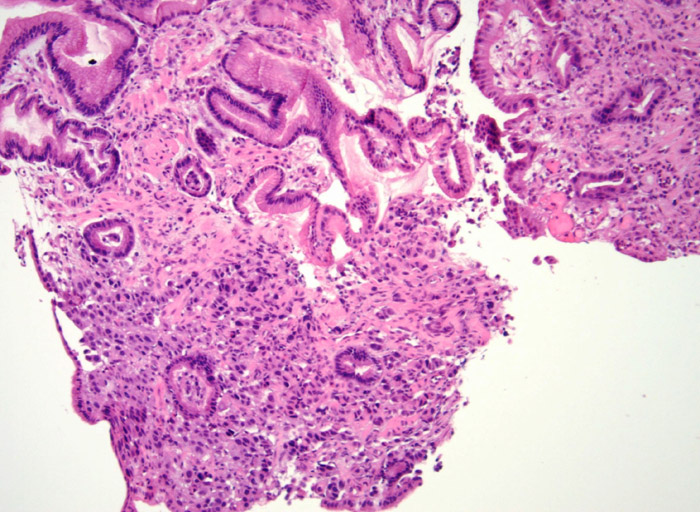 Histologic section showing diffuse infiltration of the lamina propria by single cells and cords of cells with enlarged hyperchromatic nuclei, abundant eosinophilic cytoplasm, and occasional cytoplasmic mucin droplets.
To cite this abstract:
Sharma P, Shinde S, Davis M. Hereditary Gastric Cancer Presenting As Antiphospholipid Antibody Syndrome with Extensive Venous Thrombosis. Abstract published at
Hospital Medicine 2013, May 16-19, National Harbor, Md.
Abstract 347.
Journal of Hospital Medicine.
2013; 8 (suppl 2). https://www.shmabstracts.com/abstract/hereditary-gastric-cancer-presenting-as-antiphospholipid-antibody-syndrome-with-extensive-venous-thrombosis/. Accessed March 28, 2020.
« Back to Hospital Medicine 2013, May 16-19, National Harbor, Md.