Case Presentation:
A 47‐year‐old white man with no past history presented with 4 days of periumbilical abdominal pain, nausea, and fevers to 102°F. A few days prior to presentation, he and his wife ate at Longhorn Steakhouse, and she was unwell at the time of presentation with a diarrheal illness. Travel history was remarkable for a camping trip 1 week prior and a possible tick bite at the time. He was found to have progressively increasing transaminitis and direct hyperbilirubinemia. Abdominal imaging revealed borderline splenomegaly. Infectious workup was negative for viral, fungal, Rickettsial, and bacterial etiologies. He developed severe shock requiring pressors, disseminated intravascular coagulation, and progressive hypoxemic respiratory failure requiring intubation. Blood smears showed activated neutrophils with toxic granulations. Ferritin level was > 1500 ng/mL and triglyceride level was 345 mg/dL. Bone marrow biopsy was pursued, and morphologic review was remarkable for hemophagocytic histiocytes. Although there was no evidence of a monoclonal proliferation on flow cytometry or morphological analysis, T‐cell gene rearrangement studies were suggestive of a clonal proliferation. Chemotherapy was instituted with dexamethasone and cy‐closporine but poorly tolerated, with elevations of liver enzymes. He developed extremity gangrene, necessitating bilateral below‐knee amputations. His clinical course eventually stabilized, and he was discharged to pursue outpatient chemotherapy.
Discussion:
Hemophagocytic lymphohistiocytosis, or macrophage activation syndrome, is a rare condition with potentially fatal consequences. Although the incidence is 1 case per 1–2 million children, the incidence in the adult population is unknown. The hallmarks of the condition are hepatosplenomegaly, rash, cyto‐penias, hypertriglyceridemia, and/or hypofibrinogenemia. Pathognomonic hemophagocytes may be found in the bone marrow or, more rarely, on peripheral blood smears. Given the rarity of the disease and the lack of controlled clinical trials, there are no clear recommendations governing treatment in adults. Despite prompt recognition and treatment, the acute mortality of this condition is near 50%. Several chemotherapeutic protocols have been developed based on studies in children and use agents like dexamethasone, eto‐poside, and cyclosporine.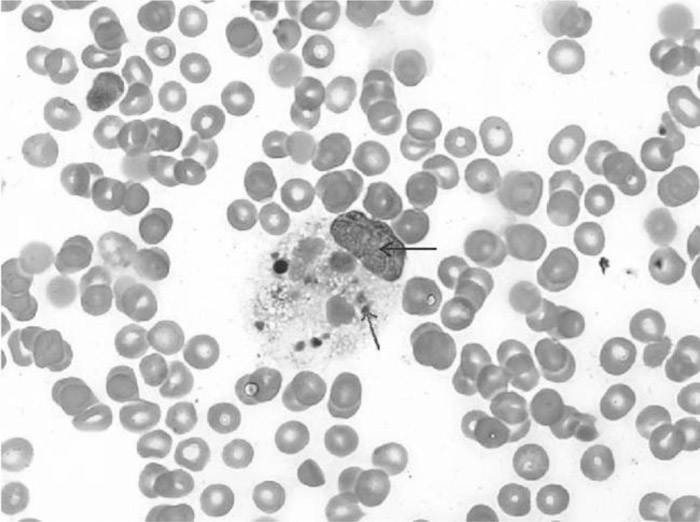 Bone marrow aspirate: activated histiocyte phagocytosing red blood cells (blue arrow) and platelets (red arrow).
Conclusions:
The purpose of reporting this case is to increase general awareness of this rare condition and emphasize the need to consider this diagnosis when faced with a patient with fever of unknown origin, hepatitis, or multiorgan failure.
Disclosures:
D. Davar ‐ University of Pittsburgh Medical Centers; R. E. Smith ‐ University of Pittsburgh Medical Centers
To cite this abstract:
Davar D, Smith R. Hemophagocytic Lymphohistiocytosis or Macrophage Activation Syndrome: A Case Report. Abstract published at
Hospital Medicine 2011, May 10-13, Dallas, Texas.
Abstract 263.
Journal of Hospital Medicine.
2011; 6 (suppl 2). https://www.shmabstracts.com/abstract/hemophagocytic-lymphohistiocytosis-or-macrophage-activation-syndrome-a-case-report/. Accessed April 8, 2020.