Case Presentation:
A 39 year-old Ecuadorian man with no past medical history presented with one month of fevers and nausea. Two weeks prior to admission, the patient presented to the emergency department with these symptoms. Work up revealed a mild transaminitis and the patient was discharged with a presumed viral syndrome. However, his symptoms worsened with the development of anorexia, vomiting, and 20-pound weight loss prompting him to return to the hospital. He denied coryza, cough, bruising or epistaxis, abdominal pain, diarrhea, arthralgias, rashes, or lymphadenopathy. He took no medications except for occasional Tylenol. Sexual history was unremarkable. He did not drink alcohol or use illicit drugs. The patient migrated to the United States 14 years ago and had not traveled recently. There were no known tuberculosis contacts. On presentation, the patient was febrile to 103F. Physical exam revealed an ill-appearing male with scleral icterus and mild epigastric and right upper quadrant tenderness. Laboratory data showed worsening transaminitis (AST: 376; ALT: 216; alkaline phosphatase: 973; total bilirubin: 2.7). He had leukopenia (white blood cell count 1.4, neutrophil count 0.7) and thrombocytopenia (platelets 80); hemoglobin was 12.2. Hepatitis B, C, and HIV PCR tests were negative. Blood and urine cultures were sterile. Peripheral blood smear was unremarkable. Abdominal ultrasound revealed a mildly enlarged spleen and increased liver echogenicity. On hospital day 2, he developed coagulopathy and was found to have disseminated intravascular coagulation. A serum ferritin level was checked and was found to be 20,523. A diagnosis of hemophagocytic lymphohistiocytosis (HLH) was suspected and bone marrow biopsy demonstrated hemophagocytic cells without evidence of malignancy. Epstein-Barr Virus PCR later came back markedly elevated. A diagnosis of EBV-associated HLH was made and the patient was started on dexamethasone and etoposide chemotherapy.
Discussion:
EBV is thought to trigger HLH through infection of NK and T cells, causing dysregulation of the immune response in patients with a genetic predisposition. Elevated serum ferritin should raise suspicion for the disease, and a level of over 10,000 is nearly diagnostic in the right clinical context. Treatment should not be delayed as patients can develop multiple complications including DIC (~95%), bone marrow failure (>80%), neurologic symptoms (~30%), pulmonary dysfunction, and fulminant hepatic failure. In addition to steroids and etoposide-based regimens, treatment should be directed at the underlying cause. Rituximab and anti-viral therapies have been used to treat EBV-associated HLH.
Conclusions:
Although more common in children, elevated transaminase levels and unexplained cytopenias in adult patients should prompt consideration of HLH. Early clinical suspicion, diagnosis and treatment are critical in order to prevent multi-organ failure from uncontrolled inflammation.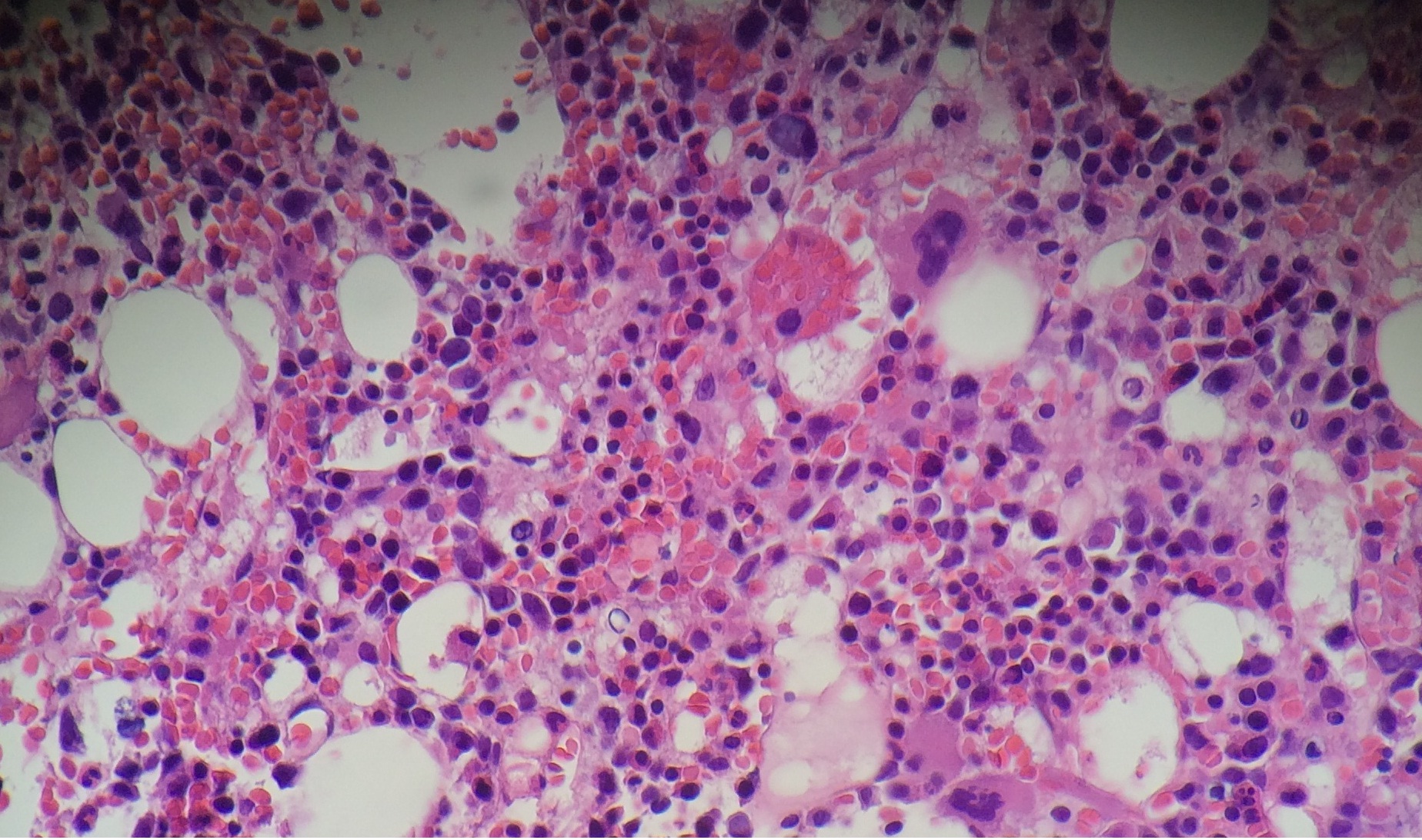 To cite this abstract:
Bhalla S, Tuohy C, Mahowald C. Hemophagocytic Lymphohistiocytosis Induced by Epstein-Barr Virus: A Potentially Deadly Case of Mono?. Abstract published at
Hospital Medicine 2015, March 29-April 1, National Harbor, Md.
Abstract 457.
Journal of Hospital Medicine.
2015; 10 (suppl 2). https://www.shmabstracts.com/abstract/hemophagocytic-lymphohistiocytosis-induced-by-epstein-barr-virus-a-potentially-deadly-case-of-mono/. Accessed April 6, 2020.
« Back to Hospital Medicine 2015, March 29-April 1, National Harbor, Md.