Health Care Failure Mode and Effect Analysis: Useful Tool to Develop a Systematic Approach to Avoid Communication Failures in Transition of Care in Patients with Incidental Radiological Finding in Hospitalist Mode of Care
1Suny Stony Brook University Hospital, Stony Brook, NY
2Suny Stony Brook University Hospital, Stony Brook, NY
3Suny Stony Brook University Hospital, Stony Brook, NY
4Suny Stony Brook University Hospital, Stony Brook, NY
5Suny Stony Brook University Hospital, Stony Brook, NY
6Suny Stony Brook University Hospital, Stony Brook, NY
Meeting: Hospital Medicine 2010, April 8-11, Washington, D.C.
Abstract number: 121
Background:
Communication of incidental radiological findings identified during hosprealization is an important part of a successful transition of care. As these are not the source of current illness but do require follow‐up, the likelihood of communication failures is high. The goal of this study was to quantitate the prevalence of incidental radiological findings in patients admitted to general medicine and to conduct an health care failure mode and effect analysis (HFMEA) of the process to develop systematic approach in order to avoid communication failures.
Methods:
This was a retrospective analysis of incidental radiological findings on chest and abdominal radiographs, CTs, MRIs, and ultrasounds on patients admitted to the general medical service. HFMEA was performed by a multidisciplinary team. A flow diagram of the incidental radiological findings process was made, and potential failure modes were identified and evaluated using risk priority number (RPN). Using a decision tree, recommendations were made for potential failure mode.
Results:
The study included 720 patients, 371 males, mean age 61 ± 19.8 years, and 349 females, with a mean age 63.0 ± 20.7 years. The prevalence of the incidental findings are shown in Table 1. The most common incidental finding was pulmonary nodule (50.4%) followed by adrenal nodule (14%), thyroid nodule (14%) and aortic aneurysm (12%). The less common findings include liver lesion (7%), pancreatic lesion (2.3%), and splenic lesion (2.3%). The HFMEA process identified a total of 11 potential failure modes RPN number ≥ 50 was considered high‐risk failure mode. Nine of these 11 failure modes were classified as high‐risk failure modes. Fourteen recommendations were made, of which 12 were made for high‐risk failure mode. The key areas of flow chart of this process are shown in Figure 1.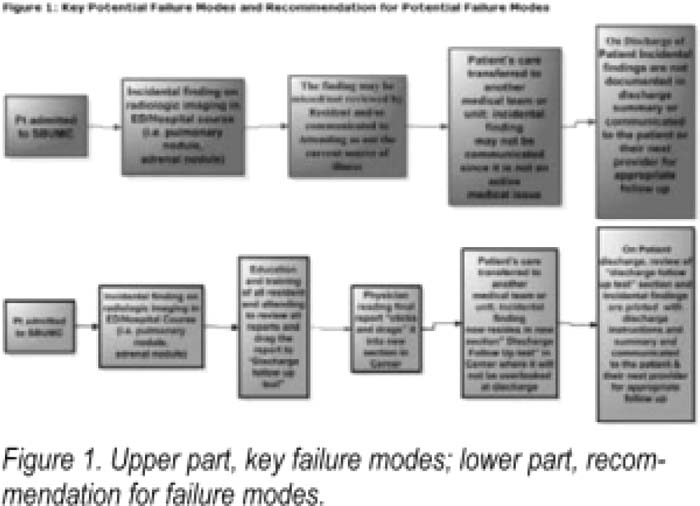 Conclusions:
There is a high prevalence of incidental radiological findings in hospitalized patients. The systematic approach by HFMEA by a multidisciplinary team is a useful tool to identify potential communication failures modes during the transition‐of‐care process with identification of opportunities for improvement.
Author Disclosure:
V. Ranpura, none; S. Gavi, none; S. Hapani, none; A. Kataya, none; B. Prakash, none; D. Cammarata, none.
To cite this abstract:
Ranpura V, Gavi S, Hapani S, Kataya A, Prakash B, Cammarata D. Health Care Failure Mode and Effect Analysis: Useful Tool to Develop a Systematic Approach to Avoid Communication Failures in Transition of Care in Patients with Incidental Radiological Finding in Hospitalist Mode of Care. Abstract published at
Hospital Medicine 2010, April 8-11, Washington, D.C.
Abstract 121.
Journal of Hospital Medicine.
2010; 5 (suppl 1). https://www.shmabstracts.com/abstract/health-care-failure-mode-and-effect-analysis-useful-tool-to-develop-a-systematic-approach-to-avoid-communication-failures-in-transition-of-care-in-patients-with-incidental-radiological-finding-in-hos/. Accessed March 29, 2020.
« Back to Hospital Medicine 2010, April 8-11, Washington, D.C.