Case Presentation:
A 59‐years‐old female presented with progressive muscle weakness of arms and legs, together with parasthesia in both hands and feet for one‐month duration. Her medical history was remarkable for depression, hypertension, and gastro esophageal reflux. Physical examination on admission revealed a blood pressure of 156/86‐mm Hg and Neurological examination showed absent deep tendon reflexes, and severe symmetrical muscle weakness lower and upper limbs ascending progression in nature. Cranial nerves are all normal. Sensory examination showed diminished sensation to light touch, pain, vibration and sense of position. urinary bladder or anal sphincters problems.
Laboratory examination revealed an ESR of 47 mm/h; CRP 3.19 mg/l; Urea 32 mmol/l; Creatinine 1.2mg/dl; serum albumin 2.2 g/l; LDH 158 U/l; Platelets 81,leucocyte 3; Folic acid and B12 all normal. Serum and urine protein electrophoresis were negative; THS 3 uiu/ml. The CSF revealed protein cellular dissociation, urine analysis revealed protein of > 3gm/dl, spot protein creatinine ratio 8gm/dl. Brain and neck magnetic resonance imaging did not show any pathologic lesions suggesting her weakness. The electromyogram and nerve conduction velocity indicated sensory‐motor demyelinating polyneuropathy.
CSF showed protein Cellular dissociation protein 82; white cell 0. Treatment was started with oral prednisone 1mg/kg & intravenous immunoglobulin G for 3 days. No improvement in her muscle weakness. Because of significant proteinuria, additional investigations were performed, including autoimmune serology. These revealed a positive ANA, positive anti dsDNA, negatives both C/P ANCA, and decreased C3 and slightly decrease C4 values.
Discussion:
The prevalence of SLE in patients with Guillain–Barré syndrome has been reported to be between 0.6 and 1.7%. Precense of significant proteinuria, leucopenia, thrombocytopenia, positive ANA and the presence of anti‐dsDNA, low complement C3/C4, raised the suspicion of SLE diagnosis. A percutaneous kidney biopsy was performed, which showed membranous lupus nephritis (Class V).
Because of this severe form of lupus nephritis the patient was treated from day 8 with Mycophynolate along with the high doses oral prednisone. This treatment regimen was tolerated rather well. Patient muscles strength starts to show improving in two week of starting the her therapy. Patient by the end of her hospital stay started to walk with the walker very independent.
Intravenous cyclophosphamide pulse therapy with high dose oral prednisone is substantiated by the observation that in the majority of reported cases of Guillain–Barré syndrome in lupus nephritis. We have choose the mycophenelate because of the less side effect profile and it seem reasonable choice since our patient showed improving in her symptoms in two week with the help of the physical and occupational therapy.
The efficacy of intravenous immunoglobulin for GBS in lupus nephritis is controversial Plasma‐exchange may have a beneficial effect on the neuropathy but does not convert an additional effect for lupus nephritis.
Conclusions:
Lupus should be considered in patients with Guillain–Barré syndrome who do not respond to intravenous gamma globulins. The association of Guillain–Barré syndrome with lupus seems to have implications for both treatment and prognosis. Prednisone and immunosuppressive therapy cyclophosphamide or mycophenelate should be considered in patients with, Guillain–Barré syndrome as a feature of lupus nephritis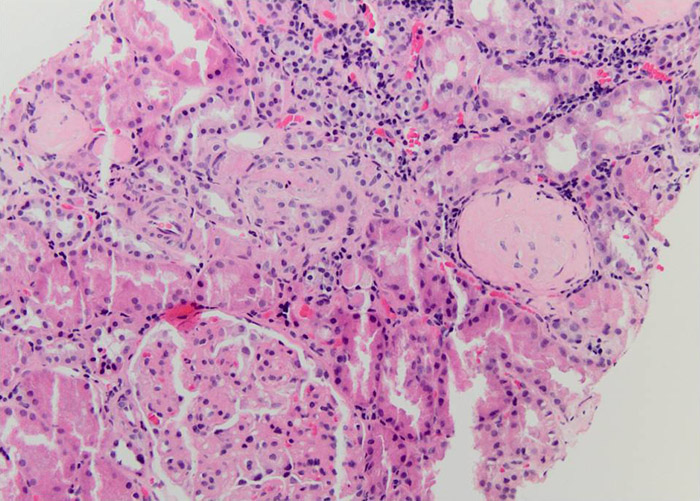 To cite this abstract:
Tantoush H, Abuzaid A, Mansour G, Alashry H, Hurley J. Guillain‐Barre Syndrome As Presenting Feature in Patient with Lupus Nephritis. Abstract published at
Hospital Medicine 2014, March 24-27, Las Vegas, Nev.
Abstract 644.
Journal of Hospital Medicine.
2014; 9 (suppl 2). https://www.shmabstracts.com/abstract/guillainbarre-syndrome-as-presenting-feature-in-patient-with-lupus-nephritis/. Accessed April 8, 2020.
« Back to Hospital Medicine 2014, March 24-27, Las Vegas, Nev.