Case Presentation:
A baby girl was born about 6 months ago after a cesarean section at 36 weeks with APGARs of 8 and 8 and body weight of 2030 g and received routine resuscitation. Mother is a 33‐year‐old Asian Indian G3P2 and had normal PNL. The mother's pregnancy was complicated by gestational diabetes, neurofibromatosis, and intrau‐terine growth restriction. The infant was admitted to the neonatal intensive care unit because of extensive abnormal physical findings. She had a low anterior hair line and sparse, patchy scalp hair, a broad nasal tip, and a tilted and asymmetric nose. Ears were low set with thin pinnae and hypopigmentation. She had unremarkable heart, neurological, and pulmonary examinations. Abdomen was soft, non‐tender, with normal bowel sounds, and there was α 5 × 8 cm omphalocele in the umbilical area with a 3‐vessel umbilical cord. External genitalia were normal looking with an open skin lesion between vulva and anus. Musculoskeletal system (MSS) examination was unremarkable except for a right hand with syndactyly of ring and middle fingers, right foot with syndactyly of toes and left foot, with a big cleft running on the dorsum aspect separating syndactilized toes with ectrodactyly. These findings have been described as lobster clawing of hands and feet. Skin exam showed lesions on the bilateral axilla, left thigh, and perineum. Linear lesions had thin atrophic skin, depressed edges, soft, pinkish saccular nodules called fat herniations, looked like ulcers, and follow line of Blaschko's. The rest of the skin had xerosis and multiple macular hypopigmented areas. She had an unremarkable complete blood count, comprehensive metabolic panel, chest x‐ray, KUB, renal and head ultrasound, and x‐rays of bilateral upper and lower extremities except for the hands and feet. Skin biopsy showed focal areas of decreased dermal collagen. Surgery repaired her omphalocele on day 11 of life. She was cleared by cardiology and ophthalmology after having a normal echocardiogram and eye exam, respectively. Orthopedic recommended to start physical therapy/ occupational therapy and had casting of the bilateral feet at 2 weeks of age. The dermatologist recommended treating the skin lesions with Aquaphor. Genetics recommended sending the PORCN gene mutation on X chromosome with karyotyping.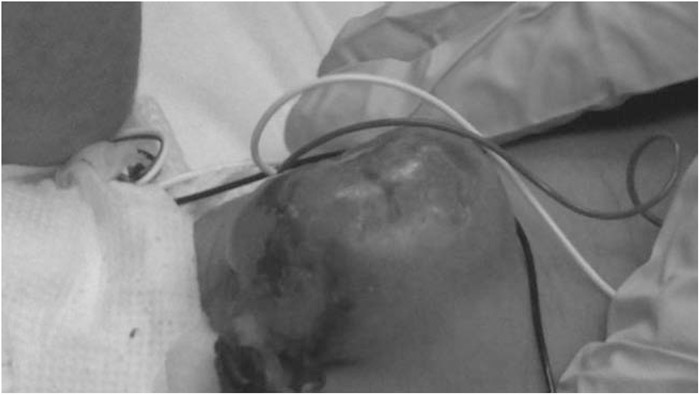 Anterior abdominal wall defect about 5 × 8 cm in diameter with atrophic thin skin, erythematous to hyperpigmented patchy area, that gets bigger in size with crying.
Discussion:
Goltz syndrome is a clinical diagnosis confirmed by genetic testing. At birth the differential diagnoses were aplasia cutis congenita, MIDAS syndrome, Aicardi syndrome, and Proteus syndrome. Goltz syndrome is characterized by distinctive skin features and involvement of the teeth, eyes, and skeletal, urinary, gastrointestinal, cardiovascular system, and central nervous systems. It is an X‐linked dominant disease and lethal in the male. It is also known as focal dermal hypoplasia, where the term FOCAL stands for female sex, osteopathia striata, coloboma, absent ectoder‐mis, mesodermis and neurodermis derived elements, and lobster claw deformity.
Conclusions:
We confirmed the diagnosis of Goltz syndrome with PORCN gene mutation in our patient. Most of the multiorgan abnormalities in the syndrome are present at birth and remain essentially unchanged thereafter. The initial inflammatory stage of skin at birth usually subsides in the first few months life. Mental impairment is uncommon, and only 15% of reported cases have mental impairment. Surgical treatments are targeted toward the MSS anomalies with the goal of achieving optimal functional and aesthetic results.
Disclosures:
D. Patel ‐ Inova Fairfax Hospital for Children, pediatric resident PGY‐III; K. Carpenter ‐ Inova Fairfax Hospital for Children, pediatric hospitalist.
To cite this abstract:
Patel D, Carpenter K. Goltz Syndrome: Rare Syndrome with Multiorgan System Involvement. Abstract published at
Hospital Medicine 2011, May 10-13, Dallas, Texas.
Abstract 360.
Journal of Hospital Medicine.
2011; 6 (suppl 2). https://www.shmabstracts.com/abstract/goltz-syndrome-rare-syndrome-with-multiorgan-system-involvement/. Accessed January 21, 2020.