Background:
In many health care settings providers are given regular performance feedback via data dashboards, and financial incentives are often tied to these data. Although this structure is now commonplace for physicians and an important tool for improving quality, its use with house staff has been less well described. House officers are frontline providers who affect patient care, yet they rarely are given systematic feedback on their performance and how they compare relative to their peers. We describe an 18‐month experience creating data dashboards for internal medicine residents at Mount Sinai Hospital.
Purpose:
To develop timely and actionable house staff data dashboards reporting inpatient quality metrics, and to use these dashboards as a tool for improving patient care and teaching quality improvement.
Description:
This project developed in 4 phases. The first involved establishing a process for linking patient care episodes with the house officers who provided the care. Using the discharge summary, every inpatient discharge was assigned to an individual intern and further linked to the resident who oversaw the intern on the day of discharge. Using the inpatient encounter number, data from various hospital databases were centralized. Phase 2 involved creating the pilot data dashboards. These initial dashboards featured provider‐specific data on length of stay, mortality, readmission, and patient satisfaction. Members of the house staff were given their data compared with their peers. Feedback from house officers at this time revealed that they believed these metrics were confounded by factors beyond their control and that they wanted measures that were more actionable. In phase 3 we reported metrics that were under the direct control of individual house staff: placement of orders to implement discharge planning (IDP), time of discharge order entry, and time to discharge summary completion. These were all considered important for patient quality and hospital throughput. The existing measures—LOS, mortality, readmission, and patient satisfaction—were no longer reported individually but rather by service line. Phase 4 involved providing house officers with their performance on a more regular basis and tracking improvement. House officers were given midblock and end‐of‐block data on their performance. High performers were identified at end‐of‐block conferences, and gift certificates were given to the top 3 performing teams. A steady improvement has been seen for the metrics developed in phase 3 (Fig. 1).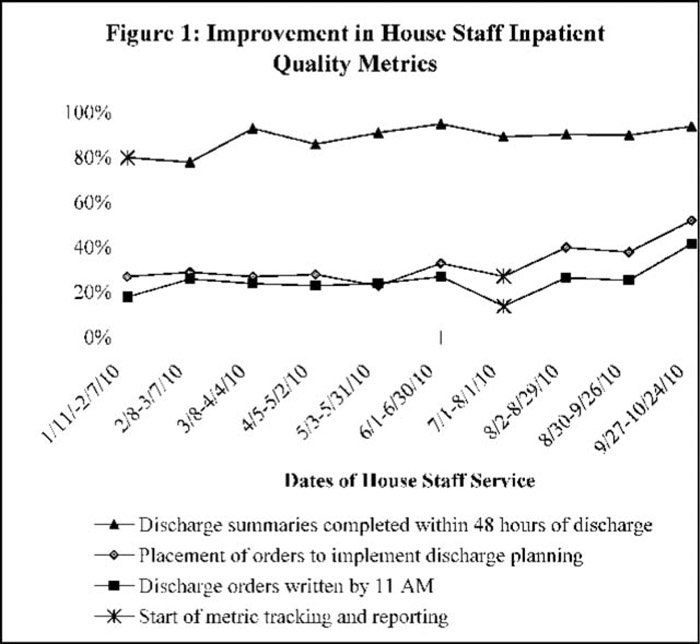 Conclusions:
Creating data dashboards for house staff is feasible. Careful attention must be paid to tracking metrics over which house staffers believe they have control. Regular provision of inpatient quality metrics can result in performance improvement.
Disclosures:
R. Jervis ‐ none; K. Smith ‐ none; D. Mazori ‐ none
To cite this abstract:
Jervis R, Smith K, Mazori D. Getting House Staff on Board: Success Using Inpatient Quality Metrics with Residents. Abstract published at
Hospital Medicine 2011, May 10-13, Dallas, Texas.
Abstract 179.
Journal of Hospital Medicine.
2011; 6 (suppl 2). https://www.shmabstracts.com/abstract/getting-house-staff-on-board-success-using-inpatient-quality-metrics-with-residents/. Accessed April 1, 2020.