Case Presentation:
In June a 53-year old female with a history of NSCLC, chronic obstructive lung disease, initially presented with cough, hemoptysis, and weight loss. Bronchoscopy with trans bronchial biopsy confirmed moderate to poorly differentiated adenocarcinoma. Two weeks after diagnosis, chemotherapy was initiated on a 3-weekly schedule. After 9 weeks of therapy, the patient developed severe abdominal pain, nausea and vomiting. On physical examination, she was febrile (102° F) with abdominal tenderness. Radiography demonstrated free intraabdominal air. Laparoscopic procedure which revealed a 2 cm perforated ulcer near the incisures along the lesser curve. Postoperatively, the patient recovered on broad spectrum antibiotics. In the stomach, there were multiple foci of perforation with a corresponding focus of tumor metastasis involving the full thickness of the stomach wall, which was confirmed histologically.
Discussion:
Bevacizumab is a monoclonal immunoglobulin G1 antibody directed against vascular endothelial growth factor (VEGF) that inhibits new blood vessel formation and growth. This is a FDA-approved medication for the management of NSCLC with several other indications.
The reported incidence rate of bowel perforation has ranged from 0.3% to 2.4% in the clinical trials. Several mechanisms of action have been described to explain the development of viscous perforation as a result of bevacizumab, including the inhibition of VEGF leading to thrombosis of smaller splanchnic or mesenteric vessels, resulting in bowel ischemia and ultimately bowel perforation.
Symptoms of viscos perforation, if present, are highly dependent on the site of involvement. The perforation is managed conservatively or surgically. The decision regarding treatment can be complicated because patients typically have a terminal illness and are taking a drug that causes poor wound healing and dysfunctional platelets. Patients with multiple risk factors may be considered for alternative regimens if the goal is palliation. If a patient is treated with surgery, bevacizumab therapy should not be restarted after recovery because of increased risk of recurrent perforation.
Conclusions:
Viscous perforation is a potentially fatal adverse effect of bevacizumab therapy. Gastrointestinal complaints in those patients should be given careful consideration, as perforations may be hard to diagnose. Most cases of perforation occurred within 15 weeks after the start of bevacizumab treatment and prior to the fifth cycle of chemotherapy. During this period physicians must have the highest level of suspicion for perforation and the lowest threshold for ordering diagnostic imaging.
CT Abdomen/ pelvis with oral and IV contrast: Demonstrating anterior air-fluid level involving free fluid and free air anterolateral to the liver.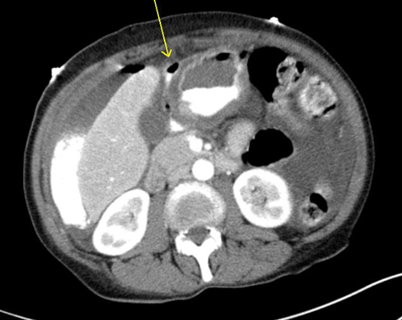 To cite this abstract:
Dinary F. Gastric Perforation in a Patient with Non-Small Cell Lung Cancer Treated with Bevacizumab. Abstract published at
Hospital Medicine 2015, March 29-April 1, National Harbor, Md.
Abstract 506.
Journal of Hospital Medicine.
2015; 10 (suppl 2). https://www.shmabstracts.com/abstract/gastric-perforation-in-a-patient-with-non-small-cell-lung-cancer-treated-with-bevacizumab/. Accessed April 4, 2020.
« Back to Hospital Medicine 2015, March 29-April 1, National Harbor, Md.